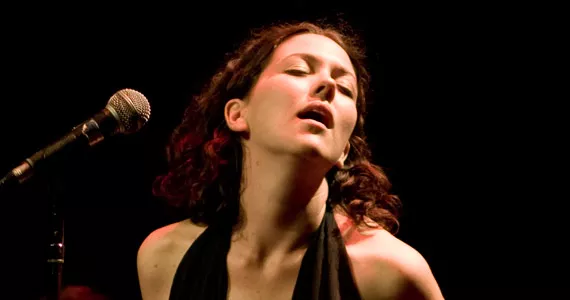 Onstage, Alejandra Ribera is fierce and focused, her giant voice overtaking whatever room she is in. So it's surprising to hear that Ribera gets nervous, saying a prayer and removing her shoes before she performs, worried her shaking will cause her to fall over.
"I don't remember performances," she says. "I sort of black out and wake up when people start clapping. It's a muscle you develop, you don't have to be conscious, just leave your body and let the song come through you. It's all very mysterious to me."
Ribera, who grew up sneaking into cabarets and piano bars in Toronto's gay village, wants to be of service to her audience. "My real job is to communicate with people's hearts and solar plexuses," she says. "To create a space where they can get lost for a little while, leave their minds and float and go wherever they need to go."
Ribera recognizes that some artists succeed in creating art as a means of self-catharsis, but that's not her goal. "I don't do it because it makes me feel better. I don't write songs as a way of psychoanalyzing or getting through a situation," Ribera says. She's more interested in conjuring an experience for her listeners, and expressing acute emotions that everyone can identify with. "I think there are places we can go to as artists that people can't go to in their day jobs," Ribera explains. "The artist becomes a proxy. The audience can use my vulnerability as a vessel."
Ribera brings many influences to the songs on her album Navigator, Navigateher. From the records belonging to her Argentinian and Scottish parents, to her travels and study under a psychic energy healer, Ribera's inspirations are far-reaching. Her music can't be easily labeled, and she's fine with that. "I say it's pop and sometimes it's Spanish and sometimes you can hear Tom Waits..." Ribera says, adding that many of the artists she loves also blur genres. Rufus Wainwright is important to her, as is Jane Siberry, who Ribera has loved since she was 12. "Siberry is a woman with such breadth. She explores all these little rooms and cathedrals and spaces, always finding the little corners, little doors, little moldings and bringing something interesting out of those." There's no question that Ribera's voice is similarly searching, as she looks to take her listeners somewhere new. --Jaime Forsythe
Alejandra Ribera, Tuesday, July 10 at The Company House, 11pm, $12/$10