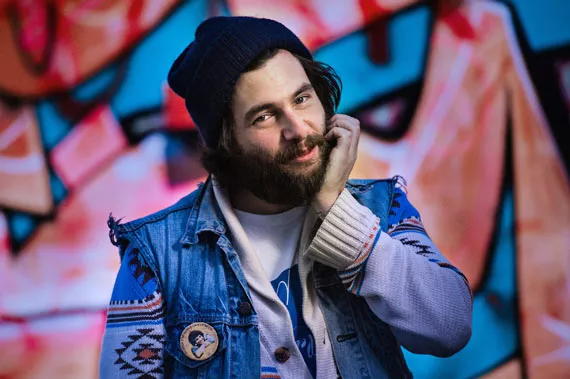 On a recent Thursday night at a sold-out Seahorse Tavern, Dartmouth native Adam Baldwin began an earnest serenade to the throng of fans before him. When the audience joined in the singing, lamenting what Baldwin describes as "the dangers of complacency," the June 23 concert became something more than the official release party of his sophomore album, No Telling When (Precisely Nineteen Eighty-Five). "It's nights like that where my mother and father came out and hear a jam-packed room of people singing their son's songs—that's what made it special for me. It's nice to see them proud of their son for a few hours on a Thursday night," he says, sipping a plain drip coffee in a secluded cafe booth.
In the days since, the singer-songwriter and old-school rocker has been preparing to warm up the Halifax Jazz Festival main stage Wednesday for Canadian pop-rock superstars Metric. And while the contrast between Metric's slick, modern sounds and Baldwin's more rough-edged style could seem an odd combination, Baldwin quickly explains the connection. They met through Baldwin's producer, and the band offered up its studio as a recording venue for No Telling When.
"They put a free show together at the Danforth Music Hall in Toronto. It was mind-boggling to see how those guys sound," he says. "It's one thing to have great songs and great records, but in this day and age performance is so important. They still know how to perform a really great bare-bones show. The idea that I get to see that again, that's exciting."
Metric's studio, filled with '80s-era guitars and synthesizers, was Baldwin's dream space to record in. And while Baldwin isn't sure how much of that retro vibe he wanted was intentional or subconscious, it fits with what his latest record is all about.
The story behind No Telling When goes like this: Baldwin happened upon a "total clickbait" article about classic photos from 1980s New York, a place he's been many times and has a deep fascination with. One image, of a couple arguing on the sidewalk of tony Fifth Avenue, captivated him: "They're bickering in the street about things that are so trivial, while there are bigger problems literally on every other street in the entire city," he says.
As he began to compile more snippets of the city during such an iconic, turbulent era, Baldwin ended up down a road of parallels—from stock market greed to racial tension—that defined the 1980s and 2016 in equal measure. "When you look at it from a distance, it appears a lot has changed, but when you get down into the nitty-gritty of it, I don't think that anything in 30 years has changed at all, which is distressing to me," he says. "The '60s and '70s were about standing for something. And then somewhere along the way, it became not OK to do that. And people would say 'Oh, shut up and play your guitar,' and I dunno where those kind of musicians and songwriters went."
Baldwin had the chance to make his music count like a '60s songwriter would in the wake of the Jian Ghomeshi trial. He knew Ghomeshi through his agent, and in the first hours after the sexual violence scandal broke, Baldwin believed the accusations couldn't be true. But after tweeting his support, he soon regretted it: "I fucked up. So I had to say, 'I made a mistake and I promise to learn from it and do better,' and from that day that's what I've been trying to do."
As Baldwin studied up on feminism, he felt his perspective and world view undergo sweeping changes, inspiring a new song about the tragic story of Rehtaeh Parsons. "I was sitting around my table and my kids were playing and crashing toy cars into me, and the song just sort of fell out between supper and dessert. I knew the song was about her. I selfishly said to myself, 'I cannot release this.' I didn't feel like it was my place, and I didn't want to add my voice to the chorus of men weighing in on these things," he recalls. "And then I thought, maybe this can work for this cause that the parents have started out on."
Baldwin drains the rest of his coffee, looking reflective in the late-afternoon sun. "I hope songs like 'Rehtaeh' will give people pause and make them stop and think about something that maybe they weren't expecting to when they walked into a rock show, because that's what my music is all about."
---