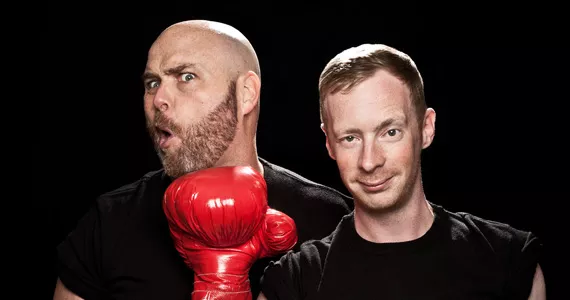 "Have you ever gone to a party and thought you'd have a bad time but then had the best time ever? That's the Fringe," says comedian Bill Wood. "The fun that you have when you take a risk is always better than the easy fun–which is usually TV. Take a risk, see a play."
Taking risks is something that Wood and fellow comedian Brian Aylward are used to by now. This year's Atlantic Fringe Festival has given them each a unique chance to work through their own challenges with very different shows.
Bill Wood is all over the Fringe, blowing minds at Bill Wood is Magic, hosting The Fringe Comedy Show and starring in Bill Wood: Pissing From Windows, a Misery Loves (theatre) Company production.
Pissing From Windows is a one- man character comedy show, allowing Wood to work with characters he's collected over the years. "They sort of put together a non-linked narrative, I guess," says Wood. "If you looked at the big picture you'd see it follows a journey. It's done with very disparate voices, but you get somewhere in the end.
"I doubted whether I had something to say and I was looking at the monologues and realized I only addressed two issues, creativity and what it means to be a human," he says. "That's it."
Where Wood has gone universal, Aylward goes personal. Also a one man show, Aylward's first Fringe offering, 39, is a "personal inventory of my life up to now," he says. With stories about his life, including his seven-year stint in Asia, 39 packs in the laughs, but with a reflective tone that's rare on stand up stages around town.
"I think good comedy doesn't shy away from the serious issues, it's what makes you feel like you're actually saying something worth listening to," says Wood. "I think anyone can make jokes about, say, finger puppets and, like, sandwiches. But when you start getting into the issues and making people feel, then you're laughing and caring."
"This was a challenge cause I was trying to get away from the ha-ha jokes and tried to tell more stories," says Aylward. "How the show started is that I lied about my age one day. I'm 39 and I said I was 38, and how pathetic is that? I started writing from there."
This year's Fringe line up doesn't skimp on the comedy, both of the stand up and sketch variety. Both comedians say a longer play allows them exercise the repetition that makes a good joke great. Local comedians just can't perform the same 10 minutes every week, and finding regular stage time can be hard.
"I do a weekly show and I have gotten good at synthesizing my week into jokes, but I haven't gotten good at honing jokes through repetition. The cool thing about fringe is that you get to rely on the tropes of theatre, meaning you don't have to get a laugh every 45 seconds," says Wood. "People are more focused, the seats are more comfortable, it's quiet, it's relaxed, you're not competing with someone ordering a drink in a bar. You can speak for a couple minutes and lay out the beginning of a foundation of a story."
"That's what I'm getting used to doing," says Aylward. "It's definitely a transition. You're not always looking for laughs."
Aylward and Wood helped each other with their shows, offering advice and inspiration. A Mount Pearl, Newfoundland native, Aylward began performing stand- up eight years ago on a bet while living in Korea with his wife–if she quit smoking he'd get on stage. He now co-hosts a Newfoundland travel show, toured Asia multiple times and his next comedy tour overseas will be turned into a documentary.
Wood's comedy career began with improv in 2000, his theatre background ushering him into sketch, where he was a member of Picnicface. Last year's Misery Loves (theatre) Company Fringe production of The Perfection of Man was bought by Eastern Front Theatre, and Wood and his Misery Loves co-artistic director Rhys Bevan-John are collaborating on Shakespeare By The Sea's Halloween show of Strange Case of Dr. Jekyll and Mr. Hyde.
Though Aylward and Wood seem to be keeping busy enough, they say there's always room for improvement in Halifax's comedy scene. Aylward wishes more support came from the media, and that audiences would take a chance on a stand-up night.
"The scene here is very small but it's very good, there's a lot of talent here and a lot of people don't know stand-up exists in the city," Aylward says. "Halifax wants you to go away and make something of yourself before they claim you, I feel."
Wood argues that the common cure of our iPhone-riddled lives is a good laugh. "You read these things about separation and depression," Wood says. "That's a world problem right now and the solution is to get together as a group and laugh."
The therapy extends to the performer too. "Losing Picnicface and divorcing from my wife were both sad and interesting places to come from," Wood says. "I'm still on that journey of figuring out who I want to be and weirdly I do that on stage in front of other people. I do a show every Sunday–at the Company House–but I'm going to stop."
"Another room down!" laments Aylward.
Wood: "Yeah, but I'm going to do a monthly comedy night that's going to be of a higher calibre."
Aylward and Wood hope Halifax audiences use the wealth of comedic Fringe plays as a gateway drug to the stand up stages. "You can consume Fringe like cookies," says Wood. "See a bunch in a row. There could be a guy vomiting into a bucket to a standing boo-ovation, but there's Tayo Aluko coming here from Carnegie Hall [with Call Mr. Robeson], he's gotten rave reviews from London, and people can see the best show they've seen, and will ever see, for $10." Take a risk, see a play.