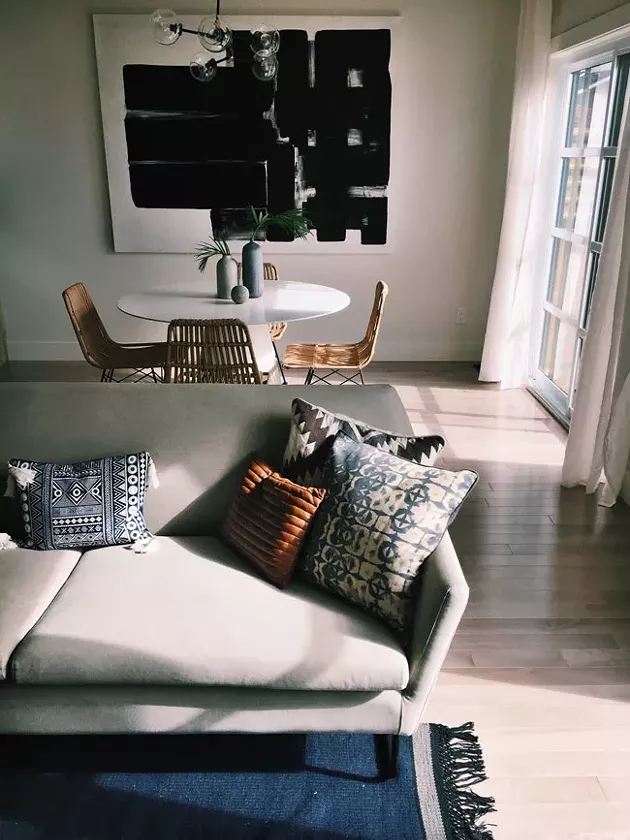 As the owner of
Bricks & Birches
design and consultation firm,
Robyn Manning
likes to be on top of recent trends–and she's always looking ahead. A couple of her current favourite looks contrast with one another: The monochromatic "organic modern" trend and the eclectic, more colourful aesthetic. Manning dished out some advice on how to embrace trends in a small space and how to accessorize without breaking the bank.
Are these trends things we're going to see more and more as we get to 2018?
Oh, big time, especially 2018. Colour is definitely back. Grey was huge
the last
two years. Grey's definitely—I don't want to say it's out, but it's certainly evolving, definitely moving into more warm greys, rather than those cool greys.
When we're looking at small spaces like condos and somebody says, "How do I incorporate colour into my smaller space?" what are the kind of things you might suggest?
Accessories are a great way to play with trends, of course. You can do the cushions, throw blanket, artwork—things you don't necessarily have to feel like you're tethered to
if
, in a year, suddenly the trend is over. Also, if you're really scared of actual colour but you want to bring some interest into your home, I'm really into just bringing plants in. Greenery is a great way to just add a bit of life and a little bit of interest to your room, without it necessarily being the red cushion or the red accent chair.
You work with a variety of budgets. When you're advising people to get a certain look for less, how do you do that?
For example, I've got a client that's got a huge wall in their family room. Large pieces of art can be quite expensive, so in this situation, we're using a bunch of their photos that they've collected over the years, printing them out in black and white so they're cohesive, and using inexpensive frames to do a gallery wall. Sometimes I even accessorize with the homeowner's personal clothing items. For example, do a hat wall. Or like, if you have a really great pair of shoes
that's in
a colour trend. It's stuff you already have, and if they're beautiful items, you may as well display them artfully, right?