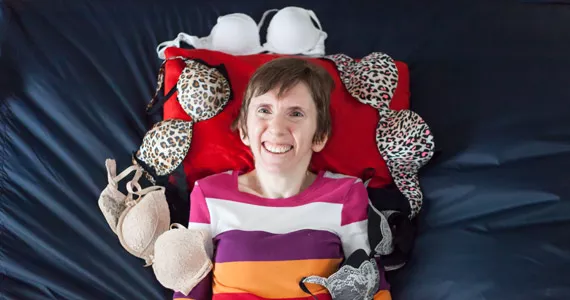 Clothes shopping can be difficult for any woman but there's a segment of Nova Scotia women whose concerns go beyond the ordinary. In Nova Scotia, 20 percent of women report some form of disability—the highest percent of any Canadian province. That's 20 percent of women who need their clothing and their shopping experiences to accommodate their adaptations.
Jen Powley is a 37-year-old writer and activist who lives in Halifax's south end. Powley is a quadriplegic due to multiple sclerosis—she has no independent movement except for her head and she uses a head-controlled power wheelchair.
As a person living with adaptations, Powley forgoes many clothing items. There are no jeans or leggings in her closet. Powley long ago switched from pants to skirts because her assistants have to access the leg bag that drains her urine. She goes commando to avoid uncomfortable situations like asking male assistants to de-wedge her panties.
Powley doesn't do a lot of shopping for clothes but she does shop for bras. "I want my girls to be perky," she says.
Powley and a male assistant recently went to Victoria's Secret in the Halifax Shopping Centre. She chose a couple bras but when she asked to try them on she says she was told her male assistant was not allowed in the fitting rooms. "I looked at the sales rep with desperation. I couldn't try anything on by myself," says Powley. "She assured me not to worry."
In spite of the confidence, Powley says the sales associate didn't know how to remove her shirt. Instead of fitting the bras properly, the associate tried the bras over Powley's shirt and existing bra. Told the bras fit, Powley says she bought the bras, took them home, tried them on properly, realized they didn't actually fit and returned them two days later.
The store manager declined to comment on this incident. A corporate spokesperson for Victoria's Secret writes via email that the matter is being taken seriously and under investigation.
"Nothing is more important to us than providing our customers with an exceptional shopping experience," wrote the unnamed spokesperson. Powley is frustrated by her experience. She says, "it made my disability an issue when it didn't have to be."
Powley is not alone. Fitting room woes and sales associate headaches are recurrent shopping complaints among women living with adaptations. Arielle Vienneau is 24-year-old athlete who works as an office administrator and lives in Halifax's north end. Vienneau is a left leg-through-knee amputee who wears a mid-thigh-high prosthesis. When she tries on clothes, Vienneau asks for an accessible fitting room.
"I've gotten a few employees that will give me dirty looks as if I do not need an accessible room because I am not in a wheelchair," says Vienneau. "Most accessible rooms have seats, which for a leg amputee when changing pants is sometimes essential."
Vienneau buys a lot of yoga wear. She prefers black tights and leggings that are easy to wear and camouflage her prosthesis. However, from time to time she likes to rock out with her badass bionic self.
"While dress and skirt shopping I have been offered floor length dresses more times than I can count," says Vienneau. "I want that adorable just-above-the-knee dress that is in the store display! I want the newest and hottest trend that every other 24-year-old woman wants."
Vienneau and Powley agree that store policies and sales associates need to adapt to women living with adaptations.
"If we want to discover the full potential in ourselves," says Vienneau, "we need to celebrate those heartbreaking strengths and the disabilities we all have."