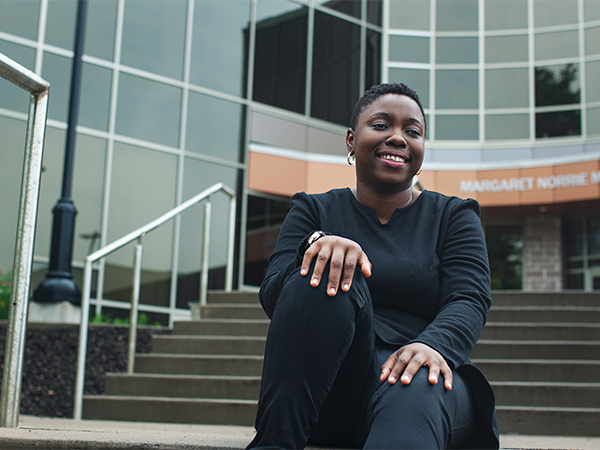 On my first day at Mount Saint Vincent University, I did not know what to expect. I walked into my first class in a pair of white boots and a winter coat I had never worn before. Coming from Lagos, Nigeria, I had never worn so many clothes and still felt cold. It was ridiculous. I sat at a desk in the front row, too scared to walk further into the class, and stared at the instructor before me. Minutes later, he handed out sheets of paper containing class notes. My first reaction was, "I can't read this...Oh well." My impaired vision told me he had notes on the projector, but as I said, "Oh well." I was new to vision loss, and unprepared for university.
Since then, I have developed a tool kit of self-confidence, self-advocacy, self-care and patience to help me achieve my dreams. I think it can be useful for incoming students in Halifax who have disabilities.
1 Self-confidence
Know who you are and what you need. As a student with a disability, keep your strengths in mind and embrace your weaknesses. Shelley Adams, program lead for Advocacy and Recreation at the Canadian Institute of the Blind, recently held a summer camp for students with vision loss called Life After High School. She says the more confidence you exude, the more confident those around you feel. Ensuring you have adequate accommodations before the term starts, knowing where your classes are and how to get around on campus helps self-confidence.
2 Self-advocacy
Knowing what you need and saying that you need it. You will have to speak up for yourself in more ways than you expect. Success in your academic and social life requires consistent advocacy. Julie Filmore, the assistive technologist at MSVU, says self-advocacy is important because not everything in the world will be fully accessible to you. "No one knows better what is accessible to you than you," she says. When an instructor writes notes on the board, I say, "please can you speak out what you are writing?" When they draw an image on the board or display it on the projector, I say, "please can you describe this image?" Filmore says self-advocacy is between the student's concern, the student and the instructor. If course content is not accessible to you, ask for the information in a different format. Whatever your need may be, it is important to advocate for yourself in an assertive and respectful manner.
3 Self-care
This is essential for marching forward in your education. Adams defines self-care as "looking after yourself and finding a work-life balance." It is taking time to do what you want. Self-care aids your mental health and helps control stress levels. Tarah Sawler, a third-year student with a disability at SMU says, "self-care does not need to follow a schedule, it's just taking the time out when necessary." I practice self-care by cleaning my room, watching a movie or going out to eat some spicy food.
4 Patience
You have to get used to your accommodations, campus life and the academic system to truly feel comfortable with yourself. Remember, you are not the only student who needs accommodations. "In your first year, you may feel alone, but you are not really alone," says Sawler.