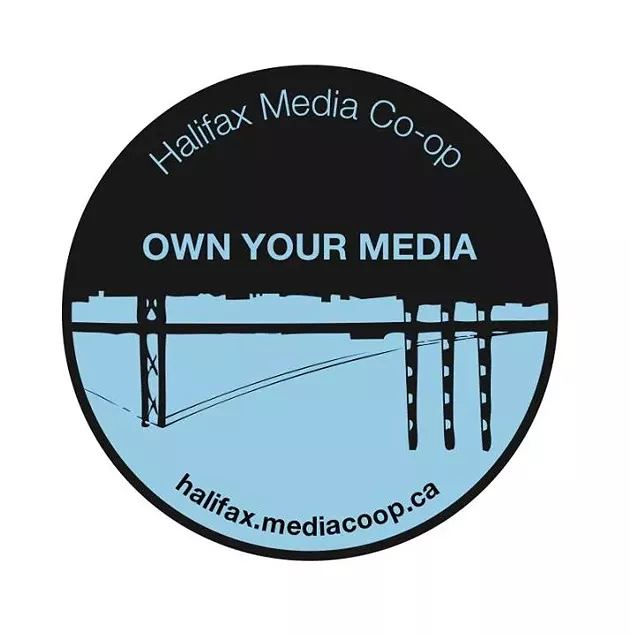 The death of the Halifax Media Co-op was everything the Chronicle Herald strike wasn't. The labour situation at Nova Scotia's daily paper of record dominated headlines this year and drew national attention, while the quiet passing of the local media co-operative earned barely a eulogy.


The website remains online, for the time being, and the occasional volunteer blog post continues to crop up. But the money's gone, and with it goes another news outlet in Halifax.
Back in June, the Halifax Media Co-op (HMC) announced in a short blog post that it would be taking an indefinite hiatus. A joint statement by the co-op's interim editorial collective said the site had tried its best to "help amplify underrepresented voices," but the "capacity to keep the co-op running functionally has dried up."
One of the HMC's core volunteers was Miles Howe, who had been writing for the site since 2010 and was practically running the shop until this spring when he moved to Ontario (Disclaimer: Howe also occasionally wrote for The Coast). His departure brought previous and founding editors like Ben Sichel and Hillary Lindsay together to try and figure out the co-operative's future. For a number of reasons, continuing to run the site proved too daunting of a task.
"There wasn't a functioning editorial board," says Lindsay. "None of us who were called together had time in our lives at that point to put time into outreach and getting things moving again."
"All of us were busy with other commitments. None of us wanted to re-start the Media Co-op," says Sichel. "We decided we were going to let it lay dormant, for now."
It didn't help matters that funding this year from the Canadian Nova Scotia Federation of Labour (NSFL) dried up in the wake of the site's dormancy. The NSFL was the site's largest single source of money, contributing approximately $20,000 a year. Howe says the co-op become "overly reliant" on that money. At the same time, he says, it was spending too much money propping up the national Media Co-op organization that had spawned a series of spinoff sites in Toronto, Montreal and Vancouver.
"It was becoming very top-heavy, very national-oriented," says Howe, who estimates half the money coming into Halifax from subscribers was redirected to help the national co-operative.
The Halifax Media Co-Op went online in 2009, launching a year after the closure of the Daily News and the same winter that the Herald announced $1.5 million in cutbacks. It was created by editors of the Dominion, a monthly alternative newspaper published out of Halifax that had started six years prior. It was the first in what quickly became a coast-to-coast network of democratically-run news co-operatives—membership-funded media outlets writing for the unrepresented.
"People got their voices heard, in an unmodified way, without going through the more traditional journalism," says Robert Devet, who wrote for the HMC for several years and now runs the alternative news blog the Nova Scotia Advocate. "People got to make their own case, in their own voice."
The stories told by the Media Co-Op strongly focused around areas that were—and often still are—ignored by larger, corporate-funded media: the struggles faced by low-income Nova Scotians; First Nations groups; environmental changes; labour rights; corporate and political collusion.

Its critics would call the HMC home to partisan, left-wing writers and activists. "We tried to be always fair, which I think is different than claiming you're unbiased," counters Sichel.
As easy as it was for some to write-off the co-op's politics, its journalistic efforts are worth remembering. It helped launch a Mi'kmaq-language podcast and published a blog written from inside the notorious Burnside jail. It tackled resistance movements in Elsipogtog (for which Howe was arrested three times), and examined Emera's control of electricity in the Bahamas. It provided a launching ground for young reporters like Natascia Lypny (now with CBC in Regina), Stephanie Taylor (formerly Metro Halifax, now Metro Winnipeg), Hilary Beaumont and Justin Ling (both now with Vice Canada), amongst others.
"I think it shows what can be done when you take the Fifth Estate very seriously," says Howe. "When you do your best to separate money from that, what can be done on a very limited budget—what you can dig up."
"When people were coming together and mobilizing, and when the corporate media was not reporting on what was happening on the ground, that's when the Media Co-op could really shine," says Lindsay.
And it still could. The website, archives, all of it can be revived if someone wants to take up the cause.
"Hopefully that can get picked up again by someone else," says Lindsay. "Learn from what we did and, yeah, take it from there."
"We did sort of leave the opportunity if anyone wants to come together," says Sichel, while cautioning that any revival would be a lot of work. Restarting the Halifax Media Co-op would be a labour of love, but then again, it always was.
"You're welcome to get in touch."