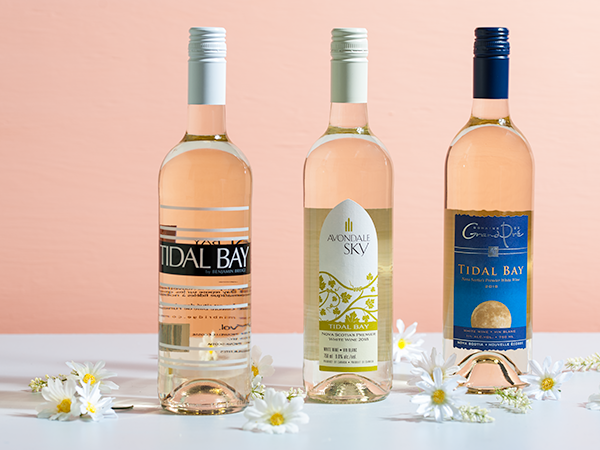 P icture it: You're sitting in a folding chair on a country lawn somewhere in the Annapolis Valley. You got a lot of sun at the cherry U-pick in the afternoon, and your skin is still radiating. You are satiated with lobster rolls and potato salad. The sun is making a mix of Creamsicle hues on the horizon. The evening is in that transition where the day ends and the evening begins, where the hot summer air starts to dissipate and the cool evening starts to take over—it's warm, but there is something refreshing and dewey around you.
Tidal Bay is like that sunset period: It's crisp and fresh, but has sunshine and ripeness intertwined within it, too. Every May, the wineries release their Tidal Bays from the previous year. The launch event, 12 Tides, is a nice way to taste though all of them in one pass, ushering in the warm season in a beautiful way.
The appellation wine of Nova Scotia—made by the majority of wineries here—is coming into its ninth vintage. Like other regionals (Champagne or Rioja), the wines are made in a similar style but differ slightly from winery to winery. All Tidal Bays are made with a blend of industry-approved aromatic white grapes which showcase the terroir, and the effects of the cool maritime climate.
The spring of 2018 threw a curveball at vineyard managers and winemakers with a highly unusual June 4 frost that killed new growth on vines and resulted in some vineyards losing up to 90 percent of their usual yields. It was a catastrophic loss for the industry.
"When only a small number of [grape] berries remain, they inevitably receive a supersized energy input, intended for significantly more fruit," says Jean-Benoit Deslauriers, winemaker at Benjamin Bridge. "That is why scarce vintages often feature elevated levels of concentration and extraction."
As a result, Benjamin Bridge's wine was the best of this tasting, with beautiful aromas and texture. Despite the difficult season many of the Tidal Bays, especially the three listed here, are zesty, lively and ripe.
---
Benjamin Bridge
Grape blend: L'Acadie Blanc, Riesling and Ortega
This wine is totally elegant. In previous years, the Tidal Bay from Benjamin Bridge felt more austere and less fun. This vintage is layered and playful; like a bouquet of lilacs and wild roses with a bite of a sweet juicy apple. It has a bit of funk, too, and minerality. The acidity is still refreshing, but not too puckery. In essence, this is pretty, balanced, fits with the style and has good length.
---
Avondale Sky Winery
Grape blend: Vidal Blanc, L'Acadie Blanc, Geisenheim 318 and Ortega
Winemaker Ben Swetnam makes a great Tidal Bay. He's proven that for years now, with a consistently exciting and fresh wine, one that balances acidity and a slight sweetness in a fine way. Remember dipping a stalk of rhubarb into a bit of sugar, and how those two flavours and sensations came together perfectly? This wine is kind of like that, or like eating a strawberry when it's half-green and half-ripe. "The wine's combination of higher acidity, subtle sweetness, and lower alcohol really begs for food," says Swetnam.
---
Domaine de Grand Pré
Grape blend: L'Acadie Blanc; Ortega, Vidal Blanc, Seyval Blanc and Muscat
When talking about this vintage, winemaker Jürg Stutz says Tidal Bay was the priority wine to make with what was unharmed. Nova Scotians have grown to love this product, and consistency is important: "When it comes to sweetness, and alcohol levels, but also the flavour profile [...] using five different grape varieties certainly gives us some flexibility and room to play in order for us to achieve a consistent product year after year," says Stutz. The 2018 vintage hit all the right notes: Lemon zest, strawberry, pear and a little bit of that dreamy cotton candy from the small amount of Muscat grapes in the blend.