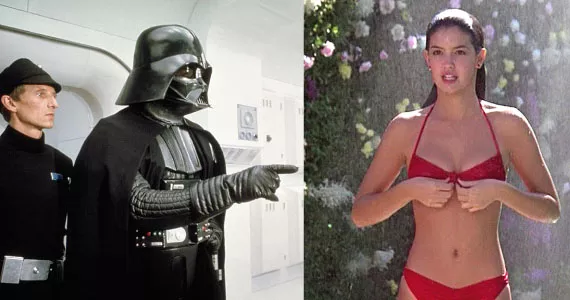 The Abyss
The perfect antidote to the oppressive heat and humidity of a summer's day is the oppressive cold and dark, deep down in the ocean where Ed Harris and Mary Elizabeth Mastrantonio are with a crew in an undersea oil rig under siege by a hurricane, navy SEALS gone loco and aliens.
This is James Cameron from 1989, just after Aliens (1986) and The Terminator (1984), filming one of his obsessions (deep ocean) years before Titanic (1997).
It's thrilling but not so scary. Beautiful underwater scenery. The romance between Virgil (Harris) and Lindsey (Mastrantonio) is not at all syrupy (Virgil: God, I hate that bitch. Hippy: Probably shouldn't have married her then, huh?).
He's 100 percent likable and she's a terrifically strong and capable character who in the end saves everybody's ass. Well, her plus the aliens. So it's sci-fi also, but here the aliens are really pretty.
There are terrific special effects and stories of what Cameron invented to get this film made, but above all are the great characters, all introduced in the first five minutes; we care about them all immediately. There are no opening credits so don't go for ice cream without pushing pause. --Jane Kansas
Batman
Received wisdom has it that '70s classics Jaws and Star Wars gave birth to the modern summer blockbuster. I had not yet received such wisdom in the summer of 1989, and my gangly 13-year-old self hadn't made any connection between movies and their release dates. Then came Tim Burton's Batman, the movie that, for me, defined that last summer of the '80s and sparked my awareness of the cinematic seasons.
I remember the t-shirts, the black-and-yellow bat signal logos that began popping up on Grade 8 classmates weeks before the movie opened. I remember realizing for the first time that a movie could be an event, and seeing the jocks, dorks and art-farts mingling impatiently in a line that snaked out into the early-evening sun underscored that point. It was also very good in that perfect popcorn-munching way.
There was action, gadgetry, Danny Elfman's memorable score and incredible set design. My friends and I quoted Jack Nicholson's Joker for months. And there was just enough darkness to intrigue, but not terrify, a tween-age kid.
I saw Batman four times that summer. Sure, two of those times were failed attempts to see Friday the 13th Part VIII: Jason Takes Manhattan, but I was never bored or disappointed. --Matt Semansky
The Craft
The Craft (1996) is a bracing shock of black for a such a sunny time of year. The tale of four teenagers who assert themselves through magic and then turn on each other, remains both an escapist lark and a defiant howl for definite outsiders.
Nineteen ninety-six saw numerous high-profile films with women leads meeting their release: The First Wives Club, Harriet The Spy, Set It Off, Evita and Emma, among others (Striptease!).Some of the year's films have proved to be downright classics, including Fargo and Secrets & Lies and others have proved to be enduring joys, like Matilda.
So while they still lack meaningful racial and cultural diversity, the films of 1996 did portray women characters with vast complexities. Include in that The Craft and its high-wire performances, led by a rabid Fairuza Balk.
Last year saw a comparable number of women-led wide release films (the slice of the pie is, overall, still shameful).
What is contained in The Craft is an icon for those that prefer to play indoors at the movies. Truth via excess.
Balk gives a moat of a performance; wide, deep and with sharp teeth. She sacrificed herself to redeem us all for our sin of sloth. --Hillary Titley
Dazed and Confused
Last June, my band played at 8pm in a goth club in Toronto on the last day of North by Northeast, to a crowd of approximately 23 people we knew from Halifax. At 10:30pm, I announced "Fuck this festival," handed my pass to someone without one and dragged my guitar down to the TIFF Lightbox for one of my favourite films by my favourite director.
I first saw Richard Linklater's Dazed & Confused on the last day of grade nine, on VHS. My friend Lindsay complained that "nothing happened," but I loved everything about it, how it roamed and danced and threw beer and punched nerds and drove around and around and around. I loved the opening shot of the car pulling into the school parking lot on the first snare hit of Aerosmith's "Sweet Emotion"---pure fucking swagger.
Once I was in a hostel common room in Montreal with four other people, all from different countries, and I had the remote somehow, when the TV skipped across the girl hazing scene---"Those are my shoes!" I yelled at Parker Posey, who was wearing the same navy Nike Cortez (with a baby-blue swoosh) that I had on at that moment---everyone else went "Ooh!" and we sat there until the end.
Dazed endures, erroneously as a stoner movie and completely rightfully as one of the best movies about high school. The crowd at the Lightbox was a little bit larger than the one who'd watched me play, and mostly dudes, including the one directly behind me who quoted the first 20 minutes two seconds ahead of the actors. The print was kind of banged up, as something from 1993 should be, and with it looming over me properly now I realized that an ensemble cast of mostly unknowns can be a beautiful thing, but in Dazed it's gawky, loud, uneven and tonally all over the place---just like high school, and summer in Halifax, if you think about it. --Tara Thorne
Fast Times at Ridgemont High
Picking favourites isn't my thing, but, if I must, it would be Amy Heckerling's Fast Times at Ridgemont High (1982).
A good summer movie must have maximum watchability---you have to be able to enjoy it at any time of the summer, under any circumstances. It should also embody the ethos of summer itself. Fast Times fits both these criteria: It's about Californian high school students, but the jokes never get old (in fact, I've watched it so many times I recently discovered I've worn out my DVD). In theory, with all that extra vitamin D we take in from beneath our weakened ozone layer, summer should be a time of pure happiness or at least abandonment. The Ridgemont High students embody that seize-the-day attitude that we sometimes forget about when we pretend to be adults---even though these kids are irresponsible, they're honest in the pursuit of their desires for sex, drugs and alcohol, and hanging out at the mall or tanning beside the pool. How can you not laugh at the ever-quotable Jeff Spicoli (a young Sean Penn), the prototype surfer-stoner, or cringe at the endless raunchiness and earnest boy-craziness of the naive Stacy Hamilton (Jennifer Jason Leigh---yes) and the experienced Linda Barrett (Phoebe Cates)? --Molly Segal
Grease
Arguably the best musical ever made---if I'm the one doing the arguing---this love story about a summer fling turned "Oh shit, we go to the same school and have nothing in common" has just two flaws---inspiring the shitty imitation series High School Musical and misleading me into thinking high school would be a '50s gathering of tame-gangs, car races, dance competitions, pep rallies and bouncy hair. It was none of those things, not even when I helped put on an interpretation of Grease for a talent show.
Summer, for me, will always be lying on my stomach in front of the TV (the closer you get to the floor, the cooler it is) and singing along to every song. Not to mention Olivia Newton-John's defining moment, sewn into her tight black pants smoking (because it's the cool thing to do) without knowing how to get rid of the butt. I think maybe, it's the innocence permeating the movie---even with all the innuendos, the violence and a pregnancy scare, everyone is just trying so hard to be grown up---to get through school and make it to summer. Even now, with high school decidedly in my dust, I can relate. I just don't think I'll ever forgive John Travolta for actually getting old. --Lindsay Rainingbird
Star Wars
The Coast started a long time ago in a galaxy far, far away...and I was there. Looking back from now to the debut issue in 1993, a few milestones stick out to help me measure the progress of the business. Like when we bought our first postage meter. Everybody knows that only real companies have postage meters, so this was a big step towards legitimacy. One souvenir I still have is the advertisement that 20th Century Fox placed in The Coast when the remastered version of the original Star Wars came out in 1997. This is a hard copy, quarter page ad, sent to the paper by courier before the digital days. A zealous fan of the Star Wars trilogy, I was happy to consider that ad different than the standard promotional effort distributors gave to most releases. For me, it was like George Lucas had personally chosen my paper to spread the gospel, and I'd gone from consumer to collaborator in the greatest story ever told.
My Star Wars euphoria hadn't peaked. From that 1997 version of the original trilogy, to the start of the second trilogy with the summer 1999 release of The Phantom Menace, I only got more excited. To see what my friend and partner Lucas was up to. For a return to the Star Wars-infused summers of my youth. On the eve of The Menace's release, Obi-Wan Kenobi went on The Coast cover. That would be when I peaked, feeling at one with the Star Wars universe.
Unfortunately, I soon watched the movie I'd been so stoked for.
The real first Star Wars, from 1977, opens with words scrolling into the sky: "It is a period of civil war." You know right away this is bad, and personal, because civil wars are the sorts of wars where families turn against each other and friends fight friends. The Menace kicks off with these haunting sentences: "Turmoil has engulfed the Galactic Republic. The taxation of trade routes to outlaying star systems is in dispute." This convoluted and technical start is the highlight of the movie. By the end, I was questioning all the love I'd given to Star Wars and utterly disenchanted with George Lucas. So began the summer of my discontent. --Kyle Shaw
Terminator 2
When The Terminator came out in October, 1984, it was better than it had any right to be, given it was directed by the guy who did Piranha II: The Spawning and starred an Austrian strongman. When the sequel was released to much fanfare in the summer of 1991, cinema-goers lined up around the block.
I was working in New York that year, and was in the audience at the Loews 19th Street and Broadway on Friday, July 5. This was my first experience seeing a movie in New York, and not just any movie, an event movie, on opening weekend. I didn't expect the cheering, popcorn throwing and the applause for the special effects, especially when Robert Patrick's liquid metal T-1000 did something morphy. People oohed at Linda Hamilton's impressive guns, ahhed at the helicopter/truck chase and laughed at the ways the old, reprogrammed Terminator became a pet of Eddie Furlong's John Connor.
It was a blockbuster that delivered everything it was supposed to: stunts, 'splosions, big thrills and an escape from the ordinary. The fact that I saw it on a sweltering July night in Manhattan on opening weekend sealed the deal as my Best Summer Movie. Turns out that Austrian dude had a hell of a screen presence. --Carsten Knox
The Warriors
When I think of summer, I think of crime sprees. And when I think of crime sprees, I think of The Warriors.
Directed by Walter Hill (Alien 3, Deadwood), The Warriors tells the story of a misfit entourage from Coney Island who are framed for the killing of a famous gang leader. They must battle rival gangs from across New York City and get home before sunrise or risk being stabbed to death and left for dead in the Bronx. Pretty badass, I know.
When the film came out in 1979, it spawned Rock Around the Clock-style random acts of violence across America, which is hard to believe, considering that The Warriors are about as tough as the cast of Cats. Seriously, there isn't really anything masculine about a group of shirtless guys cartwheeling toward enemies and power-walking away from danger.
That said, The Warriors feels like Double Dragon and Streets of Rage brought to life, with constant action and a barely there storyline guiding the way. I'm shocked that this film hasn't been remade yet starring Zac Efron, Channing Tatum and James Hardy with direction from Nicolas Winding Refn. You're welcome, Hollywood. I expect my cheque is in the mail. --Matthew Ritchie
Wet Hot American Summer
I dig all things summer camp: singalongs, uniforms, water sports, bunk beds---I even kind of like the smell of bug repellant. So it makes sense that one of my favourite movies of the sweaty season is Wet Hot American Summer, an oddball comedy that takes place during the final day at Camp Firewood in the summer of '81.
It bombed in 2001 but it's a gem that, like many others, has crept into cult film territory. A bitter-as-ever Janeane Garafolo is camp director Beth, who leads an apathy-challenged team made up of freaky, shell-shocked chef Christopher Melonie and a self-obsessed army of counsellors (Uh, hello: Amy Poehler, Paul Rudd, Bradley Cooper, Molly Shannon) who in an exaggerated Dawson's Creek fashion are clearly not anywhere near post-adolescence. They spend more time getting high, having sex, kidnapping, escaping to town and fondling sweaters than actually counselling, plus ol' Niles Crane (David Hyde Pierce) appears as Garafolo's love interest. This bad-but-great movie is actually a lot like summer camp: uncomfortable at first but once you warm up to its all-around strangeness, it's something to write home about. --Allison Saunders