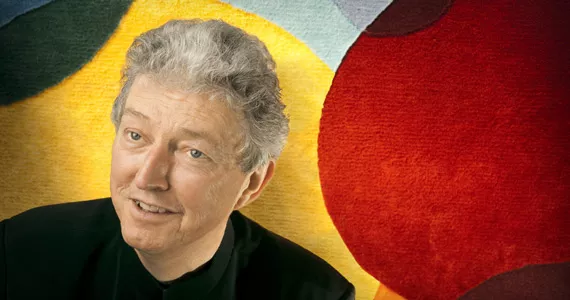 Scott Macmillan's SummuS is an ode to palindromes, and the beloved composer's first symphony. by Stephanie Johns
Scott Macmillan's love of math led him to write a symphony. If that sounds a little counterintuitive, stay with him, his description of the simple poetry of numbers will make you a believer.
"I've always had a fascination with mathematics, I have a BA in mathematics, which is kind of an oxymoron—there's not too many of us," says Macmillan. "The idea of incorporating mathematics into music, I really believe in my heart that it generates a really pure beauty in its own way. Much to the surprise of the average listener, they just let it wash over them like a shower in the bathroom, but behind it all there's lots of little mathematical things going on."
The composer continues: "Mathematics has no opinion, and you can't have an opinion on math, it just is. And basing music around that structure just frees me up. It's not like I'm drawing on a style of music with history, it's just like a seed in the ground, it just comes up like a plant."
Organic is a good word to describe Macmillan's oeuvre. One of the Maritimes' most beloved musicians, Macmillan penned the Celtic Mass for the Sea and Currents of Sable Island. But his latest—arguably most ambitious—piece takes a step away from those themes. "I've done a lot of pieces about places or events but SummuS is not about anybody or any place, It's about numbers. It's emotional and it's fun."
SummuS is Macmillan's ode to palindromes. Dreamed up in 2002, the 45-minute symphony is the composer's first, performed by Nova Sinfonia. "I applied for a grant from the Canada Council, it was a long shot but nonetheless I applied to do a symphonic work based on palindromes, because of the year 2002," says Macmillan. "The next palindrome year would be 2112—long after your or my lifetime. I figured it was an auspicious year so I wanted to do something creative with it, and lo and behold I got the grant."
Macmillan wrote the music during spring 2002 to winter 2003 at his home in Cape Breton. "It was an intense time," he says. "I had that privacy plus the intensity, I couldn't be watching TV shows or partying with friends, I had work to do."
Macmillan based the piece around a chromatic wedge, a scale that is in itself a musical palindrome. There are palindromes throughout the symphony, subtle winks to the careful listener. After an initial reading in 2003 from Symphony Nova Scotia, Macmillan realized the piece couldn't fit into SNS's classic or pops programs so the project was left on the shelf while life took over. He revisited the recording recently and Nova Sinfonia took up the gauntlet.
"I'm looking forward to working with the players," he says. "I told them all, 'make sure you have a pencil with you, because I'll be changing it on the fly.'"
Though this particular piece took 10 years to realize, Macmillan doesn't anticipate a similar span of time before his next symphonic work. "I'd love to keep doing this. I've learned from that piece and other pieces. I've learned a lot, and I'd like to see where I can take it," he says. "I like to be creative all the time, I try to write a little bit of music, not every day but a little bit all the time to keep those creative juices happening."
---
Nova Sinfonia presents: Scott Macmillan's SummuS
Monday, January 28, 7:30pm, $5/$15
Faith Tabernacle, 6225 Summit