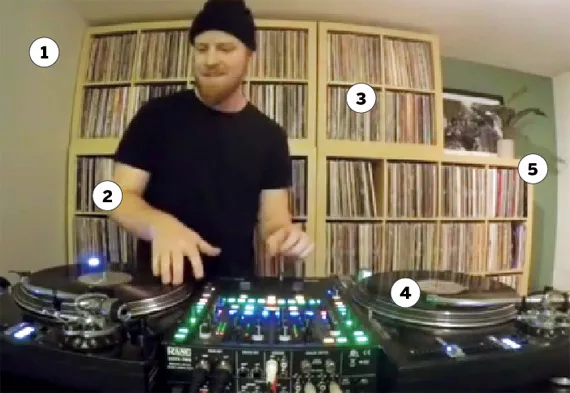 Last week, Halifax-bred, Toronto-based DJ Skratch Bastid (AKA Paul Murphy) released a filmed remix of David Bowie's "Let's Dance" on the morning after the rock star's death. In just a few days, the video had been viewed and shared over 11 million times on Bastid's Facebook page. This Saturday, Skratch Bastid returns to The Marquee with DJs Okay TK and Gwen West, so we asked him to tell us about his home studio that millions of people all over the world have now seen.
1. "I've got a home studio where I practice and work on mixes," says Bastid of this space. "I've always got to have turntables set up at home. And then I have a studio that I share with Grandtheft and a few other artists that is more for recording and production. I am in either spot daily when I'm in Toronto, just depends what I'm working on at the time."
2. "I post videos weekly, and this one was more of a freestyle," says Bastid of the David Bowie mix. "I knew pretty quickly that it was getting an abnormal amount of attention. It was wild to watch in real time. I posted it after an all-nighter at 7:30am, and it had 100,000 views in the first 10 minutes. And it stayed at that pace for much of the day. I didn't get to sleep until 2pm. I think that's what made it the most exciting, because you're wondering how far it will go once it gets on a roll. Eleven million views. Can't say I saw that coming."
3.Five records Bastid's spinning lately: Jorge Ben, Africa Brasil; Leroy Hutson, Feel The Spirit; Junjo, A Live Session With Aces International featuring Yellowman, Eek-A-Mouse, Toyan, Fathead; Erykah Badu, New Amerykah Part Two (Return of the Ankh) and David Bowie, Young Americans.
4. "I started collecting records in '97 when I realized there were rap songs available on vinyl that weren't on CD or cassette. I've got 20,000 records, give or take 1,000. About 4,000 of which are in the studio you see. God bless Ikea, they've really looked out for a ginger over the years."
5. Bastid missed Crunkmas—his annual Halifax Boxing Day event—a few weeks ago, so he's planning to make up for it. You should head to The Marquee "because I've got Gwen West and Okay TK rockin' with me," he says. "And because you need to see the Bowie routine live in real life, don't you?!"
---
Skratch Bastid w/Okay TK & Gwen West
Saturday, January 23, 10pm
Marquee Ballroom, 2037 Gottingen Street
$13/$18