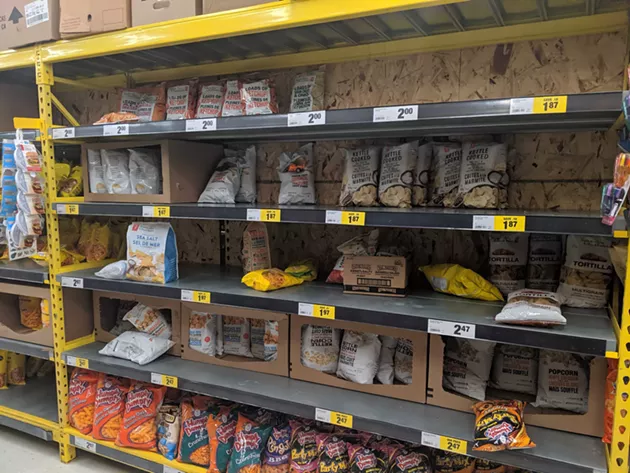 Hurricane Dorian is coming. Like the worst visitor ever (an uninvited one),
that hot mess is going to show up, over-stay his welcome, lock us indoors, knock some stuff over and probably take our electricity with him as he storms his way towards Cape Breton to mess up somebody else's weekend.
If you've seen the fuss online—
the closures and cancellations, the warning you'll need food and supplies for up to 72 hours
—yet haven't done anything to Be Prepared just yet,
here are 10 things to grab at the grocery store that'll help you get in and GTFO as quickly as possible.
Living through the
last-minute pre-storm shopping experience
is nearly as bad as accidentally swinging by the Quinpool Superstore on student night, but together we can get through this.
1. Chips
Forever number one on the shopping list, but especially in these stormy times (
thank you, Stephanie Domet
). Buy food flavoured options—pizza! roast chicken! loaded baked potato!—and make like you're eating a meal or just stock up on your faves.
Chip aisle ravaged?
Here's a snack hack:
Pre-pop a bunch of popcorn, season it and fill a few Ziploc bags.
2. Bread and peanut butter
Go crunchy for maximum protein intake.
3. #stormcharcuterie

Is this an Italian trattoria or your dark-ass, candle-lit apartment? Bouj it up with some crackers or bread, hard cheeses, dry-cured sausage (maybe soppressata salami or a stick of Brother's pepperoni), figs and a jar of pickles. They'll all keep without the power of a fridge.
4. Tuna
Nothing says un-sexy storm preparedness like a can of fish.
5. Trail mix
Nuts and dried fruit will get old fast, but will keep your belly full.
6. Cereal

With non-dairy milk, or by the fistful.
7. Avocados
When you're eating all of the carrots and cucumber out of your crisper, whip up some guacamole to bring a little bit of good fat to your raw snacks.
7. Fruit

After you've ploughed through your chocolate supply, turn to nature's dessert: Apples, citrus, bananas and other long-lasting, countertop-friendly sweets.
8. Canned beans and legumes

Bean salad, anyone?
9. Gatorade
Electrolytes, baby! If water gets scarce, a neon sports beverage is smart to have on hand and it doubles as a way to combat a day-drinking induced hangover.
10. Good company

Drown your sorrows and your internet-free boredom—yes, no power = no wifi—with some pleasant, invited company. (You're probably not going to find that at the No Frills, but who knows?) Build a puzzle, play a board game, maybe even...talk. If,
like Dido
, you're determined to go down with this ship, you might as well do it with a good friend by your side.