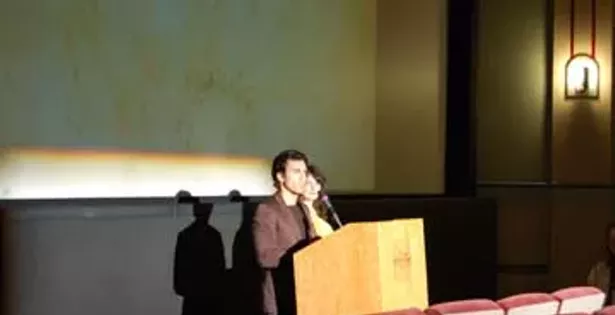 So, I'm sure that the Canadian arty pohleease are going to kill me for saying this, but I am not an Atom Egoyan fan. I thought I liked Exotica, but then I watched part of it again a couple weeks ago, and it felt very heavy-handed. I did like The Sweet Hereafter, but I think that had more to do with Russell Banks' novel. Often Egoyan's films revolve around the idea of memory, and the only time I've felt really moved by him was during an art exhibition of his I saw several years ago at the Montreal Musee d'art Contemporain, where a bunch of old reel-to-reel tape recording machines played tapes donated from Montreal residents. The sound installation was inspired by his own memory, of hearing his own voice (singing "Doe a Deer") played back to him.
That said, I'm not sure how I ended up first going to see his new film Adoration (OK, because I live near the Oxford), and then Kevin Smith's Zack and Miri Make a Porno. I looked like Otto; or Up with Dead People (BTW, Bruce LaBruce is expected in town on Wednesday!) as I left the first one, and got in line for the second. Of course Smith's movie was totally packed out, which makes me sad after watching great films in barely occupied theatres. C'mon peeps. Take a chance. Go see Eric Bednarski's doc The Strangest Dream this afternoon at Park Lane at 2pm, then stick around for Carts of Darkness at 4pm.
Due to review restrictions, I can't say anything other than:1. Scott Speedman has come a long way since he mumbled through Felicity. (Sadly he couldn't make it to town, neither could Josh Jackson, filming the new J.J. Abrams' show, Fringe--which actually looks decent. Can you imagine a Ben-Pacey showdown?There's a few teenage-poster fantasies coming for reals right there). Speedman's performance was a stand-out in Adoration.2. Atom. I love that you love your wife. And I think that Arsinee Khanjian is a talented actor, but you and David Mamet need to stop creating unnecessary storylines for your spouses. There I said it.3. Can I say for all the ladies, that we're tired of Seth Rogen hooking up with fab blonde beauties like Elizabeth Banks, who is one of my new favourite funny-pretty ladies. It has nothing to do with his looks. I don't care about that. But really, what woman falls in love with their roommate after he suggests making a porno to pay for the heating bill? 4. Thank you Kevin Smith for bringing back Traci Lords, even if it had to be as a porn actor. It makes me want to put on my new Cry-Baby t-shirt and watch some old Melrose Place episodes.
Two young supporting cast members from Adoration. Egoyan is apparently recovering from TIFF critical acclaim...
Dinner: a scurvy-free day with vegetables (whoohoo!) to fight off this oncoming fest flu.