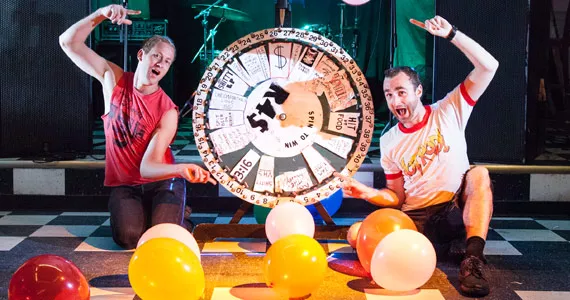 Every Monday night there is a pilgrimage to downtown Halifax. It's undetectable at first—a slow, leather-and-denim-clad flock making its way over the Citadel from the north end, running for the Dartmouth ferry terminal, stumbling in thin throngs from the university neighbourhoods. They might be carrying instruments. They will certainly be a little bit tipsy.
The usual bump-and-grind gay-bar atmosphere of Reflections is transformed into a Busytown-esque tableau—a thrash guitarist downing the free pitcher of beer meant for her entire band, a singer-songwriter dominating a metalhead at Mario Kart, a cover band that formed last week, because they heard there was $1,000 on the wheel, stumbling through a GG Allin song.
These familiar scenes haven't changed much in the 10 years $Rockin' 4 Dollar$ has been around.
How it work$
The night begins at 9:30pm and ends around 1am, with a new band on stage every 15 minutes, allowing 12 bands to play each week. In the wee hours of the morning, each band gets a chance to spin the big wheel for prizes.
The money accumulates weekly if nobody wins, starting at $200 and growing by $200 each week until it caps at $1,000. If the grand prize doesn't go, the hosts give away free food to attendees—usually pizza, but Kris McCann, of Octopi Entertainment, recalls a time where he helped Alfred Remo make grilled cheese sandwiches for everyone in the bar.
The big money is the coveted prize, but isn't the only prize on the wheel. Bands also have the opportunity to win jam time at Rockopolis, shitty VHS tapes, t-shirts, uncomfortably long hugs, the opportunity to spit beer on the host, or—the most dreaded prize—the opportunity to get bean someone (or get beaned) in the head with a cookie sheet.
$Rockin' 4 Dollar$ is a battle of the bands in the sense that the acts are competing for money, but the prizes have nothing to do with talent and everything to do with luck. Or lack thereof.
How it $tarted
Craig Hamlin is the brains behind $Rockin' 4 Dollar$, but the story of its creation isn't as wild as some of his other ventures—the drag rock show Hissyfit, Paintball Bingo, Reflections Wrestling. The idea simply came to him as he was lying in the backseat of a van on his way to the Annapolis Valley to play a show with his band, The Dean Malenkos. At the time, Hamlin was working as a bartender at Reflections.
The Dean Malenkos had previously hosted a similar full band open mic called Hard Rockin' Jamboree at Hell's Kitchen, having had the torch passed down to them by The Heelwalkers. Hamlin and Jon Epworth were the night's initial hosts, before Adrian Bruhm (The Graboids) came on board in 2008.
Hamlin is modest when he relays the story of R4D's creation. "The idea for the name and the wheel just came to me," he says. "It isn't even that bold of an idea, but there was a really strong band scene at that time and there was a website called Halifax Locals."
Ah, Halifax Locals. The oft-mourned message board went offline in 2012, but back in 2005 it was essential in the creation, promotion and survival of R4D. "Pretty much every band in town, whether they hated the site or loved the site, were looking at it for everything," says Hamlin. "If there wasn't Halifax Locals, R4D never would have happened. The initial promotion for it was done exclusively through Locals and people were really excited about it. We were able to get 300 or 400 people out at the beginning."
That huge initial launch soon took a dive. "It started off huge and within two months we had the slowest R4D that we've ever had. We went from like 350 people to two months later one night we had two bands play and there were maybe 10 people there," says Hamlin. "So it was a real strange shift, so we've had to make a lot of changes."
How it'$ changed
Needing more than just live music and a big wheel, Hamlin and Bruhm introduced a ping-pong table, video projections of black-and-white movies or '80s wrestling matches and a Nintendo 64 with a variety of games. Hamlin suggests that changing the landscape of the space reinforces the idea that it isn't just like any other night out at a show, calling the additional activities "diversions."
"People from all over have written and asked, can we start one up in Montreal or Victoria or some place, and I'll tell them all about it and how we do it, but I always advocate for them to do everything they can to make it seem like it's not a regular night in the bar," he says. "Typically because it's on an off-night, it needs something that goes beyond. That's why I think it works for us."
Bruhm believes that the diversions presented at R4D are especially valuable for show-goers with anxiety. "People like going out and they like being in social situations, but sometimes they need something to distract them a little bit. To just have a place where you can just go and sit down and kind of ignore people while music's playing and just be in your own little world while playing Mario Kart is pretty cool."
In 2010, R4D introduced the concept of a weekly host act—a more established band or artist that would draw an audience. The inaugural host was about as established as they come—Rich Aucoin made a surprise appearance. Acts like BA Johnston, Billie Dre and the Poor Boys, Tupper Ware Remix Party and Walrus have taken turns as host bands, drawing bigger crowds.
Undoubtedly, the biggest change in R4D's storied history is the new venue. When Reflections Cabaret moved from its longtime home on Sackville Street to new, slightly smaller digs on Salter Street last August, there were some adjustments.
The new space provides closer quarters for show-goers, who often hid out in the nooks and crannies of the "cavernous" Sackville location. The smaller dance floor puts the audience front and centre to the music, an arrangement the hosts are pleased with. "You're sort of forced to focus on the stage, so that means bands get a lot more attention. So there's been a lot more cheering and acknowledgement of sets," Hamlin says.
The charm of the old space came from its undeniably untidy atmosphere. "The place was filthy, kind of. It was a lot dirtier, so we didn't feel as bad about throwing icing sugar everywhere or having beer or food all over the floor at the end of the night," says Bruhm, before Hamlin adds, "Or blood."
The backstage area of the old Reflections was littered with drag queens' wigs, costumes and props, a cache Hamlin and Bruhm put to good use. Hamlin recalled a night where he wore a sari and a "neat little hat and glasses" and put on a designer persona to style every band who spun the wheel in bootlegged costumes as they collected their prizes. Bruhm wore a different "borrowed" outfit every Monday for three months.
The theatrics of the evening aren't reserved just for bands, though. R4D has been hosted by actual theatre groups–a full cast of The Rocky Horror Picture Show took to the stage on Halloween 2011 and the cast of the 2012 camp-rock musical Sissydude hosted before two successful, consecutive runs at Queer Acts.
Unplanned shenanigans have been a recurring theme in the past decade of R4D, the expectation of the unexpected creating a magic magnetism for (largely) harmless jokesters.
Crowd-surfing artists have been carried out of the bar and into the street by rowdy audiences; Bruhm sprained an ankle attempting to get on a skateboard after crawling under the ping-pong table; impromptu prizes (like a Myles Deck setlist Bruhm found on the floor or the chance to win a date with Kris McCann) have been added to the wheel.
Bruhm reminisces about a particularly chaotic night: "Josh Salter found a woman's shoe. I don't know if he did it, or we made him do it, but there was beer poured into the woman's shoe and he drank out of it," he says of the Monomyth singer. "Every band that spun after that, we made them drink beer out of something. Coleman"—Johnston, of The Scoop Outs —"won a Linkin Park CD, so I poured beer onto the CD and into his mouth."
How it'$ changed Halifax
The scope of R4D's impact isn't apparent when you examine the night as a stand-alone event, but when you take a step back and fully realize just how significant the event has been on Halifax's culture, it's astounding–a true arts incubator.
Bands have been born, fostered and risen to prominence on Reflections' unassuming stage. Like A Motorcycle was formed by friends just hanging out at R4D before being catapulted to bigger endeavours. Bassist Kim Carson calls R4D the place that Like A Motorcycle "gained our sea legs."
Bruhm laughs as he says, "Myles Deck was a force to be reckoned with in Halifax, and Myles Deck and The Fuzz played every Monday night for three months straight. And now he's off in Cauldron and I just like saw a picture of them with giant fireworks during their set and he's off being a real musician," before adding, "Any band who is currently doing well in Halifax probably had a member who started out in a band here."
Heather Grant of Crossed Wires is appreciative of the opportunities R4D has provided for female musicians. "All you have to do is ask. I think on any given night there are at least five or six women playing, sometimes more, and they're playing many different styles of music," she says. "It kind of discredits that whole argument that there just aren't that many female musicians. There are, they just need more opportunities to play and it's really great that R4D offers that opportunity."
Bruhm keeps an expansive archive of visual material–he takes hundreds of photos a night and holds onto all of the show posters (which he designs and illustrates). The archive is incredibly valuable, not just to Bruhm, but to the wider community.
Punk scenes are often comprehensively documented–consider the work of Simon Fraser University's Vancouver Punk Collection and the DC Punk Archive. Perhaps it's just so important for people in the scene to have proof of their presence. Bruhm likens his archive of over 40,000 photos to nightly time capsules.
The community sees their value too: "The amount of profile pictures I see of people at Rockin', that they're using that, knowing that they care that much," he says. "Maybe they've only played three shows in their life and they're so excited to have a photo of them playing drums! And then I see their grandmother commenting on it like 'Oh, you're playing music!'"
How it'$ spread
R4D has seen iterations pop up and then disappear all over the country. Moncton, Charlottetown, Montreal and Calgary have all had their own versions of the night, keeping the name and the core structure.
Only R4D Calgary remains in operation, but business is booming.
The prairie rock companion was created in January 2015 by BJ Downey, a former Haligonian who played the Halifax staple "countless" times with The Hockey Fight. Downey has played "exactly by the rule book," keeping the format true to the Halifax original and even going so far as to commission Bruhm's artwork for the postering.
Downey reiterates the common sentiments about R4D: "It's a lot of fun, a nice weekday party. it's great for the music scene and helps bands get to know each other. I've seen a lot of bands start and friendships built. I wanted to see if it could happen in Calgary and it did."
How it'$ celebrating
On Monday August 10, $Rockin' 4 Dollar$ will celebrate its 10th birthday with a blowout of a party at Reflections. Like A Motorcycle, The Cathartics, Future Girls, Moon, Tev Bembly, The Age, Designosaur, Rex Splode, Vicious, Vulva Culture and Primenine form the lineup for the historic occasion. Expect the usual shenanigans, but take a moment to stop, reflect and maybe pour out a pitcher of free beer for the ghosts of Rockin's past.