Katherine Woolhouse: Hi Dave. For our debut "Fermented Friends" chat, I picked up four beers for us to try. Most of them come from Bishop's Cellar, where I went shopping for a more-or-less random selection of things that were either new or new to me.
Dave Hayden: Right on. I'm ready for this, I think.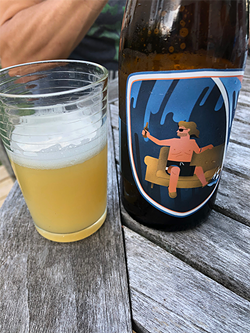 KW: The first beer I picked up because you once recommended Indie Ale House Brewing Company to me. This is their Couchsurfer IPA.
DH: Which I have not tried yet, so I am very excited. Indie Ale House is in Toronto, and I've generally enjoyed everything of theirs that I have tried—five different beers, three of which were IPAs.
KW: It looks like grapefruit juice!
DH: Not much of an aroma, but REALLY smooth grapefruity flavour up front.
KW: Hmmm, unusual taste. And just a hint of funk.
DH: The label says guava flavours, but if it's there it is hidden pretty well.
KW: Definitely more grapefruit. They call it a light, easy-drinking session.
DH: I find session IPAs harder for me to enjoy, maybe because it's a balance thing. With something this bitter, I want higher alcohol by volume. Couchsurfer is only 4.5 percent ABV.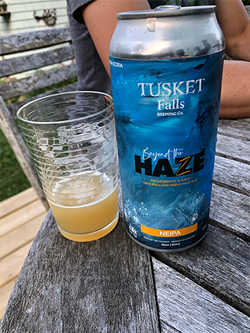 KW:
I'd try another from this brewery, but I don't love this one. Let's hope for better with our next selection,
Beyond the Haze
from
Tusket Falls Brewing Company
, a local near Yarmouth.
DH: Beyond the Haze is a New England-style IPA. I've had it before, and am glad to try it again.
KW: Omigod, this looks like I accidentally filled our glasses with the first beer.
DH: You're right! These two have almost exactly the same colour and haziness.
KW: And they could almost smell the same, in that there's not much smell. It's a totally different taste, though. I like it! I'm avoiding looking at the can before we guess ABV. I'm guessing 5.8 percent.
DH: I'm with you on that. I'd say six-ish percent. Are we right?
KW: 5.8!!
DH: Ha! Well done.
KW: I like this, but I'd be interested to taste it next to Malternate Reality from North Brewing Company 2 Crows Brewing, which I think I prefer. This is maybe just a bit sweet to me. [Editor's note: Thanks to Jennifer Shaw in the comments for pointing out we had the brewer wrong.]
DH: Although I like this, I am not sure I can drink a lot of it. For me, it is just a bit too sweet. I definitely prefer Malternate Reality as well. THAT's a great beer, which can appeal to hop-heads like us and also lighter beer peeps.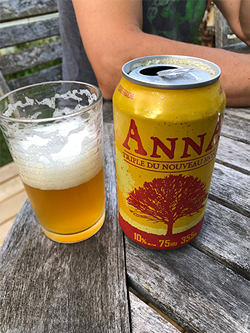 KW: I'm a little unsure which we should do next, because both have the potential to blow our palate. But I'm picking the beer from Microbrasserie Vox Populi. It jumped out at me from the selection at Bishop's because you and I had Vox Populi's Double Fruit Punch IPA another time, and we both loved it. This one is Anna, a triple du nouveau monde.
DH: Vox Populi is becoming a new favourite brewery in Quebec, and I love how you can now get at least a few products consistently in Nova Scotia. I hope that lasts. You peeked at the ABV, but don't tell me yet. Given it's a triple, I know it's going to pack a punch. Hmmmm, it's a bit more amber than most triples I know.
KW: The usual smell for a Belgian beer
DH: Omigod, it's pretty amazing. Big alcohol notes. This has to be above 10 percent.
KW: Good guess, 10 percent exactly.
DH: If this were on a menu somewhere and I needed that "put me to bed" beer, I'd grab one of these. Would you order this?
KW: This is never my favourite style, so I probably wouldn't order it. But I'd try other styles from Vox Populi.
DH: Which is your favourite so far? I saw you went and re-tasted the Couchsurfer, but it's hard to go back after a big beer like Anna. It can become comparing apple to oranges.
KW: I'm not in love with any of these. If I had to pick one to finish today, maybe the Tusket Falls Beyond the Haze. But Dave, there's one last beer to try. We've talked for a long time about smoked beers—I love them, you don't. However, you love Bad Apple Brewhouse, and they make a smoked porter I want you to try.
DH: You often say that smoked beers for you taste different depending on the order in which you try them, so I am surprised you saved this one for the end. You've taught me that they are better on a fresh palate.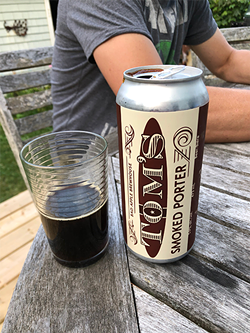 KW: This one actually isn't from Bishop's Cellar; I got it from the brewery in Berwick on a recent trip to the Annapolis Valley. It's called Tom's Smoked Porter and it was first off the canning line.
DH: Oh, then super-fresh!
KW: This is, of course, a completely different look from the others.
DH: Dark like a long shot of espresso. Perfect! Full disclosure here: I am a big fan of Bad Apple beers, and their Mosaic is perhaps my favourite beer in Nova Scotia. I have had their Tom's before—with trepidation given my usual stance on smoked beers—but I must say I LOVE this beer. A few years ago Bad Apple brewed a Rauchbier that was so intensely smoked it was way too over the top for me.
KW: Wish I could have tried it! But on the Tom's, do you have any idea why you might like this smoked beer more than others?
DH: Probably because it is not as smokey! But it also has a fuller maltiness and slight hop bitterness that blends the flavours together. More balanced I guess is the lingo, as you said.
KW: I had a different smoked beer the other day and found it too sweet, this is well balanced.
DH: What's the ABV? Five percent?
KW: It is pretty strong. Higher than six percent, I think, maybe 6.5. That's my guess, but checking the can…we were both wrong. It's 5.9 percent. Maybe the smoke is just going to my head.
DH: My internal ABV meter may be faltering, now that we're on the fourth beer in line. That also means it's time to name your winner from the tasting. I can see you wrestling with your decision over there.
KW: I can't pick Tom's since I already loved it coming into this, so of the new ones to me, I guess my choice would still be the Tusket Beyond the Haze. And you?
DH: I am kinda shocking myself to say this given my bias toward IPAs and triples, but Tom's Smoked Porter.
KW: Celebration!
DH: Indeed. Consider me a convert. It's always good to make new discoveries.
———

Dave Hayden and Katherine Woolhouse know and care a lot about beer, and they want to share that passion in an accessible way through regular chats like this. They hope you'll come to think of them as your Fermented Friends, rather than beer snobs.