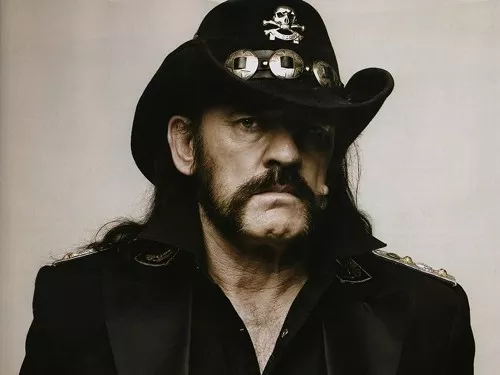 I just watched the Lemmy movie and got the new Motorhead album in the mail. Combined, these two things reminded me that like matter, he is everywhere, and he cannot be created or destroyed. Everything that everyone says about him is true. You can be having the worst night in the world, but then your friend puts Motorhead on her car stereo, and five minutes later you are screaming and crushing beer cans on your head.
For me the most significant moment in the Lemmy film is when he sings "Don't Worry Be Happy" with a novelty fish mounted on the wall in his bathroom. I know Motorhead is super tough and all but it was honestly so cute that I screamed.
Anyway here's A Bunch of Videos Featuring Lemmy.
The Head Cats - Peggy Sue Got Married
I was looking for the Head Cats' version of "Run Around Sue" but could only find this substitute "Sue." Isn't it cute when he sings the hits?
Motorhead and Wendy O. Williams - No Class live (1983)
Wendy is as close to a female version of Lemmy as we shall ever see. You can barely tell their voices apart. What a fucking treasure. RIP WOW.
Lemmy and the Ramones - R.A.M.O.N.E.S. (live)
This video makes my loins cry.


Motorhead plays in the Young Ones' living room (1982)
This was my first exposure to Motorhead. Midnight, YTV, I was twelve and eating Cheesies. It was wonderful. Check out his address to the camera at 1:33.
Overkill.
Hey remember when Drew Carey was still fat and he had his own show? And that crazy Cathy woman with the Divine eyeliner used to torture him? In one episode she gives him a wake-up call by jamming with Motorhead outside his house.
Watch here.
I'm told Lemmy recently made an appearance in a Foo Fighters video (tip o' the hat to Jon Bruhm.) I am too lazy to look for it. Instead I will show you the best post-Nirvana song Dave Grohl has done. I know you Foo Fighters loyalists will clock me in the face for this, but the fact of the matter is that this song is basically perfect and he will never do anything more awesome than this.
Happy Friday! What's your favorite Lemmy/Motorhead video?