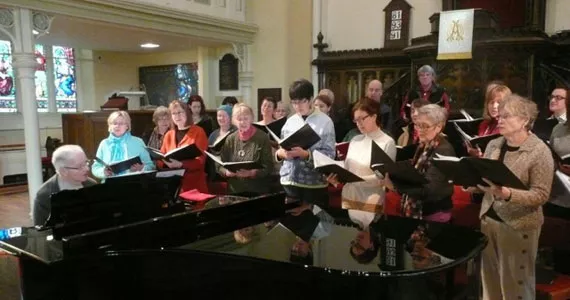 It's about noon when people start to trickle into St. Matthew's Church, muttering about the nippy weather and exchanging post-holiday greetings. Most are familiar faces, who take time to catch up and nibble on midday snacks while the few newbies give introductions and get acquainted. It's a random collection of 20 or so people, aged anywhere from 30 to 89, a group that likely wouldn't have crossed paths in any other instance. But no matter the personalities, backgrounds and interests of this gaggle, they've got one thing in common that's brought them to church this afternoon: they want to sing.
This is the Lunch Bunch, a secular choir that's open to the public, free of charge and full of personality. Under the direction of St. Matts' enthusiastic minister of music Wayne Rogers, the group meets Fridays at 12:15pm for an hour of sweet relief in the form of singing.
"It started as community outreach," says Rogers, who began the choir five years ago. "It's designed for people who are working downtown and want something different to do at lunch hour, and I cannot tell you the number of people who say this is the highlight of their whole week. This is total stress release for them, they go back to work happy and can face the rest of the day totally rejuvenated."
The new collection of sheet music that's laid out on a table for members to pick up boasts the full spectrum of styles, from The Beatles to Israeli folk to more traditional choral pieces, and these songs are no easy feat. But with Rogers at the helm, the proper attention will be paid to each line of each piece. "It just so happens we have a perfectly balanced four part choir," he says. "I mean, there are no expectations of anyone, but we work hard." And you can hear it in every note.
Kevin Kindred's been lending his pipes to the tenor section for four years. With his office just next door, the one-hour practice makes for the perfect afternoon escape. "There's something really joyous about singing in a group and finding harmonies," he says. "Its a bonding experience too...sharing harmony and coordinating your voice with others and producing a sound jointly. And trying to sing in a choir requires listening to other people, and balancing yourself---it's like team-building in a weird way."
For some members it's not so much a break as it is an exercise in pure pleasure.
"I direct and play in my church in Lower Sackville and have been directing barbershop music for years and just wanted to sit back and sing," says Don MacRae, who's retired but has slotted the group into his schedule for three years. "I've always said I'd rather go blind than go deaf so I could still have music."
This dose of therapeutic singing is something Carol Nasr, who's been part of the group for two years, looks forward to ending her week with. "I come away feeling healthy and energized. [Music] is kind of a universal language and it's just very uplifting," a word many Lunch Bunch members use to describe their Friday routine. "It pulls you into a whole different mood, out of just plodding along. It just kind of lifts you up."
Interested singers email humber@ns.sympatico.ca.