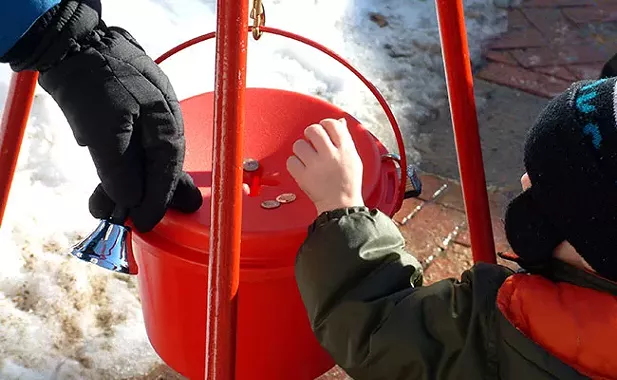 It's impossible to look around and not see that our society is broken—or to be invited to fix it, one can of soup at a time. Especially at this time of year, charity is presented as the best way to help those in need.
Real solutions to our problems, however, do not look like Giving Tuesday, or holiday food drives or seasonal fundraisers. Donation boxes at grocery stores aren't the answer, nor are corporate giving campaigns.
People put a lot into charitable holiday pursuits and, in part, I understand why they jump quickly onto this bandwagon. It feels good, assuages guilt and seems like the right thing to do.
Anthropological observations made about charity, however, include several sobering points. Charity is largely impulse driven, for example—a lot like consumerism. It's no surprise that non-profits often employ skilled marketing professionals.
Retailers clearly don't want shoppers to think before they buy. A similar principle applies to giving. Thinking too deeply about charity reveals its pitfalls, including that the scale of giving never matches the problem.
Research shows, moreover, that philanthropy actually promotes inequality as the wealthy determine the nature of giving in ways that promote their own interests. The rich get tax breaks whether they give to their local opera house or to their local homeless shelter.
More broadly, society's better off determine how giving happens. Middle-income people clearly prefer drives for clothing, food and toys over giving money directly to the poor. They are more comfortable giving to non-profits than to panhandlers.
Apparently, givers believe they know the needs of low-income people and don't trust them to meet those needs themselves. The poor would likely squander our generosity, or so goes the thinking. A gently used jacket is safer than a toonie.
Yet globally
there is growing evidence
that when low-income people are given cash, they spend it on goods and services that improve their lives. Physical delivery of food, for example, is less efficient and effective than providing cash for people to buy their own.
My own anthropological observations confirm the growing awareness the charity is a
powerful political tool
that MLAs and MPs adore. It provides them seemingly unlimited Facebook photo ops, which serve well as campaign events throughout the year.
Charity
also lets our leaders off the hook, given that governments rely on non-profits such as food banks as de facto extensions of government service, even when there is little in the way of government support.
The charity model matches well, moreover, with our current government's approach to governing. There is, for example, an abundance of charity-like give-away initiatives. Free pizza, free hockey gear, free bowling, free haircuts, et cetera,
et cetera
—all brought to you by your local MLA.
And there are charity-like policies, like the recent decision to provide bus passes for people on income assistance. Why not simply increase the amount of income assistance? Likely because the provision of passes aligns nicely with society's patronizing views on how to help those in need.
This all needs to change. The only way decision-makers will act less opportunistically is if we pressure them into abandoning this approach. And yet charities themselves are strictly limited in how much they can undertake such advocacy work and hesitate to exert such pressure.
In short, the current model we have for helping those in need is broken. It needs an overhaul that ordinary people will have to initiate. The solutions we need require sustained advocacy, not another season of giving.
———

Voice of the City is a platform for any and all Halifax individuals to share their diverse opinions and writings. The Coast does not necessarily endorse the views of those published. Our editors reserve the right to alter submissions for clarity, length, content and style. Want to appear in this section? Submissions can be sent to voice@thecoast.ca.