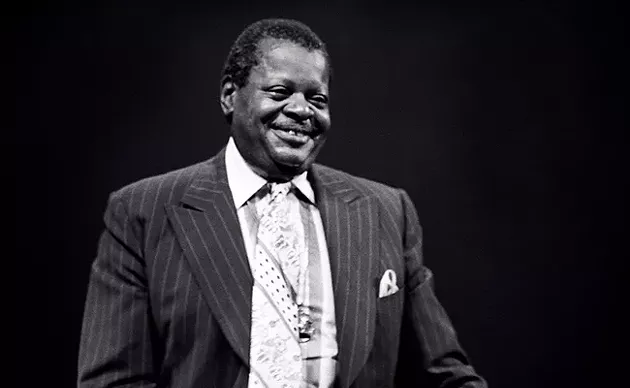 Founded in 1967, the Halifax All-City Music program provides free music education for public school students throughout HRM. In addition to string, choral, and band instruction, the program boasts three jazz ensembles that challenge students to "learn the art of spontaneous creation," the HACM website notes.
So I was stunned to discover during a recent exchange with a local musician—and product of HRM schools—that the sublimely gifted instrumentalist, composer and arranger had, as she told it, never heard of Oscar Peterson.
Say what?
To her credit, the young woman quickly wrote down the name of the Canadian jazz legend that Duke Ellington (a frequent visitor to Halifax) hailed as "the Maharajah of the keyboard."
Set against the backdrop of Canada 150 celebrations and the forthcoming Halifax Jazz Festival, we'd all do well to school (or refresh) ourselves on Peterson. For it was not long ago that a marquee news outlet failed to include the renowned jazz pianist—who died in 2007—in a Canada Day article about Canadian musicians who've won global acclaim.
I've got no qualm with Leonard Cohen, Joni Mitchell or Anne Murray—among those who were listed. But whatever the obstacles in their ascent, none endured, as did Peterson, soul-murdering racial prejudice.
In the 1992 National Film Board of Canada release In The Key of Oscar, the Montreal-born Peterson recounts the discrimination he routinely suffered in his home and native land. It's sobering footage. And yet in works such as "Hymn to Freedom" (1962) and "Trail of Dreams: A Canadian Suite" (2000), Peterson exhibits a poignant patriotism that some "old stock Canadians" purport to find lacking in First Nations and racial minorities.
In her liner notes for "Trail of Dreams," Devra Hall described Oscar Peterson as a "Canadian through and through." The 12-song recording (produced with conductor Michel Legrand) includes "Anthem to a New Land," the pianist's soaring paean to Nunavut.
"The people of this region have certainly gone unrecognized long enough," Peterson told Hall. "They deserved an anthem to their culture. So I wrote one."
"Ballad to PEI," "Morning in Newfoundland" and "Dancetron" (a nod to Acadian traditions) are among the other spectacular tracks on the album. "I wanted to recreate the spirit and effervescent joy of Acadian music," Peterson said, about the latter composition. "It's written for the click of their feet."
Here's a standing ovation for a true native son whose life, measure for measure, every Halifax music student should know.