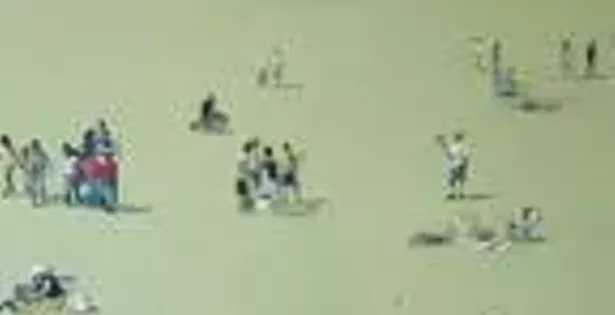 Last year I fell in love with Sara Caracristi's aerial-view paintings of city dwellers wandering through glossy, candy-heart-coloured or muted-grey backgrounds. For her new show, Southern Exposure, at Argyle Fine Art (1869 Upper Water), Caracristi's people go on vacation.
"They're still urban people but in a different setting," says the artist. "It's not as important for my audience to know exactly where they are. There are certain key things---like what they're wearing or what they're doing---that give you a feeling of where they are. Some might be very beach-like because of what they're wearing, like a bathing suit, others are in coastal towns riding bikes or scooters, and doing more leisurely activities. They still have an urban feel just a little bit more displaced from the city."
Caracristi's birds-eye view has developed over the past three years. She doesn't like crowds, but would rather observe, camera in hand. "I get up on parking garages and anywhere that's accessible," she says. Inspired by tiles and glazing, Caracristi "brings that aesthetic to my work with varnishes and shiny surfaces and layers, and that speaks to my people as well---we have all different layers."
Just in time for summer, Southern Exposure opens Friday, June 6 at 7pm, and runs until July 7.