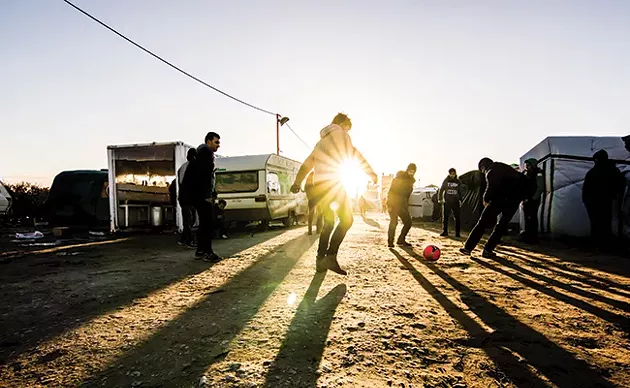 Reporters are having a hard time finding "exciting" news in Syria in the past few days, even weeks.
This makes me happy. A strange thing for a journalist to say. Usually, we look for the action: a fire, robberies, something hot to catch our attention.
But after seven years of war, boring is good.
Sure, there is still fighting. The Syrian army is set to start a battle for Deir Az Zor, an oil-rich city. This will be important for all sides. But right now the only real news came from a battle with Iran on the football pitch.
Could Syria Qualify For The World Cup? https://t.co/tzg0pNDhSm

— All About Soccer (@AllAboutSocc3r) September 7, 2017
It was a qualifying match for the World Cup that took place last week in Tehran. The fighting has prevented any home games from being played at home.
Facebook and Twitter sparkled with news of the game. Down 2-1 in the second half, but there was hope. Could Syria advance?
Of course,
there were politics
—fingers pointed. It is Syria, after all. We are good at that.
Sport
could not be separated from politics,
some Syrians believe
. Supporting the national team means supporting the Syrian government.
But many seemed good just
forgetting
seven years of war for an afternoon while their team did battle with Iran. No guns, no bullets, no bombs; just fast feet and a football.
Things were not going so well. Going into injury time, Syria was still down 2-1. Even my heart pumped a little faster than normal. I am not sure if it was because of the game or just the peace that came with it. I was happy just to see Syria's name apart from death for one day.
Damascus - Syrian #soccer team players singing to celebrate team's recent success.@Socceroos #Australia #Syriahttps://t.co/4zxuYJilGv

— Susan Dirgham (@SusanDirgham) September 7, 2017
Lots of people basically put away their differences and showed the world we are still like everybody else. Well, until the impossible happened in injury time. Syria scores to tie. One announcer actually starts to cry on air. The streets burst into cheers. Social media explodes.
Two years ago, the Syrian national team was ranked 126th. Now, we're just four games away from qualifying for the World Cup for the first time ever.
A simple soccer game is all it took to take a break from seven years of fighting. A simple soccer game united a people torn apart by hate and war. I wonder...we may be on to something here.
———

Opinionated is a rotating column by Halifax writers featured regularly in The Coast. The views published are those of the author.