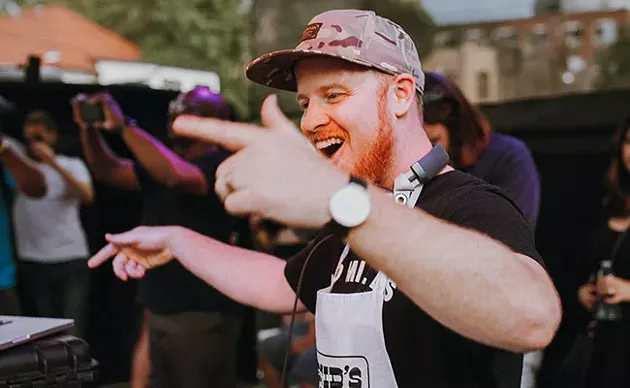 Bastid's BBQ
w/Lord Finesse, Jorun Bombay, OkayTK and more
Sunday, July 30, 2pm
Olympic Hall parking lot, 2304 Hunter Street
$15
The DJ Skratch Bastid began throwing parking-lot barbecues as a way to mix things up, way back. "It was an early-evening concept, where I would grill up burgers and dogs in the afternoon before the show at night," says Bastid, AKA Bedford's Paul Murphy, en route to a show in Toronto. "It never really took off or anything like that. It amounted to me cooking dogs for people waiting to get into the Marquee."
Seven years ago he started holding BBQs at Steamwhistle Brewery when he moved to Toronto, and it did take off. In addition to annual shows there and here (this year's is Saturday at Olympic Hall), he's thrown grill parties wth special guests in San Francisco, Ottawa, Calgary, Tokyo and Chile. "I always love a daytime party—it allows me to play different vibe stuff," he says. "I felt like I was missing the opportunity to play some sunny positive vibes."
Last year, Murphy introduced a line of barbecue seasonings (each is $7-$8 or all three are $19.99), developed via a DJ friend's family recipe. "You can't have barbecue without sauce," he says. "I never knew how many people really like sauce until I got in the sauce game."
Bastid's No. 1 Original Hot Sauce
Best applied to: Brisket. "It's a great one for meats. These sauces are hot, but they don't kill you. They're not hot sauces for the sport—they actually taste great. They're dabby hot sauces—one dash per bite."
Eat while bumping: "Skew it on the Bar-B," Outkast feat. Raekwon
Bastid's No. 2 Honey Garlic Sauce
Best applied to: Eggs. "It's a great little morning egg kicker. I got a text from my homie Shad who's like, 'I can't eat my eggs without your hot sauce anymore.'"
Eat while bumping: "Never Too Much," Luther Vandross
Bastid's Jerk Sauce— Jamaican Rub & Seasoning
Best applied to: Jerk chicken thighs and drumsticks. "Makes incredible edibles."
Eat while bumping: "Welcome to Jam Rock," Damian Marley