The much anticipated
OUTeast Queer Film Festival
has announced the lineup of films and events for June 15-18 and the fun can't be contained, my people.
1970s California pool party-themed silent discos, Romy and Michele's High School Reunion quote along (outdoors, yet), the Beers 4 Queers social, an awards brunch and of course the award-winning films: Canadian and international shorts programs, powerful documentaries, rom-coms and more.
All tickets, and a limited amount of All-OUT, all-access passes are available now online at
outeastfilm.com
,
ticketpro.ca
, and through Ticketpro outlets. Opening Night Gala tickets are $15, pre-reception included. All other screening tickets are $12, with the All-OUT, All Access Festival Pass available for $60.
Keep a-scrolling for the full program and film details.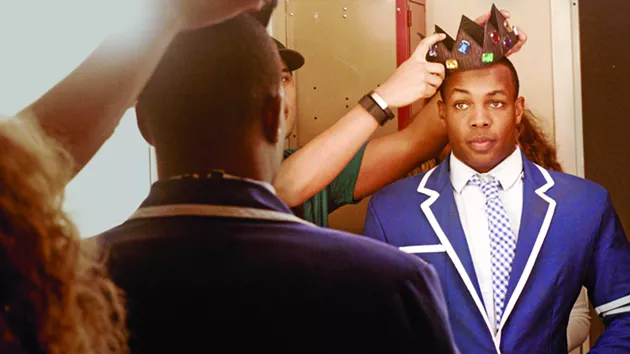 2017 OUTeast Film Festival Program
Thursday, June 15, 2017 8pm
Halifax Central Library $15
Pre-Reception at 6:30pm
The Death and Life of Marsha P. Johnson
2017 / USA / Documentary / 105:00 Director: David France
Following Marsha P. Johnson from the Village in the 1960s where she teamed up with fellow trans activist Sylvia Rivera, to her tragic death, The Death and Life of Marsha P. Johnson is the untold story of two of the biggest unsung heroes in LGBTQ history.
Together, the radical duo fought arrests, condemned police brutality, battled the intolerant majority within the gay community, and helped spearhead the Stonewall Riots. Despite their many challenges over the years—bias, homelessness, illness—Marsha and Sylvia ignited a powerful and lasting civil rights movement. When Marsha was found dead in the Hudson River in 1992 the NYPD called her death a suicide. Protests erupted but the police remained impassive and refused to investigate. Now, a quarter century later, a dynamic activist named Victoria Cruz has taken it upon herself to reexamine the case.
In this timely and essential film, Academy Award nominated director and journalist David France (How to Survive a Plague) examines Marsha's death—and her extraordinary life.
Preceded by: A Toast to Opening Night with Rosie Porter
Join us for our reception before the screening, and raise a glass to the festival films. 6:30pm
Included with Screening Ticket

Friday, June 16
7pm
Museum of Natural History $12
Signature Move
2017 / USA / Comedy / 80:00 Director: Jennifer Reeder
Stop me if you've heard this one. Zaynab, a queer Muslim Pakistani woman, walks into a bar and meets Alma, a Mexican woman. Their repartee is charming and their connection immediate, but that's just the beginning.
Zaynab is a Chicago lawyer whose work is her life. Her most common social contact is her roommate/widowed mother Parveen who spends her days watching TV and searching for a potential husband for her only daughter. As Zaynab begins to fall for Alma, and also takes up wrestling, the secrets she keeps from her mother begin to pile up. As the hiding threatens to tear Zaynab and Alma apart, Zaynab must decide between the things she loves and keeping her secrets.
Signature Move is a comedic and heartfelt look at modern families and the complexities of love in its many forms.
Friday, June 16
9pm
Museum of Natural History $12
Tom of Finland
Dome Karukoski
2017 / Finland/Sweden/Denmark/Germany/USA / 115:00
Leather daddies, charcoal drawings of impossibly good looking men, and one of the most influential and celebrated figures of twentieth century gay culture. Tom of Finland tells the story of the visionary artist behind the brand.
A decorated officer, Tuoko Laaksonen returns home after serving his country in World War II. But life after the war does not necessarily bring him peace. The only place that Tuoko finds refuge from homophobic Helsinki is in his art. Under his secret signature, Tom of Finland, Tuoko creates hypersexual drawings of muscular men that would eventually become a symbol of freedom and expression for a generation of gay men.
From a World War II soldier to the forefather of the leather scene, to becoming a voice at the forefront of the AIDS epidemic, Tom of Finland is a beautiful story of a courageous man who stands at the center of the gay revolution.
Friday, June 16
10pm- 2am
Beers 4 Queers Social
Good Robot Taproom
Free
Cap off a fabulous Friday night of films with drinks at our second home, the Good Robot Taproom. Our signature festival brew will be on tap all night.
Saturday, June 17
12:30pm
Museum of Natural History Free - Tickets Sponsored by RBC
Canadian Shorts
Apart from Everything Canada / 2016 / 19:00 Director: Ben Lewis
After a two-year absence and a recent stint in rehab, Fran (Tatiana Maslany) returns to make amends with the girlfriend and the brother she left behind.
I Want to Kill Myself Canada / 2017 / 9:00 Director: Vivek Shraya
Contemplating suicide: a biography.
Meet Me Under the Clock
Canada / 2017 / 16:00
Director: Sonya Reynolds and Lauren Hortie
An underground Halloween tradition in Toronto becomes an annual confrontation between an invisible gay community and the fascinated, often hateful public.

The Gift Giver
Canada / 2017 / 8:00 Director: Denis Theriault
A young man attends an HIV support group with the intention of purposely contracting the virus.
Picture This
Canada / 2017 / 33:00 Director: Jari Osborne
Picture This weaves together the intimate, unflinching testimonies of Andrew and Stella as they navigate sex and disability.
The Night Cleaner Canada / 2016 / 5:00 Director: Blair Fukumura
Travis, a cleaner in Canada's busiest bathhouse, takes the audience on an amusing, sometimes harrowing tour through his nightly duties.
International Shorts
Saturday, June 17
2:30pm
Museum of Natural History $12
Little Potato
USA / 2016 / 14:00 Director: Wes Hurley
Little Potato is an autobiographical short about a gay boy growing up in the Soviet Union and his mail- order-bride mom.
The News Today USA / 2016 / 12:00 Director: Lisa Donato

Inspired by the Pulse Nightclub shooting, this short examines the mundane moments that occur between two men in love—moments that become precious in an instant.
Dusk
UK / 2017 / 15:00 Director: Jake Graf
Growing up in 1950s England in an intolerant and uninformed world, young Chris Winters struggles to fit into the gender roles dictated by wider society.
Secession
Poland / 2016 / 14:00
Director: Yifan Sun
An ex-couple spend the day together before one moves away for good. Will they finally achieve the closure they need or will they further complicate their situation?
Nidal
Lebanon/USA / 2016 / 15:00
Director: Tarek Turkey
As his body starts to mature, Nidal is forced to navigate the confines of a Syrian refugee camp in a culture that does not comprehend gender fluidity.
My Gay Sister
Norway/Sweden / 2017 / 15:00 Director: Lia Hietala
When Cleo meets her sister's new girlfriend she isn't sure what to expect. But when friendship blooms between them, Cleo sees an opportunity to clear a few things up.
Saturday, June 17
4:30 PM
Museum of Natural History $12
The Fabulous Allan Carr
2017 / USA / Documentary / 90:00 Director: Jeffrey Schwarz
OUTeast favourite Jeffrey Schwarz (Vito, I am Divine) returns with another larger than life tale. This time he takes on The Fabulous Allan Carr. You may not know the man by name but you definitely know his work. Allan Carr is responsible for bringing us Grease and the broadway version of La Cage aux Folles. Pretty good, right? Well, not so fast. He is also responsible for the disastrous 1989 Academy Awards, Grease 2, and the imagined origin story of the Village People, Can't Stop the Music. A hit and miss visionary, Allan Carr experienced many ups and downs but at the heart of it all is a man who isn't afraid to dream big.
An awe inspiring cautionary tale, The Fabulous Allan Carr is one man's journey from toast of tinseltown to absolutely down and out.
Saturday, June 17
7pm
Museum of Natural History $12
A Date for Mad Mary
2016 / Ireland / Drama/Comedy / 82:00 Director: Darren Thornton
Imagine a gritty, Irish version of Bridesmaids and throw in a convention-bending lesbian twist. The result is A Date for Mad Mary, an irresistibly charming, intelligent film that's as fierce as its titular character.
Mary is angry. Fresh out of prison, she's trying to reconnect with her former, soon-to-be married best friend, Charlene. As defiant as ever, Mary seeks to win back Charlene's approval and save their flailing friendship. Her plan? To spite Charlene's predictions and instead find a proper date for the wedding. Mary's string of hilariously bad choices takes an unexpected turn when Jess, the wedding videographer, enters the picture.
With a star-making performance by lead actress Seána Kerslake, A Date for Mad Mary is a delightfully funny and tenderly human portrait of self-discovery.
Saturday, June 17
9pm
Museum of Natural History $12
Behind the Curtain: Todrick Hall
2017 / USA / Documentary / 100:00 Director: Katherine Fairfax Wright

Even if you think you know YouTube superstar Todrick Hall, you don't. Not yet, anyway.
Behind the Curtain: Todrick Hall follows Todrick as he launches his most ambitious project yet: the original musical, Straight Outta Oz. Writing and recording songs by night and shooting music videos by day, while simultaneously preparing to take the show on the road, this documentary showcases a hardworking man on a mission. Through the songs and videos he creates, Todrick entertains while tackling issues such as gun violence, police brutality and personal concerns that include a difficult relationship with his mother and struggles with his identity as a gay black man.
From the co-director of Call Me Kuchu, Katherine Fairfax Wright, Behind the Curtain: Todrick Hall gives us an insider's look at the inspiring man behind the computer screen.
Saturday, June 17 10pm - 2am Good Robot Taproom $10
Can't Stop the Music
This year OUTeast and Good Robot are taking our Saturday party from noise complaint to noise compliant but don't let that deter you! Surely you won't want to miss a no pool pool party / silent disco. Curious?
Inspired by the afternoon screening of The Fabulous Allan Carr, OUTeast and Good Robot will transport you to a 1970s California style poolside party. Drinks, inflatable toys, and dancing in our pool party best. And those disco beats? Well, they are for our ears only. Grab some headphones and dance your fabulous heart out because we are hopelessly devoted to you having the time of your life.
Sunday, June 18
OUTeats Brunch
11a,
Good Robot Taproom $12 or All-OUT pass
Join us at Good Robot for one of OUTeast's most popular events, the OUTeats brunch. Close out the festival in comfort and style as we toast the winners of the 2017 Audience and Juried awards.

Plus friends! Coffee! Beer! And the comedy stylings of Megan McDowell. #pinkpancakes
Romy and Michele's High School Reunion Quote-Along
8:30pm
Good Robot Brewing Company. Free
Twenty years ago all of our lives were changed for the better. How? Well, in 1997 we were blessed with the gift that is Romy and Michele's High School Reunion. So, join OUTeast and Good Robot Brewing Company in celebration of this monumental moment in history with a Romy and Michele's High School Reunion Quote-Along. If you know the words, come on down and shout 'em out. If you don't, come on down and finally understand what your friends meant when they said, "I'm the Mary," or "my shoe is filling up with blood," or "what a bitch taking your hamburger. I mean, what was that?"
Good Robot will be serving you a businesswoman's special all night long and for those on a fat free diet, not to worry, we will have gummy bears, jelly beans, and candy corn.
Next stop: Tuscon!