As
Once
enters its last weeks onstage, Neptune Theatre shows no signs of slowing down. After the production ends on May 28, Neptune will start up renovations: The first major changes to the theatre since the "
New Neptune Project
" in the '90s.
On top of that, July will welcome a summer show to kick off the 55th season. Perhaps the most Nova Scotian musical you could think of—Stan Rogers: A Matter of Heart—takes the stage and runs until September.

Those who love a Christmas classic (and cry-fest too) can take in a stage adaptation of It's A Wonderful Life During the holiday season. Musicians such as Port Cities, Makayla Lynn and Janice Isabel Jackson are part of the year's bonus features.
In addition to its own productions, Neptune is once again sharing its venue with smaller companies. The Villain's Theatre was announced as the most recent Open Spaces winner with its production of The Blazing World. Open Spaces "provides access to space and technical support for local theatre companies free of charge," says Rebecca Hiltz Leblanc, president of Neptune Theatre Foundation.

The 2017/18 series will be capped off with a story of one young woman, her mother and three possible fathers. The wacky journey leading up to protagonist Sophie's wedding day is swept up in a wave of ABBA songs. I know I probably don't even have to say the title, but it's none other than Mamma Mia!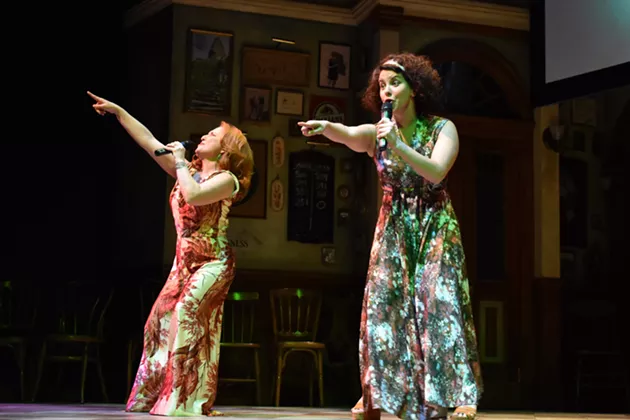 Summer Presentation
Stan Rogers: A Matter of Heart
Holiday Production
It's A Wonderful Life by Frank Capra, adapted by George Pothitos
Studio Series
Salt-Water Moon by David French
Half-Cracked: The Legend of Sugar Mary by Mary Colin Chisholm
In A World Created by a Drunken God by Drew Hayden Taylor
Mainstage Series
Seeds by Annabel Soutar
Snake in the Grass by Alan Aybourn
Jonas and Barry in the Home by Norm Foster
The Mountaintop by Katori Hall
Mamma Mia! by Catherine Johnson