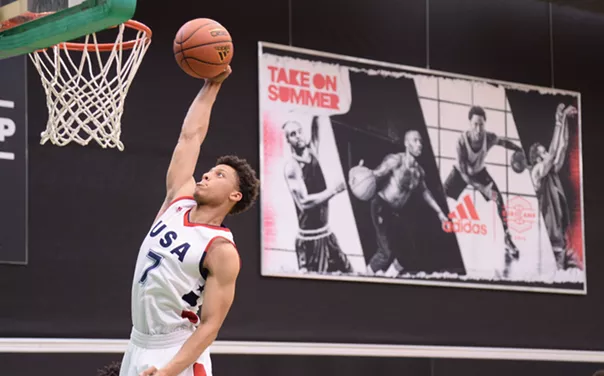 No player from the Maritimes has ever made it to the NBA. Lindell Wigginton is looking to change that. Born into a basketball family, the 19-year-old who grew up in Uniacke Square and North Preston just finished three years of high school ball at Oak Hill Academy prep school in Mouth of Wilson, Virgina.
Wigginton will start his college career with the Iowa State Cyclones in the fall, but
first
he has a stop in Portland, Oregon to play in the
Nike Hoop Summit this weekend
. It's an all-star game of elite under-19 players looking to show what they've got to NBA and college scouts. Wigginton spoke to The Coast about his NBA dreams and why it all comes back to
family
. His answers have been edited for length and clarity.
———


Why did you decide to leave your hometown in Nova Scotia to help your basketball career?
Going to the States, I knew it would help me get more exposure to try to reach my goal to play in the NCAA and, beyond that, to go pro. I just wanted to get away. My parents wanted me to get away. They wanted to get me focused on what I have to do to provide for my family.
Oak Hill boasts a lot of elite NBA alumni like Carmelo Anthony, Rajon Rondo and Kevin Durant. What was it like playing for a program like that?
The players that have played before you, that's always in the back of your mind. You got to play hard because those players did it before you and they came out on top. You know that you're representing Oak Hill and also your family, so you always have that chip on your shoulder.
You had offers from 11 different NCAA schools, why did you choose Iowa State?
When I went on my visit, they made me feel like it was home. They got a senior, Monte Morris, that's hopefully going to the [NBA] this year, so I know I'm going to come and play right away at the point guard spot.
Are there any players you model your game after?
I don't really model my game after anybody. I just play my own game:
Explosive
guard that can create for myself and my teammates, get everybody involved, be a leader to my team and bring that winning mentality.
What are you hoping to accomplish at the Nike Hoops Summit?
Just play well in front of NBA personnel. I just want to play well and represent my country and my family. As long as I make them proud, I'm good.
You've mentioned providing for your family is a big career goal. Can you expand on your basketball ambitions?
I want to play in the NBA. I've played against a lot of players that are projected to go to the NBA. I've played well against them, so I feel like I can make it to the NBA. I feel like that's a realistic goal for me. I feel like I can make it.
Do you have any advice for young players from Halifax or anywhere in Canada chasing their basketball dreams?
Just work hard every day. Listen to your parents, that's a key thing. Listen to your parents and not just do what you want to do. That really helped me. Just stay focused—keep your grades up because that's really important when you get to the states. That's really important anywhere, to be honest.
Listen to your parents, make good grades and be respectful to others. Be focused, work hard all the time, every day.