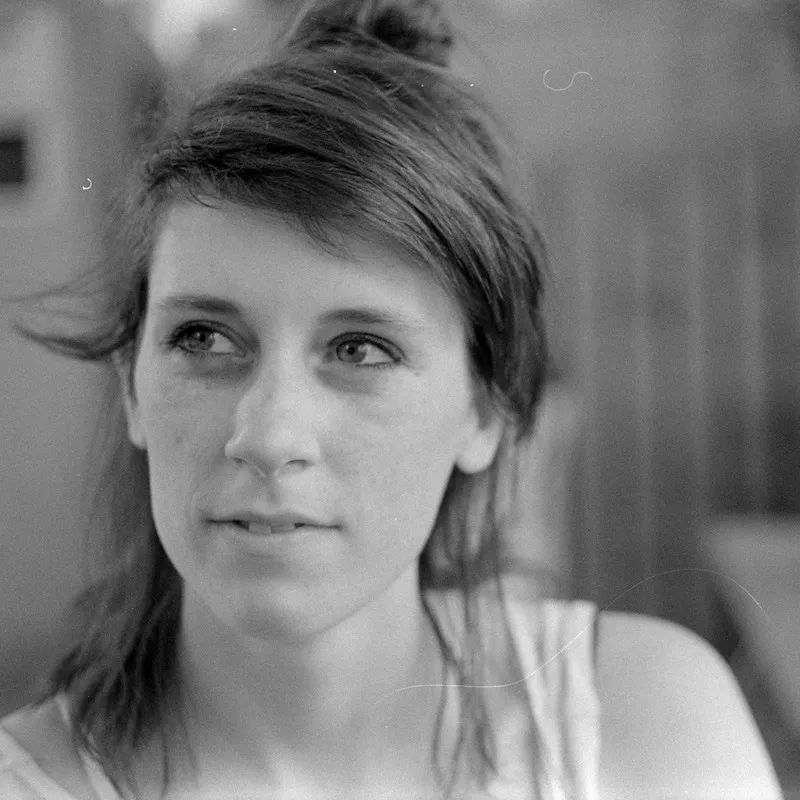 "A tender poet, sharp playwright, present actor, vocal feminist and ally" who shows "great integrity, and bravery" in work that is "personal, political, studied, careful and poetic." This is how nominators described Meghan Hubley and her work, as they put her name forward for the city's prize for an emerging theatre artist, selected by Theatre Nova Scotia and handed out by mayor Mike Savage at the Robert Merritt Awards.
The 2017 Merritt Awards presentation was yesterday—Monday night, the only night of the week when theatres go dark—at Casino Nova Scotia. And at this annual celebration to fete the best of theatre in the province, Hubley did indeed win the Mayor's Award for Emerging Artist. (See the full list of winners in over 20 categories below.)
The 27-year-old Hubley says the honour completely caught her off guard. "I'm so…under the radar," she laughs. "It came out of nowhere!"
Co-founder of the Bus Stop Theatre's Playwrights Unit, Hubley's work focuses on intimate and challenging subjects, often reflecting her personal experience. "These are [issues] I actually believe in," she explains, of her writing process, "It's not just pulled from the headlines."
Hubley is a poet, actor and director. You may recognize her name from The Coast's own pages, where her critiques of local theatre productions have been published. Her reviews have also appeared nationally, in the Globe and Mail. But her most recent work is delivered on stage, through her words, as playwright.
Last autumn, one of her plays was featured as a workshop hosted by DaPoPo Theatre at the Live-in festival, in north end Halifax. Honey&Jupiter—which she describes as autobiographical—is a painfully raw examination of duality, as experienced by one suffering from a life-threatening eating disorder.
"I'm not afraid of that," Hubley says, of putting her own life on the page.
The Emerging Artist award, which comes with a $1,000 prize, will allow Hubley to step away from "my non-theatre job and be in a theatre."
Anthony Black, of 2b theatre, was the inaugural winner of the Mayor's Emerging Theatre Artist Award, back in 2005. Black says the prize was a big confidence boost. "It felt like somebody saying, 'You're on the right track, keep going.'"
Lee-Anne Poole, a writer and arts producer, took home the title in 2012. She says the award is of particular significance for young women writers: "When we don't often see our stories told on Canadian stages, it's very important to feel like our voice is worth being heard. To feel some validation. Some encouragement to keep you going."
"Being an artist is all hustle all the time," Hubley says, echoing the sentiment, adding, that since learning of the award, "the 'imposter syndrome' feeling" hasn't fully melted yet. But she says the recognition, from mentors, and peers alike, is enormous.
"I'm gonna make it count."
Watch for Hubley's upcoming work TreeGirl, presented by Forerunner Theatre, at Eastern Front's Stages Festival in May 2017.
Theatre Nova Scotia's Robert Merritt Award Winners 2017
Outstanding Performance by an Actor in a Leading Role (female)
Francine Deschepper in Little Thing, Big Thing (Festival Antigonish Summer Theatre)
Outstanding Performance by an Actor in a Leading Role (male)
Jacob Sampson in Chasing Champions: the Sam Langford Story (Ship's Company Theatre)
Outstanding Performance by an Actor in a Supporting Role (male)
Marty Burt in Chasing Champions: the Sam Langford Story (Ship's Company Theatre)
Outstanding Performance by an Actor in a Supporting Role (female)
Andrea Lee Norwood in Goodnight Desdemona (Good Morning Juliet) (Valley Summer Theatre)
Outstanding Choreography
Stephen Gray for Beauty and The Beast (Neptune Theatre)
Outstanding Costume Design
Sean Mulcahy for Shrek! The Musical (Neptune Theatre)
Outstanding Direction
Jeremy Webb for Little Thing, Big Thing (Festival Antigonish Summer Theatre)
Outstanding Lighting Design
Leigh Ann Vardy for Chasing Champions: the Sam Langford Story (Ship's Company Theatre)
Outstanding Musical Direction
Sarah Richardson for Ruthless! The Stage Mother of All Musicals (Chester Playhouse)
Outstanding New Play by a Nova Scotian
Jacob Sampson for Chasing Champions: the Sam Langford Story (Ship's Company Theatre)
Outstanding Original Score
Ian Sherwood & Lindsay Kyte for Tompkinsville (Go Fly A Kyte Productions, presented by Eastern Front Theatre)
Outstanding Scenic Design
Garrett G. Barker (set design) and Corwin Ferguson (projection design) for Chasing Champions: the Sam Langford Story (Ship's Company Theatre)
Outstanding Sound Design
Aaron Collier for The Princess Show (Angels & Heroes)
Outstanding Production by a New or Emerging Company
Tompkinsville, playwright Lindsay Kyte (Go Fly A Kyte Productions, presented by Eastern Front Theatre Company)
Outstanding Production
Chasing Champions: the Sam Langford Story, playwright Jacob Sampson (Ship's Company Theatre)
Outstanding Presentation
"Friend" "Like" #Me, by Gavin Crawford (presented by Queer Acts Theatre Festival)
Outstanding Technician
Shawn Bisson
Outstanding Stage Manager
Hannah Burrows
Outstanding Volunteer
April Hubbard (Atlantic Fringe Festival, Rolling Bold Productions, Halifax)
Mayor's Award for Emerging Theatre Artist
Meghan Hubley
Mayor's Award for Achievement in Theatre
Mary Lou Martin
Theatre Nova Scotia Scholarship
Kyle Gillis
Theatre Nova Scotia Legacy Award
Deb Allen