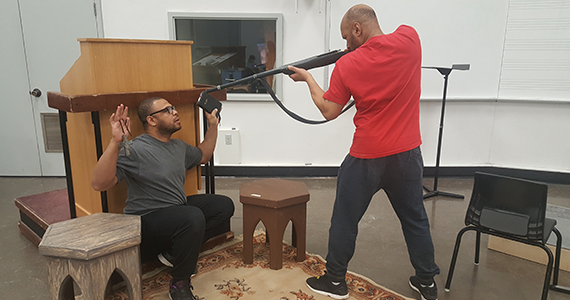 The Bridge: A Work-in-Progress Showing
Friday, February 24, 7:30pm
Dalhousie Arts Centre, 6101 University Avenue
2btheatre.com

Shauntay Grant is bringing her latest stage play to life in collaboration with 2b Theatre and director Anthony Black. The Bridge is steeped in the past and present of a rural African Nova Scotian community and follows the trials and tribulations of a family with some hidden secrets. The play follows the story of two brothers, one a pastor of the local church, who have not spoken to each other in many years.
"The play is the process of uncovering–not just for the audience but for one of the characters–why they haven't been speaking for 22 years," says Black. "It's about what secrets lie buried in the past and what ghosts continue to haunt the present."
In addition the writing the script, Grant is also the show's musical director.
"We've been looking at the integration of music in the script," says Grant, "and because it's set in a church community, there are hymns and spirituals that the actors already know, and some they might know sung a bit differently that I would have known them."
Grant explains that the performers are also singers, and music is an integral part of the world of the play.
Currently, Grant is the playwright-in-residence at 2b Theatre, the Halifax company known for their homegrown shows that often end up touring internationally.
"Shauntay is a well-respected artist from a number of different mediums," says Black, 2b's co-artistic director. "I'd seen Shauntay's previous play and was interested in her writing, and the notion of having an opportunity to be part of her larger and deeper engagement with the theatre world was really of interest."
This most recent presentation of The Bridge has had a two-week rehearsal process (minus snow days), culminating in a one-night work-in-progress showing on February 24. The event has already sold out.