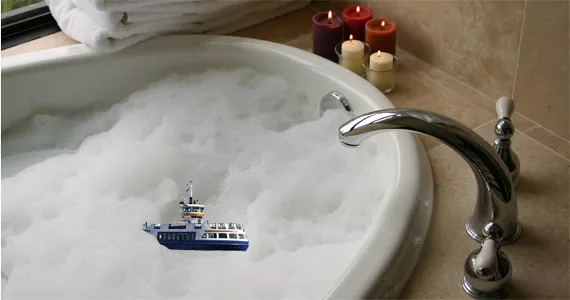 Hope you didn't have 'rubber ferry tub toy' on your wish list this year. Plans for bathtub toys shaped like Halifax Transit ferries are dead in the water.
The transit authority was toying with the idea of selling the keepsakes to residents and tourists for five or six bucks a pop, and issued a tender back in April for 1,000 of the playthings to test out as a pilot project.
That request for proposals came up dry. Municipal spokesperson Tiffany Chase confirms there were no bidders. Halifax's procurement team did phone up a promotional company looking for a price quote, says Chase, which came in at $16 per unit with a minimum order of 5,000 (or $80,000 total).
"We were hoping to sell them just to break even, so we didn't move forward on ordering them as we felt the price point was too high for such an item," writes Chase in an email.
"It's possible we may revisit the design in future to see if the cost per unit could be reduced to provide a more acceptable price for consumers."