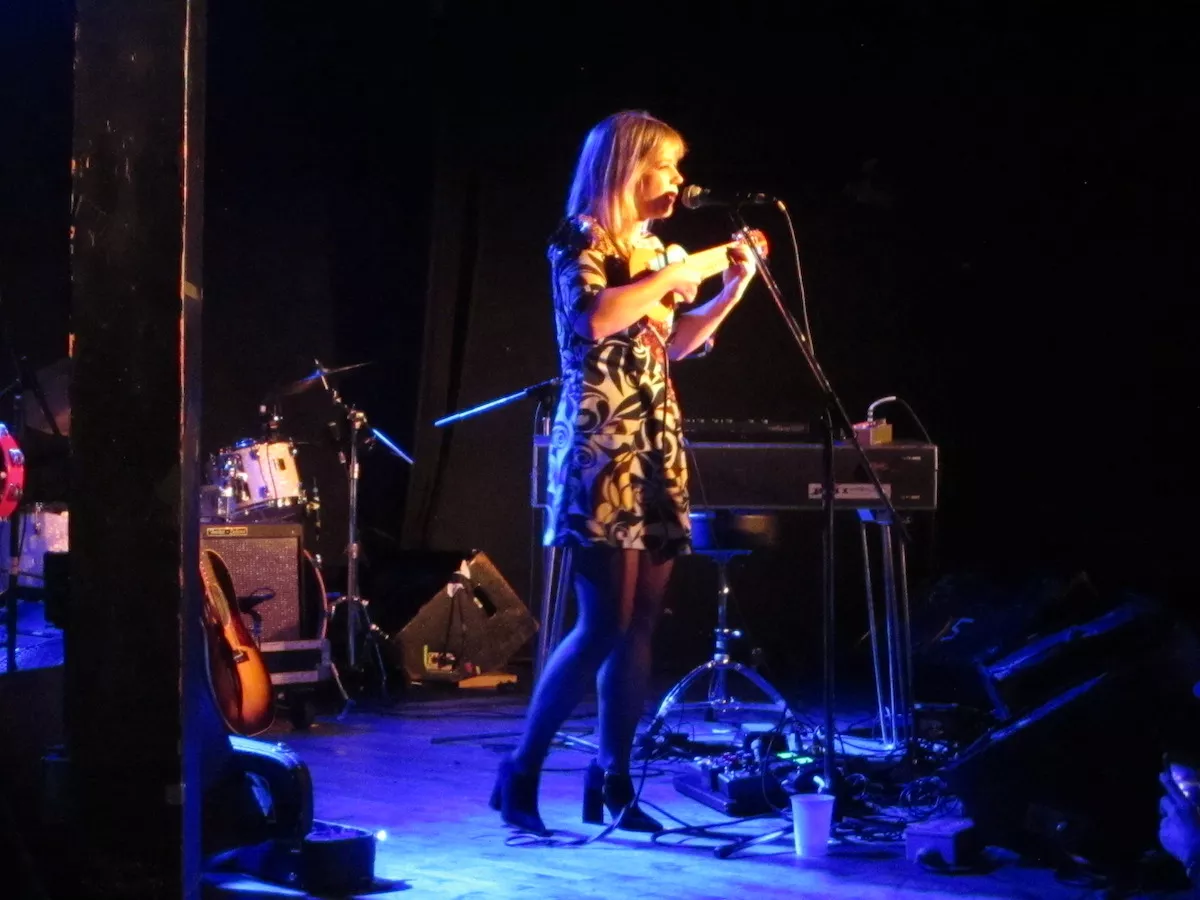 I was a little surprised to have missed all of Monomyth's set arriving at the Marquee Friday night, but chalked it up to my own lateness. Turns out the band had the sound cut prematurely after drunkenly acting out on stage. (Save it for Montreal, guys.)
Fortunately, no such incident befell Sackville, NB's Partner. More than just the lesbian two-person answer to B.A. Johnston, Partner nails all of the jokes and all of the feelings—at least the ones you try not to get too serious about.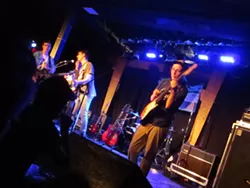 With a live show that keeps the audience engaged, a grungy sound and songs that cover the range from going to class stoned to terrible jobs to unsubtle efforts to get
Ellen Page
's attention (hey, we've all been there), Partner's performance is all-around fun. I keep meaning to put together a playlist of songs about working shitty jobs by Halifax/Maritime bands (shout out to
Dog Day
's "Oh Dead Life" and
Old Man Luedecke
's "I Quit My Job" for getting me through my early 20s). Where was Partner when I was 23 and making $500 a month? (High school, presumably.) Luckily, the band is here now.
Later Friday, TUNS served up the '90s Halifax nostalgia. The "all-star team," as band member Mike O'Neill called it to Morgan Mullin in this week's Coast, delighted the audience with a sunny, pop-rock performance harking back to a simpler time, when bands still played downtown and beers didn't have lengthy ironic names.
After some sleep and an intense downpour, it didn't seem like anything could have made Halifax feel sunny and light on a dreary Saturday evening, but Toronto's Germaphobes were up to the task. It wasn't just the tropical shirts; the band played a fun and energetic set even for the somewhat sparse crowd at Art Bar. Montreal's Moss Lime's subsequent performance passed in a too-brief 25 minutes and the band's lo-fi acoustics felt a bit lost in the space.
At the Marquee/Seahorse, I dodged the Marquee's baseball-capped crowds to catch the first half of
Cactus Flower
's set at the Seahorse, proving
Jess Lewis
has the best pantsuit game in town and delivering an enthusiastic, upbeat performance.
Dashing upstairs to catch Basia Bulat, the always-pulled-together Bulat had someone waiting in the wings for her with a sequined cape after her first song. Put this on my list of life goals, please. Playing a set of newer songs, Bulat's buttery voice was lovely as always, with her newer music sounding both a touch poppier and darker than earlier recordings.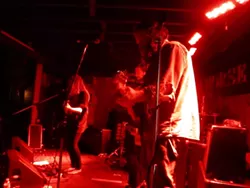 Returning to the basement for
The Highest Order
, the band did not disappoint. Moving from psychedelic jams to slowing and deeper numbers, the band played most of its set bathed in a blue and impossible-to-photograph light. "Warm Front" brought out the best of
Simone Schmidt
's haunting vocals. The band almost leaves you wondering if it's the reverb pedal, or Schmidt's voice naturally has that much reverb in it. Schmidt tried to encourage the audience to get out of their comfort zone through the set, asking everyone to switch sides of the room and complimenting some dancers who were using the music "for its intended purpose—other than crying."
And now that HPX is done for another year, it's time to sit back and listen to or wear your new purchases off the merch table, while you nurse that hangover that won't go away until Wednesday. It's OK if you cry.