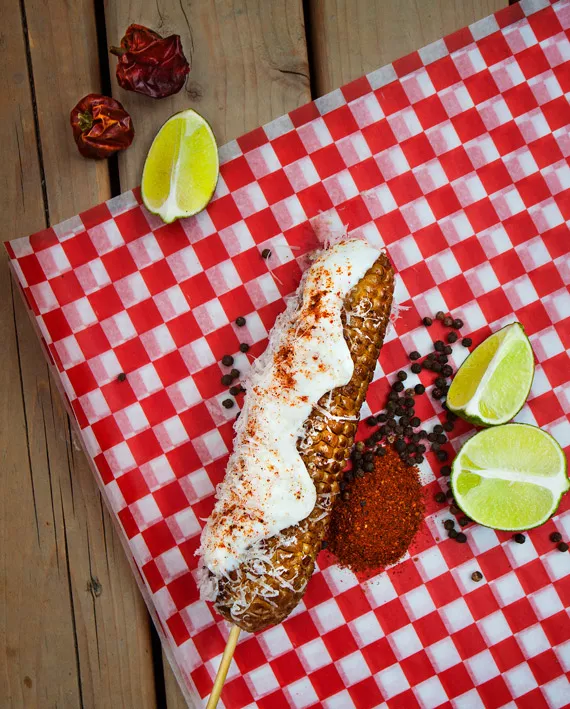 All summer long Stillwell Beergarden has been featuring one of the simplest street foods: Elote. This Mexican grilled corn pops with flavor—sweet corn, the smoke of the grill, melted butter, salty cheese, spicy heat, tart and creamy yogurt. It's a ton of flavour with less effort than you'd think.
Anyone who has snacked on the fries at Stillwell knows Graham Ruppel's Tokyo spice. "It has a few types of seaweed, star anise, Sichuan peppercorn," says Joe Martin, chef at the Beergarden, who created a Tijuana spice to complement the smoky flavours of the grill. He smokes paprika and adds chiles for heat. "Mulato and guajillo chiles are both sort of background characters, mild and slightly spicy, and dried limes really amp it up."
Smoked paprika is one of the cornerstones of great elote. The other is a fatty swipe of mayonnaise or butter. "We use butter and smoke it at high temperature for a short amount of time, just enough for the smoke to permeate the skin of the corn but not cook it totally," says Martin. "Lime is critical too; we have lime yogurt as a topping."
The last great ingredient is cheese. You'd generally find cotija—a salty, crumbly cow's cheese—on Mexican street corn, but you'd be hard pressed to find any in Halifax. "We like to use ricotta salata, which is a hard salted cheese made with left over whey," says Martin. "I like it because it doesn't melt quickly and the salty, smoky, citrus-butter combo is insane. Parmesan or Granna Podano work well too. Feta could also be used, but I find it a bit overpowering."
f you want to go vegan, Martin suggests using, or making, veganaise, and amping up the flavour with the juice and zest of a few limes. "Add some fried capers or another salty vegan ingredient to amp up that salt," he says. A tofu feta-style cheese or homemade white bean cotija-style cheese and a sprinkling of cilantro will get you your total vegan elote experience.
How to make elote
"If you have a smoker, smoke the corn for about an hour-hour and a half at high heat. If not, cook the corn in the husk or in tin foil, remove, then finish on the grill to char and make a few kernels pop. "Brush with melted butter, season with salt, pepper, paprika, any ground chiles you have access too. Top it with salty grated cheese of choice, lime yogurt and a little more of the seasoning spice."
Pair it with beer
"Elote is great by itself but pairing it with a nice bitter, hoppy IPA is fantastic," says Martin. He recommends Unfiltered Brewing's Exile on North Street, Big Spruce Brewing's Tim's Dirty American IPA or Hell Bay's R.I.P.A. Or, if you want a flavour contrast, try a beer with a nice sour note, like Big Spruce's raspberry wheat beer, Silver Tart or Good Robot's German-style sour ale Goseface Killah.
Adapting the recipe
If you don't have a grill, Martin says to try a cast-iron pan. Or if you're camping, give it a shot over an open fire. "You'll get little char bits you want and it'll still taste great," he says.