Liz Mac was terrified.
It was the first time she was presenting her work as an illustrator at the Dartmouth Comic Arts Festival. And there she was, last August at Alderney Landing, beside local stars like cartoonist Andy Cotnam.
A self-taught illustrator, she'd only been to DCAF once before, in 2014, and that was as an attendee, not a creative. But what she'd witnessed was a catalyst for taking her own work more seriously. "I saw all these local artists and hoards of people, waves and waves coming off the ferry every 30 minutes. Everyone was so excited to be there."
But setting up a table a year later as a vendor?
"It was so intimidating," she says. "I had no art schooling and no professional background at that point. I was so new. I was so scared. But the people around me were very warm and inviting."
Mac has since quit her job in retail management to be a full-time illustrator.
"I'll be back at DCAF this year," she says. "I'm really excited about it."
These days Mac's story, a woman making a go of it in Halifax as a cartoonist or an illustrator, and supported by the community, isn't an unusual one, but it's still worth celebrating.
It wasn't always like this.
It wasn't long ago that comics—the people who created them, and the stores that sold them—were all for, about and catered to dudes. Now we're seeing a growth in comics by, for and about girls and women.
At the Eisner Awards, known as the Oscars of the comic industry and given out at the San Diego Comic Convention in July, a record number of female creators were nominated this year. The award for Best Humor Publication was won by Nova Scotia's Kate Beaton, for her book Step Aside, Pops: A Hark! A Vagrant Collection.
Publisher's Weekly reported that in a survey of American comic shops, the newest—and youngest—audiences for comics are women and girls, and they're coming in greater numbers than ever before. That observation corresponds with what the folks who run Strange Adventures, the hub of the Halifax comic scene, are seeing.
"When I started here" in 1996, "it was something like 80 percent guys and 20 percent women," says Dave Howlett, the manager at Strange Adventures and also a cartoonist. "Now it's pretty much 50-50. It's almost embarrassing to watch the big comic companies scramble to catch up. They suddenly realized they're alienating half their potential audience."
"Being on the front lines, I've really seen an increase women comic fans," says Jay Aaron Roy, proprietor of Cape & Cowl Comics & Collectibles in Lower Sackville. He's been working in comic retail for a decade. "I've seen it especially in the past few years since I opened my own store. And with stores supporting local artists on shelves, I have a lot of friends who are female putting out content, doing the grassroots thing."
And while the rise of the female fan seems to have caught big comic concerns flat-footed, Halifax has been punching way above its weight in nurturing some of the best comic book creators in the business who happen to be women.
Faith Erin Hicks, who lived and worked here for years, is an Eisner Award-winner, for her collection The Adventures of Superhero Girl from Dark Horse. Her newest comic is The Nameless City, published by First Second.
Kate Leth used to work at Strange Adventures, but is now living in Los Angeles. She's a writer on comics like Patsy Walker A.K.A. Hellcat for Marvel and Vampirella for Dynamite.
And Beaton is one of the biggest names in comics, period. Originally from and currently residing in Cape Breton, her Hark! A Vagrant comics created an entire genre unto itself, a kind of witty historicism. (See "Hark! A national treasure," page 9, for more about her.)
"I can speak for both the comics and illustration communities, and women have always been in both," says Mac. "But now that all these women are breaking out in comics, that is inspiring. People can see that nothing's holding them back. They can do this seriously, just as anyone can."
Hicks and Leth have both appeared at the Dartmouth Comic Arts Festival, and Beaton is one of this year's star guests. It's the key event in the local comic book creator calendar, a chance for artists to show their work, meet other people in their field and find new audiences.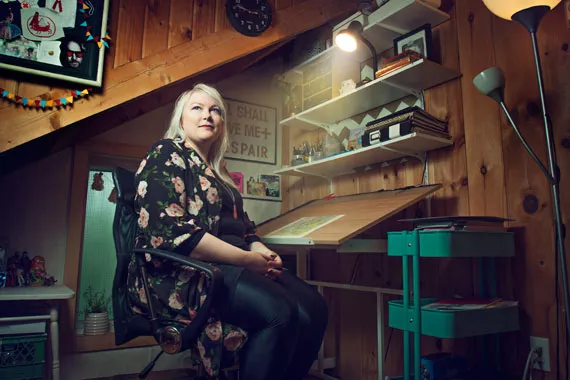 Rachelle Goguen is the longtime writer of comic scene blog Living Between Wednesdays, and co-host of its podcast with Dave Howlett. She attends DCAF to see all the local cartoonists together in one room. "You forget how many there are, it's pretty amazing," she says. "A lot of the animators in town, many of them are hoping to branch out into comics. It's a great place for them to get started, too."
Goguen says a lot of what shows at DCAF can be classified as fan art, but the internet has helped justify those creators. As someone who's been involved in fan communities online for years, she's seen a rise of women who start sharing their art on LiveJournal and Tumblr, and then develop their own fanbase.
"And these conventions are good for that, too," she says. "It's less about making money and more about being a fan of characters. It's a good way to get people's attention."
Ryan North is another one of the star attendees at this year's DCAF. North is the creator of the long-running webcomic Dinosaur Comics, as well as the writer of Adventure Time and Marvel's The Unbeatable Squirrel Girl.
"You can wander into and just explore," he says about free comic arts festivals. "People come up and say, 'Tell me about your work.' And I go into the talking dinosaurs and talking squirrels. 'No,' they say, 'tell me about comics. What is this?' And it's like, holy crap, I get to be this person's first comic book, their first entry into the medium, that's amazing."
Squirrel Girl is an all-ages romp that has some fun with the seriousness of Marvel characters, and it's a gateway for new female readers to get into comics. It's one of the titles Marvel is using in its scramble to catch up.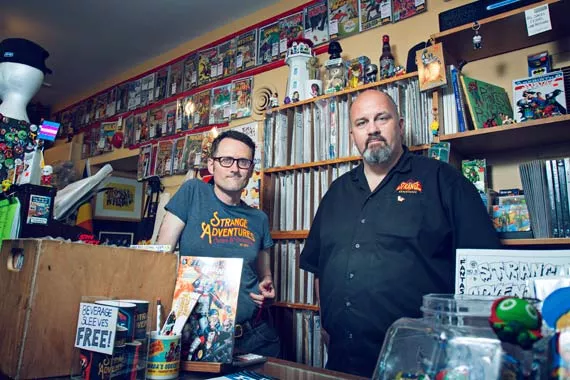 "I think for a long time the stereotype of a comic reader has been a guy," says North. "It comes from a very superficial stereotype of what comics are and what they can be. The problem is that comics are sold in comic book stores. That can be scary. Strange Adventures is a great store, The Beguiling in Toronto is a great store. But, they're still places that can be intimidating to walk into if you don't know what comics are."
Which is why people should check out DCAF this Sunday, says North.
"Please, tell people to come," he says. "They're my favourite events."
The influx of girls and women into comics is at least partly due to the influence of Japanese comics and animation, known as manga and anime, respectively. Shows like Sailor Moon were aimed at girls from the start. Translated for a North American audience, they got girls interested in the comic scene as consumers and creators.
That's what happened to Jordyn Bochon, a fan of Japanese and European comics since junior high. She's an illustrator, comic artist and writer. She was at the first DCAF in 2012 and will be there again this year at Alderney Landing. Her work was featured in the anthology The Secret Loves of Geek Girls, edited by Hope Nicholson, which includes a comic written by Margaret Atwood, and she also does the Welcome to Hellifax strip, co-written and drawn by her husband, Tim Carpenter. She and Carpenter met in animation school out west, moved to Montreal, and then found their way to Halifax.
"As soon as I got here, local artists were telling me, 'Oh you should come out, there's this Drink 'n' Draw that we do.' It's been an amazing city for how inclusive it's been. It is a smaller city, and we suffer from what a lot of smaller places suffer from: People tend to move away a lot. But Tim and I have stayed—it's hard justifying leaving so many good people."
Bochon's also noticed how the industry has changed for women. "When I was starting out in Vancouver, I started a collective with a group of young women, and we were at the convention there, we were some of the only women at the show," she says. "Now there are so many more women telling stories, and participating in this culture—the people who purchase comics, they're craving stories by women. They're points of view that haven't been explored. It's exciting to see that blossom."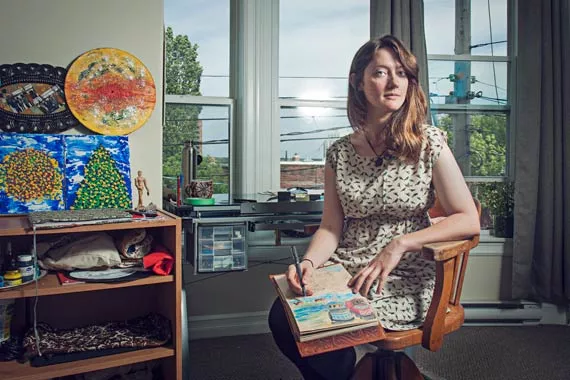 Amber Solberg is an illustrator, cartoonist, and teacher. A native of Bentley, Alberta and a NSCAD grad, this year will be her first appearance at DCAF. She credits local creators Caitlin McGuire, Alison Knott and Liz Mac as inspirations: "Everyone's been very supportive of everyone else's projects."
Solberg is a regular attendee at E3C, or the East Coast Creative Collective, a meet-up for artists the second Tuesday of every month at The Foggy Goggle. (It's off for the summer, but starts up again in September.)
"It's for people who knit, or bake, or do calligraphy, or make cartoons or write novels, really anyone with a creative leaning," she says.
"It's an opportunity to mingle," says Mac, a member of the steering committee of E3C. "It's not really networking, because that suggests more a 'Here's my card, here's what I can do for you' thing. This is more about getting people from different parts of the visual arts community to talk and hang out."
Mac credits Knott, the founder and director of E3C, for her mentorship. "It's been great for me to get involved with different creatives and comic book people in the community. It's been very fulfilling."
The godfather of the Halifax comic scene is Calum Johnston, owner of Strange Adventures. For nearly 25 years he's been an enabler of people who create comics, nurturing and supporting their work and bringing it to readers through his retail operation.
"I cannot sing Cal's praises enough, I really can't," Beaton says in an email. "He is a supporter of comics in the truest sense of the word, generous to a fault and endlessly encouraging of local talent. I really feel like I would not be the same artist I am today without having lived so close to that warm heart of the city and comics community that is Strange Adventures."
Johnston founded DCAF in August 2012. "I had the idea that Alderney Landing would be a great place to hold an event where comics professionals could get together, share their work and meet other people who are interested in comics and illustration," he says.
At that first festival, 35 writers and artists presented their work for sale and created and signed original art. Local giants in the field that first year included Halifax-based Marvel artist Steve McNiven and the late, great Darwyn Cooke, along with a handful of retaillers, local comic stores Quantum Frontier and Giant Robot, and a few Nova Scotia publishers, too, amongst them Invisible Publishing and Conundrum Press.
As of last year it had grown to 75 artists and writers, and with this weekend's edition featuring comic book creators such as Michael Cho and North, both out of Toronto, along with Beaton, it's sure to push Alderney's occupancy limit. Not to mention that it's free to attend and family-friendly. "It benefits the local scene," he says, "and it gets comics and creators out into the community." a
Carsten Knox is a storyteller in Halifax. You can catch up with him at carstenknox.com.
Editor's note: The Coast has had the privilege of publishing many comic artists over the years, including some who are featured in this story. We believe every artist mentioned here stands on their own merits. To detail those single-issue illustrations or freelanced comics seems to serve less as journalistic disclosure and more as Coast bragging, so we aren't getting into those specifics here. If you're an artist or illustrator in HRM who'd like to work with us, we'd love to hear from you: contact production@thecoast.ca.