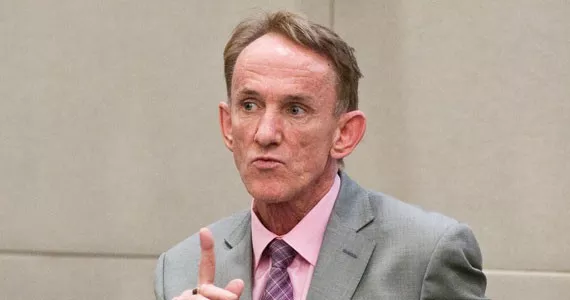 After a quarter of a century as a Halifax councillor, Reg Rankin is calling it quits.
The Timberlea-Beechville-Clayton Park-Wedgewood councillor confirms to The Coast that he won't be running in this fall's municipal election.
"It's been rewarding," Rankin says. "I always viewed it as a challenge…but there's other people in waiting."
"A number of considerations" went into his decision, Rankin says, particularly the length of time he's spent in politics.
First elected as a councillor for the county in 1991, Rankin has been a near-constant presence at City Hall ever since. Only District 11 councillor Stephen Adams has continuously served as long.
In his two-and-a-half decades as an elected official, Rankin has shepherded a number of passion projects through council, but it's the Otter Lake landfill that will likely be his biggest legacy.
From the mid-'90s when the new landfill site was chosen in his district, to this past week when the province shut the door on any future height expansions, Rankin has been the most loquacious voice arguing on behalf of the Otter Lake community.
"Reg has been extremely consistent in fighting for the rights of the community ever since that area was identified for the landfill," says Ken Donnelly, environmental consultant to the Otter Lake Community Monitoring Committee.
Rankin would insist on getting everything the municipality promised about the landfill in writing, Donnelly says, explaining it was the only way to have "verifiable trust" in government. The practice turned out to be instrumental when years later HRM started looking into altering the landfill's operations.
"It's a good example of how hard he's worked, and the attention to detail in ensuring that landfill out there is not a negative impact on the community."
It's also part of the reason why Rankin so vigorously defended new provincial legislation—brought forth by his son, Liberal MLA Iain Rankin—that codifies into law the vertical landfill limits HRM has promised the community.
That bill drew harsh criticism from Rankin's fellow councillors at an emergency meeting this week, where it was called an unprecedented bit of "political theatre." The Community Monitoring Committee has responded to those remarks in an open letter to the mayor, while Rankin himself brushes aside the criticisms.
"They shouldn't take it personally, this particular council," he says. "All decisions of council and the legislature are politics. Social justice is achieved by politics. That is the business of politicians—to make it a better world."
Rankin is the fourth sitting councillor who's decided not to re-offer in October's municipal election. Barry Dalrymple (Waverley-Fall River-Musquodoboit Valley), Gloria McCluskey (Dartmouth Centre) and Jennifer Watts (Halifax Peninsula North) have already announced they won't be running.
Though Rankin is only confirming his political plans this week, three candidates have already announced for District 12. Former North West Trails Association vice-chair and Rankin's 2012 challenger Bruce E. Smith, advanced care paramedic John Bignell and News95.7 meteorologist Richard Zurawski will all be gunning for Rankin's vacant seat.
It's a chair Rankin routinely stands up from when addressing his fellow councillors at City Hall with ornate sermons on moral rights and the public good.
The outgoing councillor has also faced his share of personal demons. In 2011 he took a personal leave from council, reportedly to deal with alcohol abuse. Then, in 2014, he was charged with impaired driving and failing a breathalyzer after a car drove into his house. He again took a leave from council, and plead not guilty to the charges.
The Crown dropped the case against Rankin last summer, feeling there was no reasonable chance of conviction.
"There's no question, I'm a flawed character," Rankin says about his struggles. He maintains the past few years have made him more humble, but didn't play a role in his decision not to run again.
"I like to think, that what has been a constant as it relates to municipal politics, that I always try to do the right thing—what's in the public interest."
There's still one project Rankin wants to see through before he leaves. The municipality has spent over a decade trying to finalize protections for the Blue Mountain-Birch Cove Lakes Wilderness area, and Rankin says he's confident that will come to fruition before October.
After that, he's not sure what comes next.
"Somebody nearby is already selling birdhouses, and I'm not too good at carpentry. So, I can't compete with that."
Other opportunities "might compel" him to run again in the future, or at the very least remain an active voice in the community.
"I just didn't want to continue if I wasn't inspired by more projects."