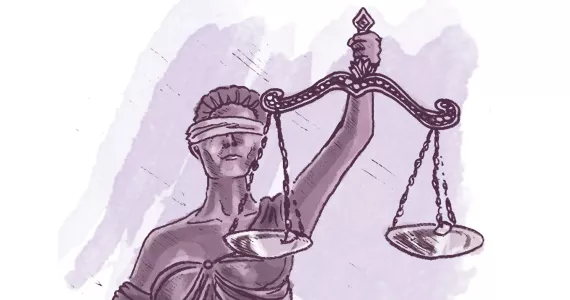 While the Jian Ghomeshi verdict has created much discussion both nationally and locally about the justice system's treatment of sexual assault survivors, it appears politicians are taking baby steps in response.
This week, Ghomeshi appeared in a Toronto court to sign a peace bond and apologize to the former coworker he was charged with sexually assaulting.
The former radio host was acquitted back in March of assaulting three other women. But even before defense lawyer Marie Henein began attacking those victims' credibility on the stand, concerned citizens were pleading with federal justice minister Jody Wilson-Raybould, as revealed in documents released under Access to Information.
While the authors' names are redacted, their concerns are not. "Please table a bill that will blunt this weapon against justice for women, make it illegal to attack victims of abuse for calling out violent abusers so that they will at last genuinely face their victims and pay for the incredible damage they do," said one writer.
Another evoked the ongoing Tim Bosma murder trial. "If [he] were still alive and was a witness at [the accused] Mallard's trial, the defense would not call him a liar when he told this side of the story."
As befitting a relatively new government, the response from the minister's office was less than concrete. "I would like to assure you our government has committed to introducing legislation that will provide greater support to survivors of domestic violence and sexual assault," Wilson-Raybould stated in a response to a letter. In an email to The Coast, a department spokesperson would only say "that work is ongoing."
It was also pointed out that the administration of justice is handled, not by the feds, but by the provinces. So, what is the Nova Scotia government doing?
Jamie Baillie, leader of the opposition Progressive Conservatives, recently tabled two private members' bills looking to reform the justice system's treatment of sexual assault survivors. The Dignity for Victims of Sexual Violence Act, currently at second reading, would give victims of sexual violence the right to be treated with dignity when giving evidence, and calls on government to pay for a lawyer for the victim if they want legal representation but are unable to pay.
"We saw that the survivors who testified were put on trial, while Jian Ghomeshi just had to sit and watch," Baillie says. "We all want fair trials but re-victimization is not necessary to have a fair trial."
Baillie says it would be up to the courts to define the 'respect' his bill calls for. He also admits he hasn't received "a great sense of encouragement" that the bill will pass, but hopes all three parties can come together.
"The constitution clearly states that the administration of justice is a provincial responsibility. We have it in our hands as Nova Scotia politicians, to make it better. It doesn't cost us a cent, and it's the right thing to do."
Nova Scotia's Liberal party did not respond to requests for comment, but Diane Crocker, a criminology professor at St. Mary's University, says Baillie's bill is too narrow. A lawyer hired by the victim would not have legal standing during a trial, she says. "I assume the idea is that the lawyer would give a heads-up or prepare [the witness] before they testify, but that doesn't necessarily require a lawyer," says Crocker, adding that other support staff would have the capability to help victims.
The bill doesn't seem to cover legal fees for civil procedures, either, says Crocker. Civil court is a big deterrent for many because of the legal fees involved. The bill also "only addresses those victims who make it to trial."
Ultimately, Crocker believes it's the culture inside the legal profession that needs to change. Defendants should receive the best possible defense, she says, without resorting to re-victimization. "Nobody is owed a racist or sexist defense."