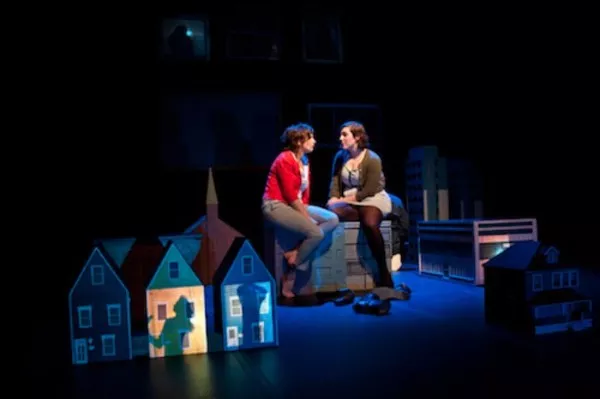 Snow showers may have put a damper on this week, but the weekend's looking hot as hell.
10. Live Music › Russian Roulette IV. Friday, April 29, 9pm.
In-Flight Safety's John Mullane hosts this randomly-ordered rock roster. Set times are determined by spinning the big wheel, leaving bands scrambling for the stage. This iteration features Natalie Lynn, Scumgrief, The Space Age, Old Blood, Kilmore and Beauts.
9. On Stage › Halfway to Halloween. Thursday, April 28, 10pm.
Drag stars Lickity Splitt and Penelope Strange host Tuckers & Stuffers' annual Halfway to Halloween drag show.
8. Literary › Lost Documents Volume II Launch. Thursday, April 28, 7pm.
Lost Documents, Dartmouth's newest literary quarterly, launches its second volume with readings by seven local writers and musical performances by Natural Children, Patrick Williams and Justin Boutilier.
7. Live Music › The Brogue Saxophone Quartet. Saturday, April 30, 2pm.
The Brogue Saxophone Quartet puts on a fun and fresh live show of sax tunes, ranging from contemporary classic to jazz to tango to folk.
6. On Stage › How Small, How Far Away. Saturday, April 30, 8pm.
Created by Zuppa Theatre with Cleveland-based playwright Mike Geither, How Small, How Far Away tells the story of a military translator's return from Afghanistan and the small, vital human interactions that make up his everyday life.
5. On Stage › Making Out With Marx: A Philosophile's Orgy. Friday, April 29, 7pm.
Dapopo Theatre and Mayworks Festival Halifax present this stimulating stage show celebrating Karl Marx's revolutionary love.
4. Activism › May Day Rally and March. Sunday, May 1, 1pm.
Make a sign, make some noise and celebrate International Workers' Day with the Halifax-Dartmouth & District Labour Council.
3. Outdoors › Ghost Walk of Historic Halifax. Sunday, May 1, 7:30pm.
Ghost Walks are returning for the season! Meet Andy Smith at the town clock and have a look at the spookier side of city. Hear about Halifax's darkest tales, eerie mysteries and town gossip.
2. Special Event › Halifax Crafters Society Spring Has Sprung Market. Saturday, April 30-Sunday, May 1, 10am-5pm. Shop local ceramics, textiles, prints, papercraft, cosmetics, leather works, jewellery and more at the annual Halifax Crafters Society spring market.
1. Halifax ComedyFest › Gala of Laughs Finale. Saturday, April 30, 7:30pm.
Mark Critch hosts Halifax Comedy Fest's finale show featuring Dave Hemstad, Mike Wilmot, John Sheehan, Graham Kay, Michelle Shaughnessy, Nathan Macintosh, Chuck Byrn, Cathy Jones, Trent McClellan and Rich Hall.