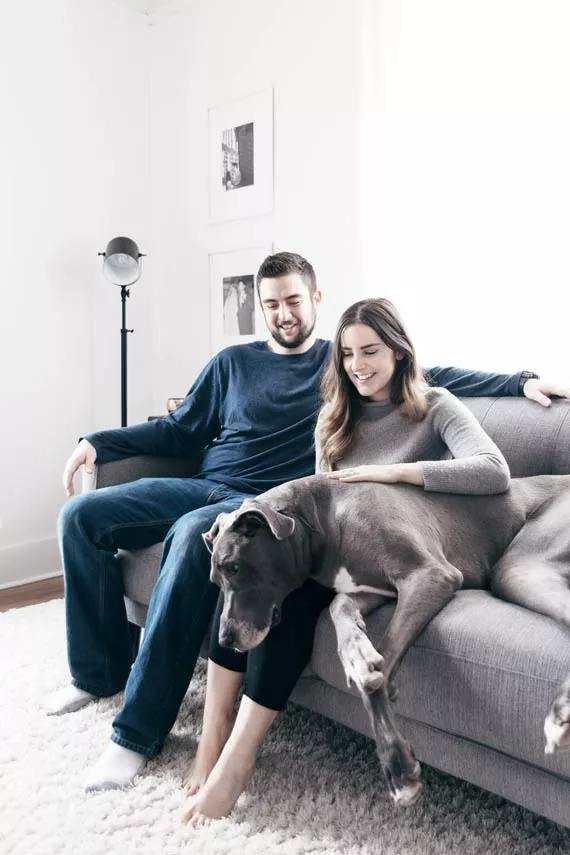 What makes this room your favourite?
This was my husband and I's first apartment together. We eventually moved into a condo, but truly missed the charm of this old place—it survived the Halifax Explosion!—and snapped up the hilarious opportunity to move back in when it popped up on the renters market. Now, this room is tiny—like really tiny, but it's where the best moments happen. It's where cozy Friday evenings are spent with popcorn and a movie, it's where slow Sunday mornings are spent with coffee and a book. It's the living room for a reason—and little scars like the tiny notches in the trim from when our Great Dane was a teething puppy are a testament to that!
The inspiration: I am a minimalist at heart. I'm very inspired by modern, clean lines and my husband is a fan of mid-century modern pieces, so much of the room reflects that. The bright, art gallery-like white walls provide the perfect minimal blank slate to feature our favourite pieces of furniture. The small space provided a challenge, especially coming back from an open-concept condo, but inspired function in our design that has made living in a tiny space not only possible, but enjoyable!
Key details:
My husband's family business is custom furniture/millwork and I am a furniture enthusiast, so the best parts of the room are most certainly the pieces that we've designed and built together. We've built two huge cabinets to help with storage solutions of apartment living, though my favourite piece is our recently built round coffee table. We designed it with a huge drawer for storage, and castor wheels on its base, so we can spin it around the room when our Great Dane wants space to play!

Click here to see Brittney's blog, Brit Design.


See more photos of Brittney's home via NxN Photography.