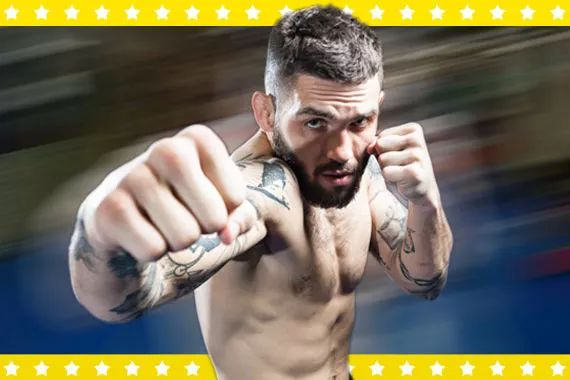 In a powerful burst, Gavin Tucker's left leg lifts off the ground and kicks his opponent's left hand. The leg has barely returned to the soft blue training mat when Tucker's right arm, covered in tattoos and dripping with sweat, sails through the air. It lands in the same spot his foot was a split second before. The 29-year-old repeats this exercise over and over again, pausing to talk through the thought process of the drill. He's dissecting an exercise he's done countless times, but isn't content to treat it like a routine.
Born and raised in rural Newfoundland, Tucker came to Nova Scotia to study jazz at St. Francis Xavier University. For the past five years, he's trained and competed in the Maritime-based Extreme Cage Combat as a professional mixed martial arts fighter. With eight professional fights to his name—all wins—Tucker is in his prime and hungry for a shot at the sport's biggest stage, the Ultimate Fighting Championship.
Fueling that drive towards the octagon is a lot of tofu. Tucker's vegetarian, and working towards vegan. It's an ethical diet befitting the lumberjack hipster vibe of his current home in Halifax's north end, but still an odd choice for a professional athlete—a fighter, at that.
It may also be the key to his success in MMA: Vegetarianism may help Gavin Tucker win the biggest fight of his life.
When Tucker sits down for breakfast, the menu is simple: a cup of coffee, a banana and a zero-calorie pop. It's a standard meal for him before an event where he's looking to cut down to a specific weight, although usually he throws in some oats. The pop is a little treat. Over the course of his career Tucker has tried everything in the books—Paleo, Atkins, Dolce, Bulletproof, intermittent fasting—to cut weight. Everything but eliminating meat.
"I was eating a pack of bacon a day," he says. "I was loving meat."
Vegetarianism isn't just another diet change to make weight. An avid dog-lover, Tucker says he had an epiphany around six months ago about how strange it is to pet some animals and eat others. That slaughter-shed moment was spurred on by Tucker's "hardcore vegan" brother.
"He talked to me about guys like [animal rights activist] Gary Yourofsky and other vegan activists," says Tucker. "After awhile, his influence really helped me not want to have meat anymore."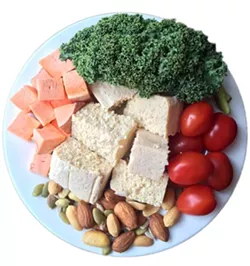 Compassion toward all living creatures may seem an unusual philosophy for an athlete whose job is to literally beat other people into submission (or often unconsciousness). But Tucker's not blazing any new trails as a vegetarian MMA fighter. The UFC has had several vegetarian fighters in the past, including Jake Shields and Mac Danzig. Danzig, now retired, won 12 fights in a row after he became a full-fledged vegan in 2004. The diet can't be credited for the wins, but being a vegan didn't hold Danzig back from a successful career that included 13 fights in the UFC. Even high-profile MMA star Ronda Rousey was briefly vegan after winning a bronze medal for Judo at the 2008 Beijing Olympic Games. She put the diet on hold, but has said she plans on returning to it once her competitive sports days are done. So empathy for animals isn't unheard of from caged combatants.
Ethical reasons aside, though, there's also nutritional reasons athletes might not want to consume their body weight in chicken breasts every day. Meat, says dietitian Angela Dufour, is often overblown in sports nutrition. Even athletes who depend on bulking up, like body builders, don't need to ingest any more than 1.7 grams of protein per kilogram of body weight, says Dufour. Most, however, are taking in up to 2.4 grams per kg.
"They kind of have the equation backwards. They're very low in carbs, very high in protein and probably not maximizing that protein synthesis," says Dufour, who runs a private practice in Halifax and works at the Canadian Sport Centre with Olympic hopefuls.
Everything—from fat and vitamins to minerals and protein—has an upper intake limit that the body can process. Going beyond that limit just leads to inefficiencies. Of the total calories an athlete consumes, only 35 percent should come from protein, explains Dufour. Otherwise, the proteins end up being used for energy because carbohydrates aren't available.
Vegan athletes may have an easier time balancing that protein intake, but the diet comes with its own athletic challenges. Meals can be lacking essentials like calcium, and vitamins like D and B12 that mostly come from meat sources. A vegan diet also can't contain whey—the protein powder essential that's a by-product from cheese production. Whey is high in leucine, an amino acid that stimulates muscle protein synthesis.
"They call [leucine] a trigger for signalling the onset of the rebuild-and-repair scenario of the tissues," says Dufour. "Soy has some, but not as much."
It's also not an easy lifestyle to maintain.
"With most of these guys, they're travelling, they're going to different training camps where they can't control the foods," Dufour says. "It becomes more out of their own control to be able to manipulate [diet] to ensure they're getting all the essential acids, energy and iron."
That's why Tucker lives by routine. On a typical day, the five-foot, seven-inch fighter will eat two main meals: one in the middle of the day after his first big activity, followed by another after his second bout of training. Those usually include a cup of grains or a starchy vegetable such as sweet potato, a cup or more of non-starchy vegetables like kale or tomatoes and two servings of protein from staples such as tofu, lentils, chickpeas, nuts or seeds.
Tucker has already noticed changes since becoming a vegetarian six months ago. Before the switch, he says he was a more bulbous shape, and eating as much as he could to bloat up and stay big. Then he'd make severe weight cuts for fights and struggle to bounce back to normal, which had physical and psychological impacts.
"Your body can be full but your body wants more because you're used to that kind of mentality where you're like a dog," he says. "Now I notice I'm a lot less bloated. Somebody punches me in the belly, I don't feel it as much. I never walk to a training session feeling lethargic. I'm always feeling good about what I'm eating."
Before Tucker was a vegetarian, he had a normal weight of 168 pounds. But he fights as a featherweight, and regularly cut down to 145 pounds for a bout. Weight cutting, often accomplished through tortuous sauna sessions and drastic diet changes, takes its own toll on a fighter's body
"That is a test of courage and resolve and heart," says Peter Martell, co-owner of Titans MMA gym in Bayers Lake and Tucker's coach for the past six years. "If you've never done it, you won't understand. Cutting weight is, plain and simple, just hell."
For the past two weeks, Tucker has been working on a new diet with Local Source Market dietician Nicole Marchand that's dropped him from 153 pounds to 146. Local Source, along with the neighbouring Agricola Street cafe Lion & Bright, are Tucker's two main sponsors. [Disclaimer: The author occasionally works at the former.]
"We put him through hell to cut down to 145 pounds. Now here he is walking around at just about his fight weight. It's a huge, huge accomplishment," says Martell. "He's still incredibly strong for his size, very explosive and a good decision maker."
But all of these changes in diet remain untested for the professional fighter.
Flashback to a year ago: February 28, 2015. Tucker is on his knees, alone, in the middle of the cage. His face is red, he's exhausted and restless with the ecstasy of victory. With a flurry of punches, he's won the Extreme Cage Combat featherweight title after a TKO of All-American wrestler Bo Harris. It's his first fight in over two years, after being sidelined by a shoulder injury, and the eighth straight win for the undefeated Tucker.
He hasn't had a professional MMA fight since. There was going to be a title defence in September against opponent Nate Landwehr, but the bout was cancelled after Tucker had to undergo knee surgery for a torn meniscus.
A month after the surgery, Tucker was back in training, wearing a knee brace and altering his style to avoid wrestling and grappling. He has a habit of turning injuries into opportunities. While recovering from his shoulder injury, the southpaw Tucker would show up with a sling on his left arm to work on his right jab.
"It's amazing to see somebody who actually gets better while injured," says Martell. "I've never seen that before. He made his other hand more of a weapon."
Even without any recent MMA fights, Tucker's been busy. He came third in his size category at a Montreal jiu-jitsu championship in February, and he's competing in a kickboxing tournament in May. But the UFC remains his ultimate goal. Tucker's been dreaming about that big stage since watching replays of bouts on his parents' satellite television while growing up in Ship Cove, on the northern tip of Newfoundland. For awhile, he was living a double life—studying jazz and training in Nova Scotia while bouncing back to Newfoundland every summer to play in the Stephenville Theatre Festival.
Music isn't a big part of Tucker's life anymore, but the spirit of improvisational jazz is still in his fighting style. And while he's travelled to Thailand to train in muay Thai, and received his purple belt in Brazilian jiu-jitsu under Renzo Gracie in New York, Tucker still credits his home province with installing an unyielding work ethic. Newfoundland and Labrador is proud of Tucker, as well. He was officially recognized by the provincial House of Assembly after his win against Harris.
"Tucker is an example of how people from small places can make big things happen, but their hearts are never far from home," said MHA Christopher Mitchelmore last March.
Tucker's next bout isn't set in stone just yet, but will likely take place this summer. He's won both lightweight (155 pounds) and featherweight (145 pounds) titles in the ECC and would eventually like get down to 135 pounds and compete for a bantamweight title. But the next fight will be crucial. He's within reach of his goal of making it to the UFC, the pinnacle of the MMA world. He'd be the first Newfoundlander to do so.

"I don't think it's a question of if, it's a question of when," says Martell, who has trained other UFC fighters. "It's like trying to make it to the NHL. There's so many people trying, the odds are so stacked against you, every little bit makes a difference."

Including diet. Being a vegetarian athlete has its strengths and weaknesses, but whatever the future Tucker says he's sticking with it. If not for his championship prospects, then for his sense of integrity.

"Even without the health benefits, I wouldn't eat meat anymore. I just don't want to eat things," he says. "You can compete at high levels of sports and still maintain compassion, maintain a proper diet and get all the things you need without having to 
effect other things around you."
Jonathan Briggins is a freelance writer in Halifax. This is his first cover story for The Coast.