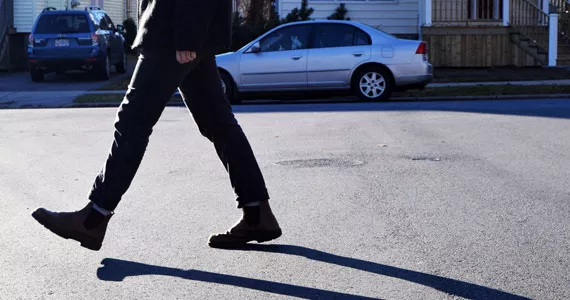 When he remembers being hit by a car last year, Joe Pepper just feels ashamed.
The University of King's College student admits he had been drinking that night. He jogged across the dimly lit Coburg Road, just miscalculating how much time he had to miss an oncoming car.
"I guess I was feeling gutsy," Pepper says. Before he knew it, the car hit his leg, making his head smash against its hood.
But it's not just embarrassment and a serious concussion that Pepper remembers.
"While I was on the stretcher waiting to go to the emergency room, the police came and gave me a ticket for jaywalking," he says. "At that point, it was just insult to injury."
Pepper's car accident was a year ago, before the implementation of Bill 133, which amended Nova Scotia's Motor Vehicle Act and introduced a $697 jaywalking fine to the province.
"I just couldn't have handled that," Pepper says.
Over the past several weeks, Nova Scotia's active-transportation experts and citizens have corralled their outrage about the $287 fine increase, arguing Bill 133 misses the mark.
Bill Campbell, director of Walk 'n' Roll Halifax, wrote a letter to Halifax regional council and the province expressing serious concern over the size of the fine.
"There's certainly good intent and good direction in the bill," Campbell says. "Still, the delivery or the evidence-based background is weak."
But Nova Scotia's transportation minister, Geoff MacLellan, doesn't care if the fine is palatable. He agrees it's a steep charge, and has heard the angry voices critical of Bill 133, but still backs the new legislation.
"We're not in the game of making it more palatable to ignore road safety rules," he says. "The main goal...was to level the playing field between drivers and pedestrians, and send a message that we all have a role to play to keep ourselves and other road users safe."
Dylan Reid, spokesperson for Walk Toronto, says a $697 jaywalking fee is "just way out of line."
Jaywalking fines in Toronto can be anywhere between $35 and $90, while elsewhere in the country penalties range from $25 in Calgary to $250 in Edmonton. Nova Scotia's nearly $700 fine is a red flag, says Reid, exposing that minister MacLellan "just doesn't get it."
"Don't come down and say, 'You can only cross at the corner, where there's a light,' and all that stuff," Reid says. "Because that's just not how humans behave."
He believes that fines like this make police stop ticketing entirely "because it's such a burden on people." The increased penalty has also been criticized for deterring walking, and unduly affecting low-income Nova Scotians who can't afford a car.
The issue isn't as clear as a red or green light. Though everybody wants a safer Halifax, it's evident government and citizens don't agree on what "safer" looks like.
In the short term, Bill Campbell encourages frustrated citizens to call MacLellan directly and express their concerns.
Reid, meanwhile, believes creating safe streets has almost nothing to do with the penal system but requires a more holistic, long-term view.
"The best thing to do is education," says Reid. "Start that with kids. Show children how to walk safely starting in elementary school and enforce that message. Then more people will do it."