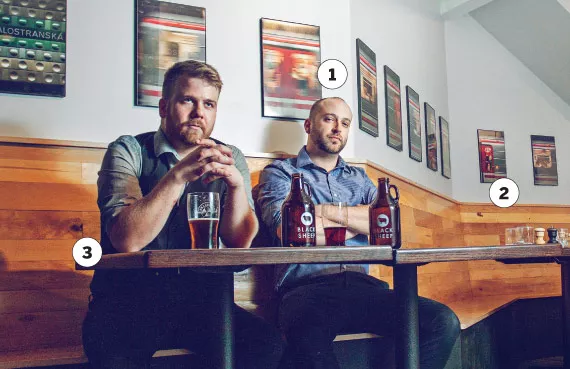 A lot can change in eight months. It was only that long ago that Dave Woodley and John House— chefs who were co-workers at the Prince George Hotel's Gio—cooked up the idea of going into business and opening a place of their own. Two months later, they'd jumped at the chance to sign a lease on Dresden Row and this week, the pair officially opened the Black Sheep Restaurant. The new addition to downtown's eating and drinking scene aims to be your source for all-day, everyday brunch as well as cocktails, craft beer and made-from-scratch globally influenced small plates in the evening hours. The Black Sheep has plans for a New Year's Eve shindig in the works, but until then here's a taste of its creation story.
1. "Our history of working together speaks for itself," says Woodley, who's been creating alongside House for five years, preparing beloved dishes at the Prince George and teaming up to write the menu for its restaurant, Gio. "We have a good working relationship, we just kind of feed off each other and it's been a good collaborative relationship." At the Black Sheep, the pair will be doing a little bit of everything, but concentrating their talents in the kitchen. Some fellow former Gio co-workers will join them there, and behind the bar.
2. Walking into the sleek and bright Black Sheep space (1569 Dresden Row), you'd never guess that it was once three seperate rooms— a hair salon, a nail salon and connecting courtyard. "It was really weird and chopped up, and we just sat down and drew it up in Dave's kitchen," says House of the challenging transformation. "We started with designing a very efficient space, because we know what it's like to be behind the line in the kitchen, we know what it's like for the bartenders," says Woodley. "The aesthetics were second to that."
3. "It blows my mind every time I walk in here in the morning," says House. "We built something that looks really cool and I'm really proud of what we did. It's very far from what we originally planned." Evolving from an idea for a simple north end just-brunch spot to a downtown restaurant, the Black Sheep has kept its focus: "We just want to do things really well and provide a good experience for people," says Woodley. Though they still aim to fill a brunch void, they'll win you over with industry nights, stiff drinks and an inspired ever-changing menu, too.
Black Sheep Restaurant
1569 Dresden Row
902-406-6856
closed December 24-26