From Thursday to Saturday, Live Art Dance is bringing together several forms of art for very special performances. One set will be performed by the Montreal-based Canadian-Swedish dance duo Tentacle Tribe, choreographed to reflect contemporary dance and modern hip-hop. The opening set will be a unique collaboration between Halifax MC Ghettosocks, Toronto rapper NiLLa and local dance company, The Woods, for a three-part hip-hop experience called "The Triptych."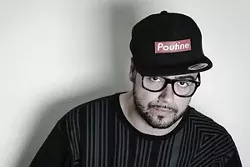 Ghettosocks
"There are three segments," explains Ghettosocks (AKA Darren Pyper), "The Inception, The Development and The Establishment, which will be represented through music, visuals, dance and rap. These three segments will form a larger piece, while also mirroring the idea of triptych in The Woods, NiLLa and myself—or female, male and neutral—or dancing, audio and visual. There are many layers of trilogy within the show. We're all like Captain Planet, putting our rings together to combine into one force."
MC NiLLa
Toronto MC NiLLa (AKA Galyn Esmé) came to Halifax to work with her youth breakdance program UNITY Charity and "The Triptych," where she'll be performing her own songs from her upcoming album as well as rapping with Ghettosocks: "MCs are dancing with words," she explains. "We all need that back-beat but the way you colour it, your choice of language, your flow—I relate that to how a dancer moves onstage. Your voice is powerful, so to combine it with dance illustrates that power even more."
The Woods
Pyper produced beats for dances that will be performed by The Woods with choreography by director Alexis Cormier. "We're working hard to set a positive example," explains NiLLa. "This is positive hip-hop. Different worlds are coming together to show a complete vision and concept. I love that we're putting hip-hop in a fine arts theatre, and I love that we're going to have moments of audience engagement."
---
Live Art Dance presents Tentacle Tribe
and The Woods feat. Ghettosocks & NiLLa
Thursday, December 10 to Saturday, December 12
Sir James Dunn Theatre, 8pm, $30/$25/$20