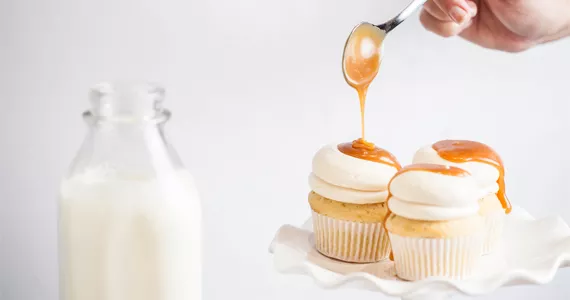 Ingredients
1,560 g sugar
4 tbsp water
3 cups salted butter
4 tsp pure vanilla extract
2 cups heavy cream
2 tsp sea salt
---
Method
Cook sugar and water in large, deep saucepan on medium-high.
Using a wooden spoon, stir constantly until sugar reaches 200 degrees on a candy thermometer. Watch carefully as sugar can easily burn and you will have to start over.
Once temperature is reached, remove from the heat. Immediately start slowly adding the cream. Be extremely careful when adding, as the hot sugar and cream mixture will bubble up. This is why it's important to have a deep saucepan.
Add butter and stir until incorporated. Stir in vanilla extract and sea salt. Strain caramel carefully through large sieve.
Let sit at room temperature until cool. Then cover and refrigerate for up to two weeks. —Jennifer Harrison, Layers Cakes
---
Layers Cakes
1276 Barrington Street
902-446-2206