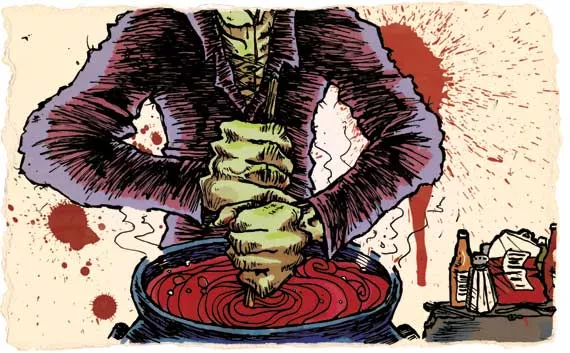 Blood is creepy, right? Nine times out of 10, if you find a list with the word "blood" on it, that list is going to be written by a total maniac. It seems like it would make for a very macabre recipe card, one more suited to Elizabeth Bathory than Betty Crocker. But that's not true, blood isn't just a great ingredient, it's a relatively common one.
Blood is used in savoury dishes around the world. There are a lot of blood sausages—from French and Acadian boudin noir, to Scottish black pudding, Korean soondae, and Mexican moronga—and stews and soups, like nam tok in Thailand or Sweden's svartsoppa. It's also served congealed in some dishes. But there are also some sweet treats, like Italy's sanguinaccio dolce, a sweet, rich chocolate pudding.
For the most part, though, blood is an unpopular ingredient, or at least one that isn't talked about much in North America. "In Europe it's a much more accepted thing," says chef Dennis Johnston, who leads culinary tours in France and Italy with his catering, consulting and food travel company Fid Kitchen. "I've made traditional coq au vin in Europe, and usually when you buy the cock you have the bag of blood from it as well. It's used to thicken the sauce. North Americans are more squeamish; lack of knowledge doesn't let them get past the fact that it's blood."
Industrialization has done away with food tradition to a certain extent. Now that people don't see the more grisly parts of food preparation, there is a lack of normalcy associated with blood and guts. Nobody wants to be Hannibal Lecter, so it's all well and good if we can pretend the lambs stopped screaming.
Johnston cites Chris Cosentino, chef/owner of Cockscomb in San Francisco, as a leading influence in North America's increasing comfort with ingredients like blood and brains, heads and hearts; Consentino is known for his broad use of offal in his restaurants.
"You also see it on Instagram, in culinary trends," says Johnston, who notes the popularity of dishes like beef heart tartare, which has found its way to local menus at restaurants like Field Guide and Stillwell.
"I think offal has taken a more prominent place in menus now because of the oddity factor and the 'different' factor," says Johnston. But he warns against average home cooks investing in blood. "Things like blood pudding, using blood as a thickener, those things actually require quite a bit of technique—attention to temperature, preventing coagulation during cooking, emulsion—to get right. It's not something you just throw together."
It's difficult for home cooks to do much with blood anyway. It's not incredibly easy to get your hands on. While there are butcher shops, like Chater Meat Market in Dartmouth, that sometimes have fresh pork blood in stock, you're never guaranteed to just drop by and pick up a pint: it's not really worth their shelf space since fresh blood spoils quickly and it doesn't store well. Most of the people who go into Chater looking for blood just want to toss it into the Atlantic to use as a lure for sharks on fishing trips.
If you really do want to indulge your blood lust, when it comes down to it in Halifax, you're probably going to have to settle for sausage. (Though you may also luck into dinuguan, a rich, savoury pork stew thickened with blood–found on the buffet menu at ASAP Mabuhay.)
Frédéric Tandy, chef/owner at Ratinaud French Cuisine, is from Limoges, France, where he says blood pudding is a tradition. "We do a mix of pig blood, cream, egg, spices, onion and pork fat," he says of Ratinaud's take on the dish. The sausages are made with a natural pork casing and then poached. "It can be eaten sliced semi-thick at room temperature or seared with a little butter, some onion, and apple. That's the traditional way we do it back home."
Tandy likes the unique taste and texture that blood brings to the sausage. "The flavour is semi-strong, rich but also very delicate at the same time," he says. "This is the type of sausage that you love or you don't like it at all. For me it's very special; it brings back a lot of memories from when I was a kid. I used to love it and still do."
Terry Vassallo, executive chef at Café Chianti, learned how to make morcilla de Burgos in San Sebastian, Spain. He likes to incorporate diced blood sausage into sauces, or puree the finished product and use it as stuffing in pork loin. "I have also used blood to thicken spezzatino di cinghiale, a boar stew," Vassallo says. "I am interested in its role as a nutritious thickener. I used to use it to make a rabbit stew when I worked at the Keltic Lodge. It was very effective and delicious; it's also in keeping with trying to use as much of the animal as possible, cooking head-to-tail."
Vassallo thinks the coppery mineral flavour of the blood can be desirable, and uses clove, fennel seed and coriander seed to enhance it without completely overpowering the umami flavour imparted by blood into the various dishes.
"Personally, I am intrigued with foods that bring one into the realm of our past," he says. "White truffles recall a time when we foraged for food and dug up roots, tubers and edible fungi. Blood can conjure up primordial recollections."
"It's a more concentrated flavour. It's very strong, metallic," says Johnston. "It's nice. I like it, it's good." There's nothing creepy about that.