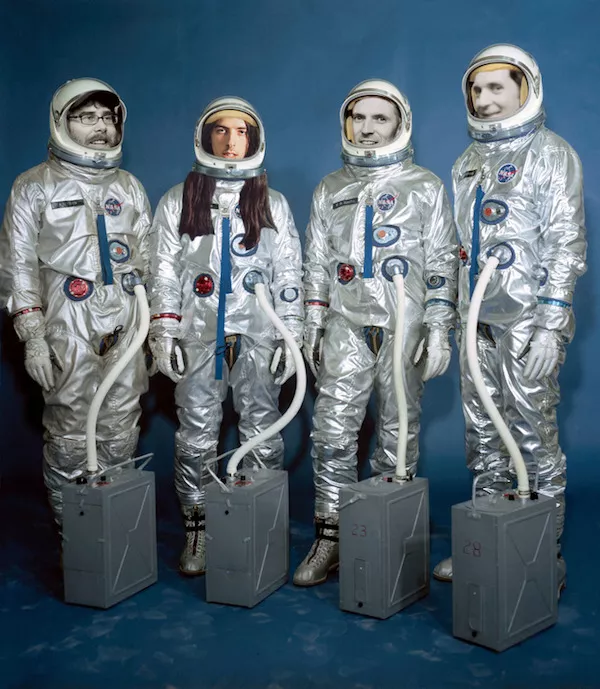 "Rock music is pretty meat and potatoes. That's all good, but we try to throw a lime wedge or some cilantro in there too," says Charles Austin, one of the master chefs behind Halifax's Psychic Fair. Since 2013, Psychic Fair—also with scene veterans Cliff Gibb, Andrew Glencross and Josh Salter—has been spicing up the band's personal taste of rock and roll with flavourful releases like last fall's "Hallowe'en Canday." They're putting finishing touches on the new Chipeater Deluxe EP and prepping for the Halifax Pop Explosion.
"There is a pretty big intersection of interests, in that we all like certain things, like punk music and Can, The Soft Boys, Television," says Austin. Gibb, Glencross and Austin have been playing in various bands for more than 15 years, and Salter will soon hit a decade.
"There is a real deep nerd element," Austin explains. "Everyone in the band knows what The Iggy Section or The Fall Riff means, in the context of the songs we're working on. Recently I've been obsessed with open-tunings and droney riffs, so that has come into play. Josh is good at making sure the prog element gets reigned in. Cliff and Andrew are unflappable and good at structuring stuff. But it all gets reconstituted as rock music."
Psychic Fair plays the Carleton on Tuesday night with Halifax '90s indie-rock dish Rebecca West, and Halifax-musician potluck The Lord Almightys. "I was a fan of Rebecca West back in the day," says Austin. "I'd venture that all three bands off the bill are doing it for the love of music, and they probably all rock pretty harsh and clean."