Ask Elaine Horne and Juan Duarte for their best home renovation advice and these are the first things they'll tell you: plan well ahead and be patient. And at this stage in their own home reno, with the finish line in sight, it's pretty safe to say they're total pros at both.
The couple bought their first home, a little white west end house, in 2009. Sitting above the busiest part of Chebucto Road, they got a good deal on the adorable two storey home, with an open bedroom/attic space on the upper floor and two small bedrooms and living space on the first. It was quaint, but big enough for them. Renovating wasn't something they immediately considered, but they weren't not considering it either.
"We thought, after five years of living here, we'll know if we want to stay," says Horne. "I was thinking we'd add a dormer in the back, like our neighbours. But once you live in the house you realize, why not just do the whole floor if it's possible," adds Duarte. "The cost difference, I think, is relative." When the five-year mark was approaching, they started investigating options, first considering building back into their yard, but settling on building up instead of out.
"It was about a year-and-a-half of planning before we actually started," says Duarte. "I had my architect friend, Chris [Crawford], come look at the house and see if it was possible, not every house is really capable of a two-storey addition." "I liked it because he knew us and he knew our space," says Horne. "I think that could be a very frustrating thing, being influenced by other people. Even a few of the contractors we spoke to were like, 'No you should do this.'"
After sorting out bathroom sizes, and how many bedrooms there'd be, they started shopping the project around to compare costs and try and find a someone to help them take it on. "The biggest issue was logistics, since it's Chebucto," says Duarte. " A lot of people didn't want it."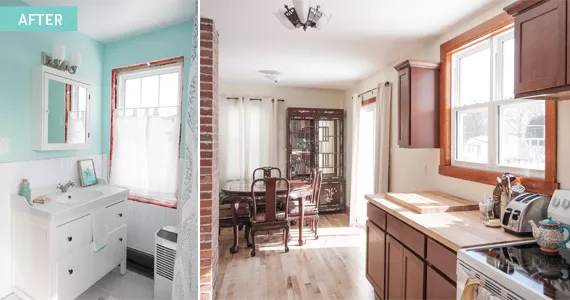 They found Conrad Mullins, of Skymark Homes, at the Nova Scotia Homebuilders Association open house—which they recommend for anyone in the early stages of planning a reno. Creative and truly interested in their project, he met with Horne, Duarte and Crawford multiple times to hash out plans and details. After some delays with the city, the project kicked off in August, the pair shacked up with family and friends, and soon the house would barely be recognizable.
"Once we started it was quick, you'd leave and come back and be like 'Whoa, the roof is gone,'" says Horne, laughing. In addition to taking the bones of their home from two storeys to three and tearing out a downstairs bedroom to expand the kitchen, the house was re-shingled in cedar and had a new metal roof put on. "You have to think longterm," says Duarte. "When you're doing something like this it's an opportunity to change the siding, change the roof. If this is your forever home you don't want to have to replace the roof down the line."
Once the structure was sound—with windows, framing, roof and the big stuff complete—the couple went DIY. Duarte subcontracted things like electric, plumbing, heating—making good use of his background in project management—but in the name of saving money, the couple decided that they'd put the icing on the cake themselves. Starting with insulation and vapour barrier, and moving onto drywall, doors and floors, they're still working to finish the house from the walls inward, with some hard work from Horne's father coming in handy.
By doing some of the work themselves, they've saved the cost of materials and then some. Now, what was once a little white west end house has three new bedrooms, two bathrooms and a soon-to-be-finished sunny third-floor office space. It's the product of planning, patience and some serious teamwork.