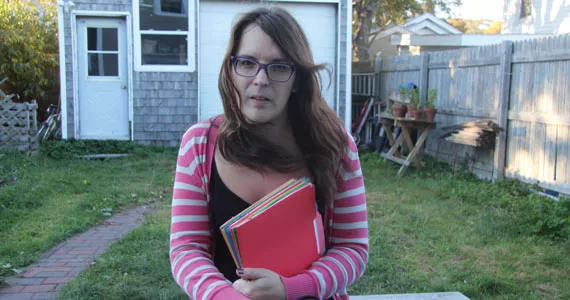 Jessica Dempsey, a transgender woman, is asking the Supreme Court of Nova Scotia for a judicial review of a recent decision made by the Nova Scotia Human Rights Commission.
Dempsey, a Halifax resident and former Dalhousie student, filed a complaint with the NSHRC last year after she was allegedly refused service and humiliated by two Aramark cafeteria employees on the basis of her gender identity. On October 1, after a year of waiting, she was told the Commissioners had dismissed her case due to a lack of evidence.
In her application submitted to the Supreme Court, Dempsey states her concerns were repeatedly ignored during the investigation. She alleges that key witnesses were not interviewed during a resolution conference held last June, because they had to work that day. Dempsey says she couldn't afford to compensate the witnesses for their lost income.
She is now requesting a public apology from the NSHRC, and also asking the Commission to restructure their resolution conference to understand how to create safe spaces for transgender people like herself.
"I just think something could be better than what we have now, like a human rights court of law," says Dempsey.
Gerald Hashey, the manager of dispute resolutions at the NSHRC, says the organization tries to be flexible when scheduling resolution conferences.
"Our biggest priority is making people feel safe in our space," he says, adding that he can't comment on Dempsey's specific case.
Kathryn Dumke, a lawyer who is trans herself, says trans people have a hard time being taken seriously in the justice system.
"Your appearance might be a barrier, simply because you present as one thing, and people see you as something else," she says.
She adds that the NSHRC has developed a fair amount of competence in dealing with trans issues, but that there still exists a lack of understanding of trans realities. Nova Scotia amended the Human Rights Act in 2012 to explicitly include gender identity and gender expression as prohibited grounds of discrimination and harassment.
Dumke says it's a step in the right direction. "There is always a period of time when we try to figure out what it all means. I think that's where we're at."
Nicole Nussbaum heads a pioneering legal needs assessment project for transgender people in Ontario. Her project explores barriers to accessing justice for the trans community, and how higher risks of poverty, social marginalization and other factors contribute to the issues.
She says the Trans PULSE 2010 survey found that about two-thirds of trans people have avoided public spaces for fear of harassment or violence in Ontario. "If you avoid public places because you want to avoid discrimination, how safe will you perceive a lawyer's office or a courtroom or a waiting room to be for you?" Nussbaum asks.
Ontario, like Nova Scotia, recently added gender identity and gender expression to their Human Rights Code. Last April, the Ontario Human Rights Commission took it a step further by releasing its policy on preventing discrimination because of gender identity and gender expression.
"It explains how the code applies to trans people and provides practical examples for making workplaces, universities and other environments fairer and more accessible for everyone, regardless of their gender identity," says Nussbaum.
Jeff Overmars, the communication advisor for the Nova Scotia Human Rights Commission, could not confirm if a similar policy exists at the NSHRC.
"Gender identity and gender expression were only added as a protected characteristic in December 2012." he says. "It's still new for us."