11
The Coast Fall Arts Preview hits the streets! You've got one, you're OK.

---
Atlantic Film Festival kicks off today, running to September 18, read our coverage on page 16 to plan your fest.
---
12
Darrin Rose brings his live stand-up show, My Dad's Other Son, to the Neptune Theatre. Read more on page 22.

---
Dalhousie Art Gallery, the oldest public art gallery in Halifax, celebrates 60 years with Diamond Mine, a show devoted to highlighting the permanent collection, including a public cleaning of some of the vaulted works. Runs to October 5.
---
suddenlyLISTEN is a haven for the locver of eclectic music. The organization focuses on improvised chamber music and hosts creative arts events. Their 2014-2015 season begins September 12 with The Muted Note, blending poetry, music and dance through performances by Montreal-based artists Scott Thomson and Susanna Hood. The Muted Note covers the poetry of Canadian author P.K. Page, a prolific writer who won the Governor's General award for her introspective work The Metal and the Flower. Using her poetry, Thomson and Hood invoke the mood of Page's work through stripped down performances with Thomson playing the trombone as a backdrop to Hood's clear, powerful vocals. Hood improvises the lyrics and expresses the poems through dance. Tim Croft, a long-time partner in the suddenlyLISTEN improvisation workshops and the new artistic associate, will open the show with a solo piano performance. Show begins at 8 pm at 1313 Hollis.
—Julie Sobowale
---
13
In-Flight Safety launches its latest album Conversationalist in Halifax. Get a live taste tomorrow (Sunday, September 14), the band plays at Obsolete Records at 1:30pm. See more on page 27.

---
Ian Sherwood releases his newest album, Everywhere To Go at the Company House, 8pm. Smooth folk from a smooth guy.
---
14
Gord Downie, The Sadies and The Conquering Sun are coming to town. Soak up that CanCon at the Marquee Ballroom, 9pm.
---
15
Meisen, a show of kimonos and haoris from Haruko Watanabe's collection, opens at Anna Leonowens Gallery at 7pm. Presented by Nancy Price and Naoko Furue, 54 stunning kimonos made from 1930-1940 in Japan will inspire your fall palette. Running to September 27.
---
16
Musician Ria Mae gets catchy with the first single from her Classified-produced upcoming album, Clothes Off, dropping today. Read about it on page 29.

---
Pop-up exhibition Whereabouts brings NSCAD and King's College together until September 20 at the Pit, the underground black box theatre space at the King's campus. Opening reception at 5-10pm.
---
17
Say happy anniversary to the Atlantic Filmmakers Cooperative at their 40th anniversary spotlight screening at the Atlantic Film Festival, Park Lane Cinema, 7:30pm. Featuring films from creators like Chuck Clark, Helen Hill, Shandi Mitchell, Andrea Dorfman, Ashley McKenzie and more, the screening is the perfect way to thank AFCOOP for 40 years of workshops, filmmaker support, residencies, programs and love for the local film community.
---
18
Doubt: A Parable opens at Theatre Arts Guild, 8pm. Directed by Emily Jewer, the play centres around turmoil and suspicion at a Bronx Catholic elementary school. Runs to Oct 4.

---
Comedian and erstwhile mayoral candidate Steve Mackie will record a live comedy album at Gus' Pub in two sets, 9pm (with host Bill Wood) and 11pm (with host Paul Doucette), Catherine Robertson opens.
---
19
The Out: Queer Looking, Queer Acting Revisited exhibition finally makes its way to the new Khyber space. Opening at 7pm, running until October 18, viewers can explore and learn about the rich queer history of the Khyber.

---
Country hunk George Canyon plays the Casino Nova Scotia Schooner Showroom at 8pm and makes all the ladies scream.
---
20
Helm Fest—that's Halifax Electronic Live Music Festival—brings electronic music from all over the world (and from down the block) to a one-day, two-stage festival. Featuring Blau, TWRK, Dub Fx and tons more, expect lots of PLUR and dancing, from the corner of Lower Water and Salter Streets to the waterfront, starting at 1pm.

---
Cliff Le Jeune, Lisa St. Clair and the Blue Engine String Quartet throw a birthday party for Leonard Cohen's 80th featuring cake and Cohen's music at 8:30pm at Fort Massey United Church.
---
The East Coast Literary Awards take place at the Institute of Applied Creativity, 7pm, awarding the best in local non-fiction, poetry and fiction. Don your cocktail attire and get your clapping hands ready.
---
21
Word on the Street floods the waterfront with pages, authors and readers 11am-5pm. City poet laureate El Jones reads from her latest book Live from the Afrikan Resistance! 12:30 on the Vibrant Voices stage (Live launches Sept. 18 at the Company House, 7pm).
---
24
On NBC's upcoming live TV production of Peter Pan, Marnie from Girls plays the titular boy who won't grow up. How do you feel about that? Work out your feelings watching the Russian Ice Stars performance of Peter Pan on Ice (Marnie-free). Halifax Metro Centre, 6:30pm.

---
Eyelevel Gallery celebrates 40 years of existence with the Over the Hill performance series. Running to September 27, the series takes place on the Halifax Citadel National Historic Site, featuring four artists performing onsite, welcoming audiences to engage and interact. Artists TBA.
---
24
Rabble-rousing political songwriter Billy Bragg returns to Halifax on a wave of union-love and good stage banter. Head to the Rebecca Cohn tonight to get inspired.

---
Directed by Faythe Levine and Sam Macon, Sign Painters is a documentary devoted to the magical lost art of hand-painted signs. Queue up at the Spatz Theatre at 6:30pm to catch the screening.
---
26
The best hip-hop celebration in Atlantic Canada is kicking off its fifth year in style. Hopscotch Urban Arts Festival highlights the positivity and energy of hip-hop, and this year they've partnered with the Dart Gallery to showcase the Urban Art exhibition from September 18-30. Opening night will feature a live performance from local beatmaster/producer SEbP. The festival officially kicks off September 26 with a party at Dartmouth Cove featuring over 100 artists, and it closes with the legendary rapper Lil Jon teamed up with Tech N9NE at the Cunard Centre. Other events include live painting with over 50 artists and the Pat Stay vs. Rone compliment battle. Let the flattery begin. For more info click with facebook.com/hopscotchhalifax. —JS
---
27
David Suzuki brings his Blue Dot tour to the Rebecca Cohn, and with it comes performances from Joel Plaskett, Jenn Grant and Shane Koyczan. Suzuki will speak in an attempt to get all levels of government in Canada to legally recognize the right to live in a healthy environment—you know, basic stuff like fresh air, clean water and healthy food—as 110 nations already do.
---
29
Artist Leah Decter and curator Jaimie Issac present a provocative piece of art that relies on audience participation in (official denial) trade value in progress at Anna Leonowens Gallery. A massive blanket made from multiple Hudson's Bay blankets will hang in the gallery from September 29 to October 11. Embroidered in the centre is prime minister Stephen Harper's statement, "We also have no history of colonialism." Visitors are asked to write their responses to the quote, which invited guests will sew into the blanket. Decter and Issac are giving a free public talk Oct. 6 at 5:30pm. —JN
---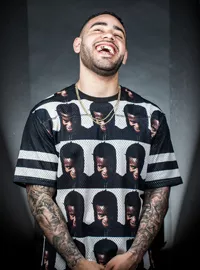 29
Hip-hop boss Cam Smith's much anticipated Cannon drops, making your October infinitely better. Possibly even edging out your yearly PSL as the Most Exciting Fall Happening?
---