Ursula Johnson: Mi'kwite'tmn ("Do You Remember")
This summer, be sure to catch artist Ursula Johnson's first major touring solo exhibition at Saint Mary's University, before she embarks on a national tour with the work. In Mi'kwite'tmn, Johnson explores ideas of ancestry, identity and cultural practice. It's an exhibition that sheds light on the state of traditional Mi'kmaw basketry---a practice few youth are keeping alive today in the aboriginal community.
Johnson's exhibition explores the ways in which archivists present Mi'kmaw baskets as artifacts, filling an "Archive Room" with unsettling "mutant" basket-like objects. Her "Museological Grand Hall" showcases sand-blasted diagrammes of traditional baskets on empty vitines. And in Johnson's performance piece, she sets herself the impossible task of turning an ash wood log into splints to make baskets---impossible because she willfully makes the splints the wrong way. It's a call to those around her to remember the skills passed down to her by her grandmother and her elders, rather than let them sit stagnantly in archives.
"The act of processing this log in the improper way, ensures that the plea to encourage learning about this history and these skills, for my current generation and others to come, is heard with a louder voice," says Johnson. She hopes the exhibition will create a dialogue surrounding the things we remember and those we choose to forget. "This project is much bigger than just an art exhibition."
To Aug 3, Saint Mary's University Art Gallery, 923 Robie Street, smu.ca/campus-life/art-gallery.html
Hangama Amiri's Pastoral and Industrial
In a region saturated with landscape painters, Afghan artist Hangama Amiri manages to stand out from the crowd, creating a body of paintings that hit you on an emotional, gut level. This summer be sure to check out her paintings of familiar Nova Scotian scenes at the north end's Hermes art gallery. "Amiri possesses a great ability to capture the sight of a place as it may be experienced in the heart," says gallery director Emily Jones. "These paintings really emote the feel of our city and rural spots in the province."
Amiri flitted from one place to the next growing up, as her family fled the Taliban in Afghanistan, passing through Pakistan, Iran, Tajikistan and Russia. Her ability to quickly connect with the raw nerve of each place she winds up is evident in her work. Whether she's capturing the light flicking off the water on the South Shore in clashing greens and Pepto-Bismol pinks---leaving you feeling ever so seasick---or painting gritty industrial areas of Halifax in slate blues and wild yellows, Amiri helps you see your own backyard with new eyes.
To Aug 3, Hermes Gallery, 5682 North Street, Tue-Thu 1-6pm and Fri-Sat 1-4pm, hermeshfx.com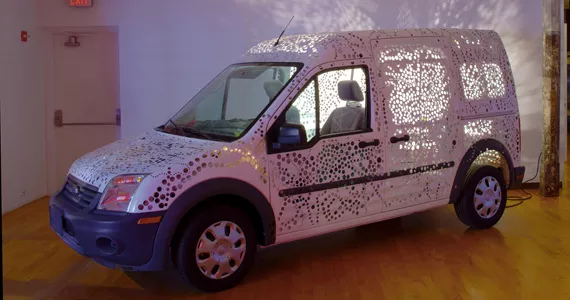 Out of town;
Oh Canada
If you're looking for a reason to get out of town and go on a weekend road trip, Oh Canada---a massive exhibition of contemporary Canadian art featuring over 60 artists---is it. The exhibition is curated by Denise Markonish, an American who fell in love with the Canadian art scene. After hundreds of studio visits, Markonish first exhibited Oh Canada in the enormous 14,000-square-foot web of reconverted factory buildings that compose The Massachusetts Museum of Contemporary Arts. It was the largest exhibition of contemporary Canadian art outside of Canada.
Determined to bring the exhibition home for Canadians to enjoy, Maritime art galleries have teamed up, each showcasing a portion. It's a chance to see works by east coast artists ranging from David R Harper to Garry Neil Kennedy, Mario Doucette and Kim Morgan, as well as heavy hitters from the rest of Canada, like Ed Pein and Douglas Coupland.
Halifax painter Mitchell Wiebe---who is showcasing his surreal, psychadelic paintings of anthropomorphic animals blurring into into fluorescent dayglo backgrounds---says the exhibition connects with a more playful and humourous side of the contemporary Canadian art scene. "This will be a great way to see how edgy and fun contemporary art can be!" says Wiebe.
Jun 26- Sep 21: The Galerie d'art Louise-et-Reuben-Cohen, Université de Moncton and Galerie Sans Nom in Moncton, NB; Owens Art Gallery, Mount Allison University in Sackville, NB and the Confederation Centre Art Gallery in Charlottetown, PEI, ohcanadaeast.com
Anna Leonowens gallery Summer Visiting Artist Series
Every summer, Anna Leonowens Gallery invites a diverse roster of visiting artists to explore new ideas during a on one-week residencies in their space. "We encourage the visiting artist exhibition series to act as a sort of lab for our artists, an opportunity to make new work, try new installation strategies, experiment and get feedback from our community," says gallery director Eleanor King. "It's a great opportunity to see a sample of what is happening nationally and internationally in contemporary art."
It's always interesting to see how the artists respond to the experience of living in Halifax. "For example Kim Tomczak and Lisa Steele's work is part of an ongoing project where they interview youth," says King. "Their show will feature the new research they have produced while here." We're also looking forward to the wildly colourful work of Seripop in an exhibition programmed in conjunction with the Khyber ICA this summer. Seripop, a creative venture by Montrealers Yannick Desranleau and Chloe Lum, creates dreamy site-specific environments that bring strange objects to unexpected life.
Anna Leonowens Gallery, 1891 Granville Street, nscad.ca
Halifax art Boat
What could be more fun than taking in the local arts and culture scene while floating on the Halifax Harbour? This spring, Haligonians submitted their diverse design ideas to The Halifax Art Boat project--- an idea to construct a rowboat to host arts-related events on the water, pioneered by locals such as sailor Daniel Collins and members of Eyelevel Gallery and the Khyber Centre for the Arts. Considering the fact that Halifax's artist-run spaces have long struggled with the logistics of keeping physical gallery spaces afloat (Eyelevel Gallery recently made the radical decision to get rid of its gallery space altogether, focusing on programming pop-up exhibitions and events in the community, and The Khyber has had to relocate for the time being due to asbestos concerns in the historic building), the Halifax Art Boat seems like a particularly well-timed response to the cultural climate in our city. Programming for the newly constructed boat is being done on a case by case basis, so stay tuned and check out their upcoming events on Facebook. facebook.com/halifaxartboat