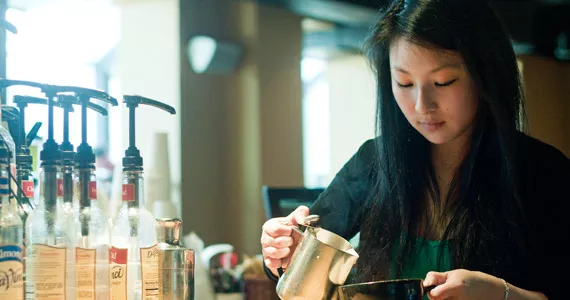 I don't drink coffee---it makes my heart go nuts---and I usually only drink tea to be polite. Yet the pressure to ingest hot beverages is everywhere: first dates, support group meetings, awkward family visits and so on. What are the coffee-averse to do?
I decided to find an answer by sampling hot-beverage alternatives at locations downtown and my results are presented below in chronological order.
First stop was popular university spot Coburg Coffee (6085 Coburg Road). "What would you recommend for a non-coffee drinker?" I asked, hoping the baristas would find my request novel and exciting, which they did not. I ordered the unfortunately named steamer: hot, frothy milk with a flavour shot (hazlenut). It was good.
Good enough that I ordered another at nearby Just Us! Coffeehouse (5896 Spring Garden Road), this time with vanilla. "How vanilla-y do you want it?" asked the barista. I had no idea. "Medium vanilla-y?" I replied. After handing it to me, he asked, "Was that a sufficient amount of vanilla?" I nodded. "Marvelous," he said. Such dedication!
The barista at Smiling Goat Organic Espresso Bar (1551 South Park Street) recommended a chaider---a mix of hot cider and chai tea---and when I finally got a taste of it, I expressed my appreciation with an curse word, that's how good it was.
"Is there anything that makes the Lawrencetown Fog particularly Lawrencetown-y, or is it just a London Fog?" I asked the barista at Humani-T Cafe (1451 South Park Street), thinking myself quite charming. She wasn't buying it: "It's just a London Fog," she said, handing me a matcha latte. A matcha latte is like a steamer, but with a swampy-looking green foam at the surface that tastes like alfalfa sprouts. They offered to put honey in it at the time of purchase, but I foolishly declined.
Mid Point Coffee (5425 Spring Garden Road) had two impossibly attractive baristas, the male half of which recommended a decaf caramel latte after I failed to understand why a decaf macchiato would be a waste of everyone's time. The drink came with latte art, which was a nice touch, but I can't say I dig the taste of decaf no matter how much sugar you throw on it.
The barista at Steve-O-Reno's Cappucino (1536 Brunswick Street) failed to upsell me, recommending the hot chocolate over the more-expensive chai latte. I was happy with the drink's deliciousness, and thrown off by her sincerity and kind-heartedness.
By the time I got to World Tea House (1592 Argyle Street), where I had a curious but not unpleasant mix of chocolate and mint tea, I was starting to wonder if consuming this many hot beverages in one day was a good idea. World Tea House has three tea magazines on display, which is three more tea magazines than I knew existed.
The comic timing of the barista at Trident Booksellers and Cafe (1256 Hollis Street) was so impeccable it made me want to be friends with her. "I have tea," she said, deadpan, motioning toward two dozen tea boxes when I asked about non-coffee options. "I have hot chocolate, I have steamed milk and I have lots and lots of tea." I ordered a chai latte and she hummed as she prepared it. I stared at a copy of Kobo Abe's The Box Man and wondered if my stomach would explode.
The next morning I went to Java Blend (6027 North Street) and ordered a chai cider. An elderly woman heard my order and said, "What's a chai cider?" I explained and she looked at me as though she'd just smelled something bad. Chaider for the win!