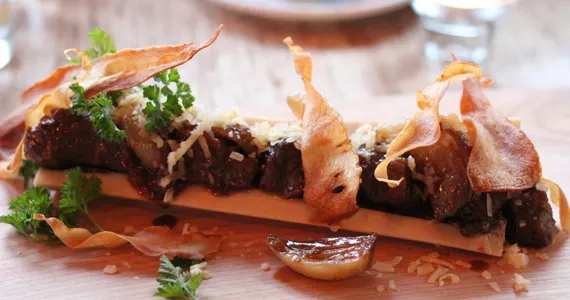 Atlantic Canada has long had a Saint John and St. John's, but in Field Guide, Halifax has found its own St. John. Since 1994, Fergus Henderson, the chef at St. John in London, England, has been at the forefront of nose-to-tail eating, and now chef/owner Dan Vorstermans and his partner Ceilidh Sutherland are leading the charge here in Halifax, with a rotating menu that rarely excludes offal of some sort---be it tongue or heart, kidney or liver.
There's minimalist, industrial character to the atmosphere: metal, wood, cork and chalkboard accentuated by pipes that run across the ceiling and sleek black stools that slither up the bar. Yellow Tolix-style cafe chairs bring a bright pop of yellow to the line of tables that runs the length of the small dining room. Some may say it's too "hip." It evokes the same speakeasy tone as places like Grazie in Paris or Smith and Mills in New York.
While I like the interior and have no issue with organ meats, my gut reaction to sharing menus is a little different. I hate them. Small-plate menus, at least in North America, tend to feel like a bit of a con: an upsell hidden in a downsize. By the time you're full, you've spent twice as much as you would have on a regular entree.
Field Guide has not won me, or my wallet, over on the sharing menu concept. But they are putting out thoughtful, creative and well-executed food that mostly feels worth the price. It is, to put it simply, some of the best food in the city. (Though the vegetarian and vegan options are lacking.)
While the food is great, I think of Field Guide as a bar more than a restaurant. With well-crafted cocktails it's a rarity in town, essentially one of two or three champagne coupes on a table full of pint glasses. It helps fills a niche in Halifax that has been---if not empty---needy.
On my last visit, we start with a classic bourbon sour ($12), and one of the contemporary options off of the current menu, the 15-Minute Parking ($11). They're served in rocks glasses with extra-large king cubes sloshing around. Both are lovely.
We start by snacking on the crusty housemade bread ($2), and split a number of other dishes, which our excellent server, Josh, describes to us once we have drinks in hand.
The lamb neck ($16) is rich and fatty, a very heavy dish with its side of roasted carrots and potatoes. While it's all tasty, the accompanying chimichurri doesn't have enough acid to cut through the heaviness.
A stronger vinegar note is again missing in the smoked haddock croquettes ($11). The accompanying rémoulade has a slight tartness to it, but doesn't quite cut it.
The steamed donair buns ($10), shaped in the half-moon pocket shape used by Momofuku, are soft and pillowy. The donair loaf is a mix of ground pork and lamb with lamb liver, which offers a mild, earthy base note that gives a nice depth to the flavour. The sauce is garlicky and sweet, as it should be. It's a great concept dish.
The standout, though, is the beef cheek ($9). Cooked with the bone marrow and served in the bone that the marrow was culled from, it's a savoury delight. Burnished onions, parsnip chips, and a salty sprinkle of cheese add sparks of flavour and texture that make the dish really dynamic.
We finish our night with a few more cocktails, this time delivered in gleaming coupes by Shane, the talented head bartender. It's a nice end.
I really like Field Guide. In fact, I like it a whole hell of a lot. Even if I still don't like to share.
---
Field Guide
Mon, 6pm-12am; Wed-Thu, 6pm-12am; Fri - Sat: 6pm-1am; Sun, 6pm-12am
2076 Gottingen Street, 405-4506
Write your own Field Guide review right
here
.