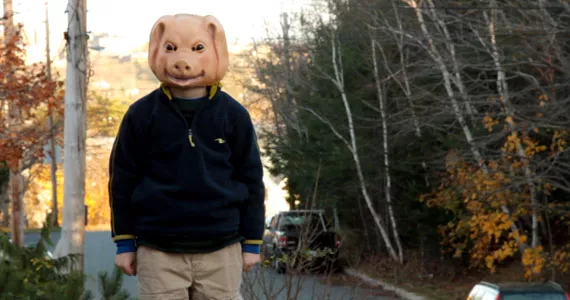 Jay Dahl says the idea for There Are Monsters came from a very simple exchange. He was strolling past someone on the sidewalk, and the guy gave him a strange look. Really strange.
"I got this chill," says Dahl, who started to think about how maybe some people can seem like... something else. Dahl ran with it. A short film begat the feature film, now here: There Are Monsters, Dahl's first full-length movie as a director. It premieres Friday night at the 33rd Atlantic Film Festival.
There Are Monsters is a roll of the dice. Dahl has more than a decade of experience as a short filmmaker, writer and producer, but he's known for comedy, not horror. His short films include the titles Backjumping and Time Farter.
"I bought a house on comedy," says Dahl. "I'd never done horror. And the genre has such hardcore fanboys, that if you play in that sandbox you're opening yourself up to some real criticism." He feels that thanks to guys like Jason Eisener and Josh MacDonald, the bar for horror coming out of this town is pretty high. "But this is horror for people who don't like horror movies. For me, fear lies in realism."
The short version of There Are Monsters was shot for almost nothing back in 2008, in a hand-held, verite style. It has an Invasion of the Body Snatchers vibe, except set in wintry Nova Scotia. It made a big splash: In 72 hours on YouTube it got half a million hits.
Dahl parlayed that sudden attention into a budget for a full-length version. When he went to camera he had $300,000---pocket change in feature-filmmaking terms. He regrets not waiting to raise more money before starting to shoot.
"The film I wanted to make was not a $300,000 film," he says. "It was a good lesson, because I spent the money instantly. And my film wasn't nearly done. The one rule in this industry is: You can never, ever make anything bad. So what could I do? I couldn't release it unfinished."
With the help of producing partner Bill Niven, Telefilm, Film Nova Scotia and a healthy dollop of his own money thrown into the pot, Dahl cobbled together the financing to finish shooting the rest of There Are Monsters in 2009. Since then he's been editing his movie in his spare time while doing whatever else came along: commercials, TV series, documentaries for CBC Doc Zone---the most recent on the subject of bedbugs---and producing the Picnicface TV show and feature film Rollertown. He's producing Andrea Dorfman's forthcoming feature, starting to shoot later this month.
Dahl also found time to get married and he and his wife, actor Kristin Langille---the lead in both the short and longer versions of There Are Monsters---had a baby.
Now, with only days before the AFF premiere of There Are Monsters, Dahl's still mixing sound. And he shrugs off the hyperbolic description in the festival program that calls it "the scariest movie to ever come out of the East Coast."
"I don't think anyone's going to like this movie!" he says with a laugh, adding the caveat, "The minute you start thinking about the audience, or box office, you're dead. The key to making good films is if you're passionate about it. As cliché as that sounds, it's so true."
The feature version of There Are Monsters follows a day and a half in the life of four people who happen to have cameras. It's the apocalypse. You'll get clues to what's happening. There's been an accident in the Large Hadron Collider in Switzerland and the world has changed. Also worked in is mention of an actual condition called Capgras syndrome, where people start to believe that those around them are impostors.
"Spoiler alert: we don't ever find out exactly what it is," says Dahl. He's probably joking when he adds, "And everyone fucking dies, because that's what I like." Probably.
Dahl's favourite filmmaker is Stanley Kubrick, and what he loves about the director is how unafraid he was to tackle different genres. When Kubrick decided to make a movie version of the Stephen King bestseller, The Shining, he was criticized for going there. But Kubrick's genre adventures are all considered classics now.
"Naively, idealistically, when I started in this business more than 10 years ago, I wanted to do all that, too," says Dahl. "I haven't lost that urge."