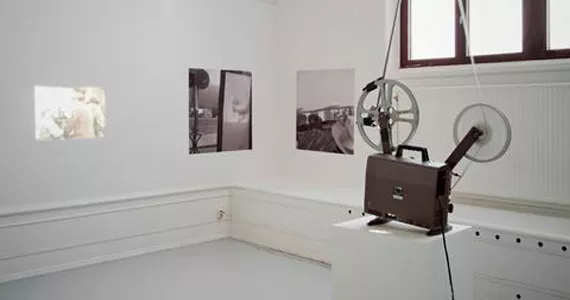 The idea of "following your dreams" tends to be a bit of a platitude, a bit of pat encouragement to keep trying---to be true to yourself. In Tamara Henderson's case, however, literally following her dream's directions, and directing her dreams herself has developed into an artistic practice that now sees her as the Atlantic shortlist pick for the 2013 Sobey Art Award.
"When I started this project", Henderson tells me as we sit surrounded by sketches, notes, newspapers and a near-finished sculpture at the Art Gallery of Nova Scotia, "I was interested in whether there some sort of residue from our interests into the subconscious realm." She is referring to her collection of six sculptures---pieces of furniture designed after sessions with six different hypnotherapists in Canada, Sweden and Germany. Her latest, "Portland Estates (Sloopy) Chair," will be included in the Sobey Award Exhibition, along with "Pineapple Interiors," six of her 12 blown glass drinking vessels moulded inside of hollow pineapples and Accent Grave on Ananas, a short 16mm film. "The things that you realize and the objects that you see in dreams have a place in our waking lives," she says, and her work explores this idea, realized by being open to the blurred lines between dream state and waking state. Her film, sculpture and writing draws from her dreams for the prototypes of fantastical versions of everyday objects and characters. Furniture, bottles and glasses, and a character called the Handsome Pineapple are created based on records of her "nocturnal journalism" and guided hypnotherapy sessions. Her practice allows her to "realize a lot of inventions that I saw in dreams and then gave them a home."
While the idea of physically enacting (and making public) our dreams may seem a terrifying prospect to some, the Sackville born Henderson seems to relish the task of creating and grounding in reality ideas and objects unbounded by it. Making a functional and stable sculpture based upon a dream requires a unique form of improvisation, a balancing act between realizing a shape or quality from the haze of a dream and creating a chair that actually stands. Her training allows her to develop patterns and schematics of her dream objects, but her commitment to the integrity and real importance of her dream-objects sometimes requires unconventional fixes, like stuffing a wooden frame with road salt found in the basement, so it doesn't tip over.
Her films, shot on 16mm film and edited in camera, require a significant amount of pre-planning and choreography for every shot, and often lay bare the manipulations and machinations required to show a pineapple making a long distance call, or moon rock descending from the sky. Again, her embrace of the relationship between dreaming and waking, between conscious, subconscious and unconscious allow for "the willingness to use those random solutions" needed to make dreams a reality.
For Henderson, who attended NSCAD before studying in Frankfurt at the Städelschule, and at Stockholm's Royal Art Academy, being shortlisted for the Sobey Award is both an honour and homecoming.
While she admits that the possibility of a $50,000 award would allow for the realization of even loftier dreams, she is more excited to be a part of a competition and exhibition showcasing artists she admires, and to be able to show and create new work in Nova Scotia again. "I've been kind of a crazy wanderer, and I still am today, so I think I was really excited about that part of it, to come and stay here and create this new work. It feels really good to come to Nova Scotia and make a show like this at this point in my life".
---
2013 Sobey Art Award Exhibition
Opening September 14 to January 5
Art Gallery of Nova Scotia, 1723 Hollis Street